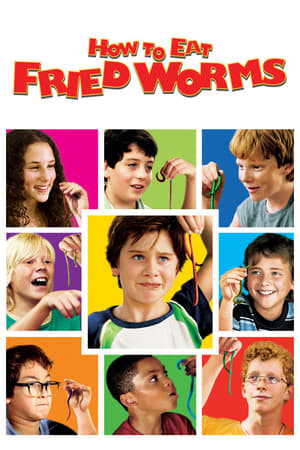 13 Best Movies Like How To Eat Fried Worms ...
If you liked this one , you will definitely love these too! In this collection we highlight some of the best films that share a very similar premise to 'How to Eat Fried Worms', and are worth checking out.
1.
The Little Rascals (1994)
1h 22m Romance Comedy Family
When Alfalfa starts to question his devotion to the club's principles after falling for the beautiful nine-year old Darla, the rest of the gang sets out to keep them apart.
2.
Babysitters Beware (2009)
1h 11m Drama Comedy Family
Seven-year-old Danny Parker is a good kid who loves his parents. But they have to go out on business dinners all the time, leaving him stuck with a sitter. It's not so bad when it's his favorite babysitter, Janelle but he also gets stuck with sitters like Ms. Greene who won't let him have any fun. Danny just wants to spend more time with his Mom and Dad.
3.
The Little Rascals Save the Day (2014)
1h 33m Comedy
The Little Rascals are back in an all-new movie! Join the fun with Spanky, Alfalfa, Darla, Buckwheat, Petey the dog and the whole gang as they are up to their usual mischief! The Rascals try anything to raise the money needed to save their grandma's (Doris Roberts) bakery. The only trouble is - they can't seem to do anything right! From botched pet washes to terrible taxi service, they just can't raise a penny. Their only hope is to win prize money from the local talent show - but have you ever heard Alfalfa sing?
4.
Dear Dumb Diary (2013)
1h 24m Family TV Movie
A delightfully imaginative middle-schooler learns that it's not just what's on the outside that matters but what's on the inside as well.
1h 29m Comedy Family
After his parents decide to move to a retirement home in Florida, professional gamer Quincy "Q"Johnson (Jerry Trainor) must find a way to raise 175,000 dollars to buy his family home. After hearing about a tournament for the game "Black Hole" with a grand prize of 175,500 dollars, Quincy enters the tournament, only to be faced with a new problem. An equally skilled gamer named Chris Saunders "Prodigy" (Jeanette McCurdy) has become the one block in Quincy's plan, defeating him at every turn. So he teams up with his friend Wendell (Amir Talai) to try and find ways to stop Chris from entering the tournament.
6.
Diary of a Wimpy Kid: Rodrick Rules (2011)
1h 39m Family Comedy
Wimpy Greg Heffley, now in seventh grade, thinks he has it all together. He has mastered middle school and gotten rid of the Cheese Touch. However, Greg's older brother, Rodrick, is itching to cut him down to size. He gets the perfect opportunity when their mother tries to force the boys to bond. Rodrick may be Greg's chief tormentor, but he feels his constant pranks are just what his little brother needs to prepare him for life's hard knocks.
7.
The Cheetah Girls: One World (2008)
1h 30m Comedy Drama Family Music TV Movie
Chanel, Dorinda, and Aqua, are off to India to star in a Bollywood movie. But when there they discover that they will have to compete against each other to get the role in the movie. Will the Cheetah's break up again?
1h 41m Comedy Drama Family
15 year-old soccer prodigy, Sara Davis, has a chance to join the U.S. National Team, but she must juggle high school, romance, sports, and parental pressure while deciding her own priorities.
9.
Judy Moody and the Not Bummer Summer (2011)
1h 31m Comedy Family
Third-grader Judy Moody sets out to have the most thrilling summer of her life.
10.
Grand Champion (2002)
11.
The Baby-Sitters Club (1995)
1h 34m Comedy Drama Family
It's the story about seven very different best friends, and one summer that will bring them together like never before.
12.
Slappy and the Stinkers (1998)
1h 18m Adventure Family
Five 2nd-grade kids who don't follow strict rules by their school principal Brinway are dubbed "Stinkers" by him. On the class visit to an aquarium the Stinkers decide that a sea lion called Slappy doesn't feel too good there, "free" him, and plant him into Brinway's hot-tub.
13.
School of Life (2005)
1h 51m Comedy Drama Family
At Fallbrook Middle School, the annual student-elected Teacher of the Year award is held. And every year for the last 43 years Norman Warner or most fondly called Stormin' Norman Warner has won the award. Now that he has died, the burden of carrying the legacy falls into the hands of Matt Warner, the son of the late Norman Warner who has always lived in the shadow of his father.
explore
Check out more list from our community