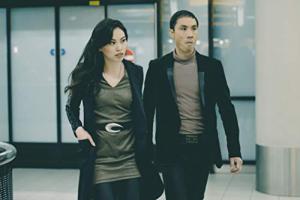 13 Best Movies Like The Host ...
If you liked this movie , you will definitely love these too! In this collection we highlight some of the best films that share a very similar premise to 'The Host', and are worth checking out.
1h 49m Action Thriller Science Fiction
In the not-too-distant future the aging gene has been switched off. To avoid overpopulation, time has become the currency and the way people pay for luxuries and necessities. The rich can live forever, while the rest try to negotiate for their immortality. A poor young man who comes into a fortune of time, though too late to help his mother from dying. He ends up on the run from a corrupt police force known as 'time keepers'.
2.
I Am Number Four (2011)
1h 49m Action Thriller Science Fiction Adventure
A teenage fugitive with an incredible secret races to stay one step ahead of the mysterious forces seeking destroy him in this sci-fi action thriller. With three dead and one on the run, the race to find the elusive Number Four begins. Outwardly normal teen John Smith never gets too comfortable in the same identity, and along with his guardian, Henri, he is constantly moving from town to town. With each passing day, John gains a stronger grasp on his extraordinary new powers, and his bond to the beings that share his fantastic fate grows stronger.
3.
The Hunger Games (2012)
2h 22m Science Fiction Adventure Fantasy
Every year in the ruins of what was once North America, the nation of Panem forces each of its twelve districts to send a teenage boy and girl to compete in the Hunger Games. Part twisted entertainment, part government intimidation tactic, the Hunger Games are a nationally televised event in which "Tributes" must fight with one another until one survivor remains. Pitted against highly-trained Tributes who have prepared for these Games their entire lives, Katniss is forced to rely upon her sharp instincts as well as the mentorship of drunken former victor Haymitch Abernathy. If she's ever to return home to District 12, Katniss must make impossible choices in the arena that weigh survival against humanity and life against love. The world will be watching.
2h 9m Adventure Science Fiction
Many thousands of years in the future, Earth's cities roam the globe on huge wheels, devouring each other in a struggle for ever diminishing resources. On one of these massive traction cities, the old London, Tom Natsworthy has an unexpected encounter with a mysterious young woman from the wastelands who will change the course of his life forever.
5.
The Scorch Trials (2015)
2h 11m Science Fiction Action Thriller
Thomas and his fellow Gladers face their greatest challenge yet: searching for clues about the mysterious and powerful organization known as WCKD. Their journey takes them to the Scorch, a desolate landscape filled with unimaginable obstacles. Teaming up with resistance fighters, the Gladers take on WCKD's vastly superior forces and uncover its shocking plans for them all.
1h 41m Drama Action Thriller War
An American girl on holiday in the English countryside with her family finds herself in hiding and fighting for her survival as war breaks out.
7.
The Twilight Saga: Breaking Dawn - Part 1 (2011)
1h 57m Adventure Fantasy Romance
The new found married bliss of Bella Swan and vampire Edward Cullen is cut short when a series of betrayals and misfortunes threatens to destroy their world.
8.
The Hunger Games: Catching Fire (2013)
2h 26m Adventure Action Science Fiction
Katniss Everdeen has returned home safe after winning the 74th Annual Hunger Games along with fellow tribute Peeta Mellark. Winning means that they must turn around and leave their family and close friends, embarking on a "Victor's Tour" of the districts. Along the way Katniss senses that a rebellion is simmering, but the Capitol is still very much in control as President Snow prepares the 75th Annual Hunger Games (The Quarter Quell) - a competition that could change Panem forever.
1h 37m Drama Science Fiction
In a seemingly perfect community, without war, pain, suffering, differences or choice, a young boy is chosen to learn from an elderly man about the true pain and pleasure of the "real" world.
10.
The Darkest Minds (2018)
1h 45m Science Fiction Action Drama Romance Adventure Thriller
After a disease kills 98% of America's children, the surviving 2% develop superpowers and are placed in internment camps. A 16-year-old girl escapes her camp and joins a group of other teens on the run from the government.
2h 2m Fantasy Drama Romance
When Bella Swan moves to a small town in the Pacific Northwest, she falls in love with Edward Cullen, a mysterious classmate who reveals himself to be a 108-year-old vampire. Despite Edward's repeated cautions, Bella can't stay away from him, a fatal move that endangers her own life.
43m Sci-Fi & Fantasy Drama Action & Adventure
100 years in the future, when the Earth has been abandoned due to radioactivity, the last surviving humans live on an ark orbiting the planet — but the ark won't last forever. So the repressive regime picks 100 expendable juvenile delinquents to send down to Earth to see if the planet is still habitable.
2h 11m Action Science Fiction Adventure
A ragtag band of humans band together in the year 2025 to fight legions of monstrous creatures rising from the sea. Using massive piloted robots to combat the alien threat, earth's survivors take the fight to the invading alien force lurking in the depths of the Pacific Ocean. Nearly defenseless in the face of the relentless enemy, the forces of mankind have no choice but to turn to two unlikely heroes -- a washed up former pilot and an untested trainee -- who now stand as earth's final hope against the mounting apocalypse.
explore
Check out more list from our community