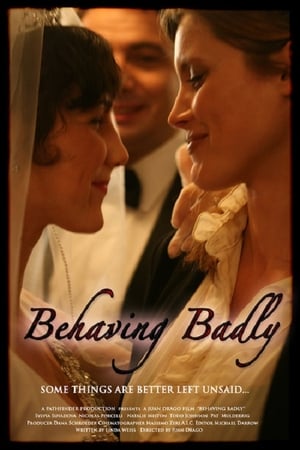 28 Best Movies Like Behaving Badly ...
If you liked this one , you will definitely love these too! In this selection we highlight some of the best films that share a very similar mood to '', and are worth checking out.
1.
I Love You, Beth Cooper (2009)
1h 42m Comedy Romance
A valedictorian's declaration of love for a high-school cheerleader launches a night of revelry, reflection and romance for a group of graduating seniors.
1h 33m Comedy Romance
Teenager Leslie Hindenberg, mistakenly believing she has just weeks to live, decides she will lose her virginity before she dies.
1h 45m Comedy
Emilio, a shy, not too brilliant pupil at a humble local secondary school, has always harboured a secret love for Natalia, the cutest, brightest girl in the class. On the last day of the school year, when he finally decides to declare his love, Natalia is awarded a scholarship to study Medicine at Oxford. It would seem that all is lost for Emilio, but his drop-out school-pals are not ready to throw in the towel. After faking qualifications and scholarships, this band of brainless nuts land in Oxford, causing havoc in the normally peaceful campus existence. —The Film Catalogue
1h 34m Comedy Drama Romance
This sexy, teen-comedy is about a freshman, Matthew, at college who meets his dream girl in a dorm elevator during a blackout. He never sees her face, but instantly falls in love. In the morning, the power is restored, but the "dream girl" has vanished. All Matthew knows is that she lives in an all-girls dorm. He sets out on a semester-long journey to find his mystery girl amongst a hundred female suspects. Could it be Wendy? Dora? Arlene? Patty? Cynthia? Or the 95 other girls, any of whom could have been in that elevator with Matthew.
5.
Spring Breakdown (2009)
1h 24m Comedy
Three women in their thirties head to a popular Spring Break destination and try to relive the Spring Break they never had.
1h 30m Comedy Drama Romance
Momo and Yudale take turns mounting Bentzi's foreign buxom cousin, but Yudale and her get stuck together. Momo raises the bar even further by proving the rumors of an accepting older buxom piano tutor, Fritzi. Bentzi looks for love.
7.
Van Wilder: Freshman Year (2009)
1h 40m Comedy
It is freshman year at Coolidge College and Van Wilder is ready to party. To his dismay, all the girls have taken a vow of chastity and the dean rules the school. Van embarks on a crusade to land the campus hottie, Kaitlin, and liberate his school from sexual oppression and party dysfunction.
1h 29m Comedy Romance
When Troy "Slam" Slamsky loses his girl, love makes a wake-up call and he finds success in the world of online advertising with some hysterical twists on an old theme. Finding a new love who understands his vision sets Slam free to do what he loves, love who he does and make crazy videos.
9.
Gettin' In (2012)
1h 33m Comedy Romance
Lance Valenteen (David Boreanaz) makes a living as "Mr. Fix It," a man who gets hired by men that have just recently been dumped by their girlfriend. Lance dates the guys' ex-girlfriend and becomes the worst date possible, sending the girl back into her ex-boyfriends arms. But when Lance gets hired by Bill Smith (Pat Healy) to get Sophia Fiori (Alana De La Garza) back, Lance, for the first time, starts falling for one of his marks.
11.
Private School (1983)
1h 29m Comedy Romance
Private-school student Christine loves Jim. But her classmate, Jordan, is also vying for Jim's attention and trying to end his relationship with Christine. Meanwhile, Jim's friend Bubba embarks on a series of sexual escapades, including dressing up as a woman to access the girls' locker room. Despite Jim and Christine's efforts to spend some time alone, various shenanigans and schemes interfere.
1h 34m Comedy Romance TV Movie
A popular high school senior gets accused of statutory rape after he impregnates a tawdry sophomore girl.
13.
The To Do List (2013)
1h 44m Comedy Romance
Feeling pressured to become more sexually experienced before she goes to college, Brandy Klark makes a list of things to accomplish before hitting campus in the fall.
14.
Mardi Gras: Spring Break (2011)
1h 28m Comedy
For three college guys, it's senior year and the co-ed experience has left them high and dry. Their solution: A road trip to Mardi Gras, where beautiful babes are happy to lift their shirts and open containers are always welcome. But after dressing in drag, breaking into Carmen Electra's hotel room, starring in a scandalous sex show and accidentally exploding a feces bomb in a swank hotel lobby, will the Mardi Gras magic kick in and their wildest fantasies come true?
15.
The First Time (2012)
1h 35m Drama Comedy Romance
Dave, a high school senior, spends most of his time pining away over a girl he can't have. Aubrey, a junior with artistic aspirations, has a hot boyfriend who doesn't quite understand her or seem to care. Although they go to different schools, Dave and Aubrey find themselves at the same party. When both head outside to get some air, they meet. A casual conversation sparks an instant connection, and, over the course of a weekend, things turn magical, romantic, complicated, and funny as Aubrey and Dave discover what it's like to fall in love for the first time.
16.
All Babes Want to Kill Me (2005)
1h 22m Comedy Romance
A Martial Artist, afflicted with a disease that makes beautiful women want to kill him, goes on a suicide mission to find true love anyway.
1h 22m Comedy Romance
John Twiller takes down his high school yearbook and begins to reminiscence about that time he first moved into the neighborhood in 1956. His teenage self, Jack is obsessed with Lily one of the more popular girls around. The sole obstacle is Angelo, her bullying boyfriend. With the help of his pals Crutch, Floyd, and Spider, he makes every attempt possible to change her mind.
1h 29m Comedy Romance
A young man awakens from a four-year coma to hear that his once virginal high-school sweetheart has since become a centerfold in one of the world's most famous men's magazines. He and his sex-crazed best friend decide to take a cross-country road trip in order to crash a party at the magazine's legendary mansion headquarters and win back the girl.
1h 35m Comedy Romance
At a high-school party, four friends find that losing their collective virginity isn't as easy as they had thought. But they still believe that they need to do so before college. To motivate themselves, they enter a pact to all "score" by their senior prom.
20.
Bikini Spring Break (2012)
1h 27m Comedy
A group of coeds from a small conservative college break out of their shells when their marching band bus breaks down in Fort Lauderdale during Spring Break.
21.
Bickford Shmeckler's Cool Ideas (2006)
1h 19m Comedy Romance
When his journal of bright ideas is stolen, college freshman Bickford Schmeckler has to blanket the campus in order to locate it.
1h 31m Comedy Romance
Easy-going, gentle college-boy Adam Baker enjoys frat-life, however disgusting the frat-house gets because of his sloppy house-mates Freddie, Ferguson and Munch. Then Adam meets Eve, starts falling in love, but gets jealous of frat-brother Billy, who 'bumps' almost constantly without seeking love, while Eve guards her campus-unique virginity. As even his thrice-divorced dad, an MD, urges Adam to get laid rather then loved, his patience runs out against healthy hormones
23.
FRED: The Movie (2010)
1h 49m Comedy Adventure Romance
A high school senior drives cross-country with his best friends to hook up with a babe he met online.
1h 39m Comedy
In the spirit of "Superbad" and "Dazed and Confused," "The Weekend" relishes the moments that made being a teenager so excruciatingly painful and fantastic. Over the course of a single weekend, various teenagers discover that, perhaps, they don't yet have it all figured out: Rich kid Jacob throws an elaborate weekend party, Benjamin thinks he's going to marry his hesitant girlfriend...
26.
The Malibu Bikini Shop (1986)
27.
Sixteen Candles (1984)
1h 33m Comedy Romance
A teenage girl deals with her parents forgetting her birthday and a crush on her high school's heartthrob.
explore
Check out more list from our community