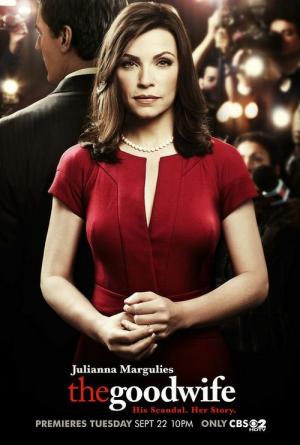 17 Best Shows Like The Good Wife ...
If you liked this film , you will definitely love these too! In this list we highlight some of the best films that share a very similar mood to '', and are worth checking out.
50m Drama
Picking up one year after the events of the final broadcast episode of "The Good Wife", an enormous financial scam has destroyed the reputation of a young lawyer, Maia Rindell, while simultaneously wiping out her mentor and godmother Diane Lockhart's savings. Forced out of her law firm, now called "Lockhart, Deckler, Gussman, Lee, Lyman, Gilbert, Lurie, Kagan, Tannebaum & Associates", they join Lucca Quinn at one of Chicago's preeminent law firms.
43m Drama
Everyone has secrets and Olivia Pope has dedicated her life to protecting and defending the public images of the elite by keeping those secrets under wraps. Pope and her team are at the top of their game when it comes to getting the job done for their clients, but it becomes apparent that these "gladiators in suits," who specialize in fixing the lives of other people, have trouble fixing those closest at hand -- their own.
3.
How to Get Away with Murder (2014)
A sexy, suspense-driven legal thriller about a group of ambitious law students and their brilliant, mysterious criminal defense professor. They become entangled in a murder plot and will shake the entire university and change the course of their lives.
42m Drama
While running from a drug deal gone bad, Mike Ross, a brilliant young college-dropout, slips into a job interview with one of New York City's best legal closers, Harvey Specter. Tired of cookie-cutter law school grads, Harvey takes a gamble by hiring Mike on the spot after he recognizes his raw talent and photographic memory.
Damages is an American legal thriller television series created by the writing and production trio of Daniel Zelman and brothers Glenn and Todd A. Kessler. The plot revolves around the brilliant, ruthless lawyer Patty Hewes and her protégée, recent law school graduate Ellen Parsons. Each season features a major case that Hewes and her firm take on, while also examining a chapter of the complicated relationship between Ellen and Patty. The first two seasons center around the law firm Hewes & Associates. Later seasons center more on Patty and Ellen's relationship as Ellen begins to distance herself from Hewes & Associates and begins an independent career.
Dr. Jason Bull is the brilliant, brash, and charming founder of a hugely successful trial consulting firm.
55m Drama War & Politics
Boss is an American political drama television serial created by Farhad Safinia. The series stars Kelsey Grammer as Tom Kane, the mayor of Chicago, who has recently been diagnosed with dementia with Lewy bodies, a degenerative neurological disorder.
Alan Shore and Denny Crane lead a brigade of high-priced civil litigators in an upscale Boston law firm in a series focusing on the professional and personal lives of brilliant but often emotionally challenged attorneys. A spin-off of long-running series The Practice.
10.
Chicago Justice (2017)
After a night of partying with a female stranger, a man wakes up to find her stabbed to death and is charged with her murder.
Gone Fishing is an animated short featuring the characters of Disney's 2016 animated film Moana. On Motunui, Maui tries to catch a fish with his magical fishhook, only to be comically foiled by the ocean.
13.
Better Call Saul (2015)
Six years before Saul Goodman meets Walter White. We meet him when the man who will become Saul Goodman is known as Jimmy McGill, a small-time lawyer searching for his destiny, and, more immediately, hustling to make ends meet. Working alongside, and, often, against Jimmy, is "fixer" Mike Ehrmantraut. The series tracks Jimmy's transformation into Saul Goodman, the man who puts "criminal" in "criminal lawyer".
14.
Law & Order (1990)
Follows a crime (usually a murder), usually adapted from current headlines, from two separate vantage points, the police investigation and the prosecution in court.
15.
Criminal Justice (2008)
Thriller by Peter Moffat about the challenges and politics of the criminal justice system seen through the eyes of the accused.
16.
The Lincoln Lawyer (2011)
A lawyer conducts business from the back of his Lincoln town car while representing a high-profile client in Beverly Hills.
explore
Check out more list from our community