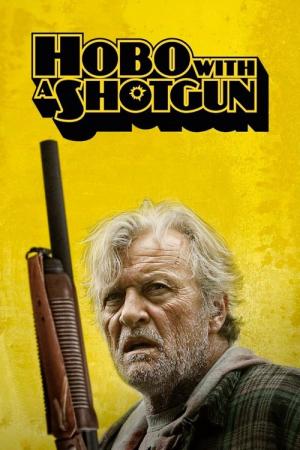 10 Best Movies Like Hobo With A Shotgun ...
If you liked this movie , you will definitely love these too! In this collection we highlight some of the best films that share a very similar mood to 'Hobo with a Shotgun', and are worth checking out.
1h 40m Action Comedy
The story begins with a regular Joe who tries desperately to seek employment, but embarks on a violent rampage when he teams up with cult leader Uncle Dave. Their first act is to heist an amusement park, only to learn that the Taliban are planning the same heist as well. Chaos ensues, and now the Postal Dude must not only take on terrorists but also political figures.
1h 25m Action Drama Crime Thriller Mystery
The boredom of small town life is eating Bill Williamson alive. Feeling constrained and claustrophobic in the meaningless drudgery of everyday life and helpless against overwhelming global dissolution, Bill begins a descent into madness. His shockingly violent plan will shake the very foundations of society by painting the streets red with blood.
1h 42m Action Thriller
Special ops interrogation officer Jimmy Vickers (Danny Dyer) tracks down a gang who slaughtered his parents while at the same time avoiding being tracked down by his old unit and the cops. With police closing in and his old unit on his trail, he has to evade capture long enough to complete his gruesome crusade.
4.
Punisher: War Zone (2008)
1h 42m Action Crime
Waging his one-man war on the world of organized crime, ruthless vigilante-hero Frank Castle sets his sights on overeager mob boss Billy Russoti. After Russoti is left horribly disfigured by Castle, he sets out for vengeance under his new alias: Jigsaw. With the "Punisher Task Force" hot on his trail and the FBI unable to take Jigsaw in, Frank must stand up to the formidable army that Jigsaw has recruited before more of his evil deeds go unpunished.
1h 43m Action Adventure Crime
After Kick-Ass' insane bravery inspires a new wave of self-made masked crusaders, he joins a patrol led by the Colonel Stars and Stripes. When these amateur superheroes are hunted down by Red Mist — reborn as The Mother Fucker — only the blade-wielding Hit-Girl can prevent their annihilation.
2h 12m Thriller Action Crime
McCall believes he has put his mysterious past behind him and dedicated himself to beginning a new, quiet life. But when he meets Teri, a young girl under the control of ultra-violent Russian gangsters, he can't stand idly by – he has to help her. Armed with hidden skills that allow him to serve vengeance against anyone who would brutalize the helpless, McCall comes out of his self-imposed retirement and finds his desire for justice reawakened. If someone has a problem, if the odds are stacked against them, if they have nowhere else to turn, McCall will help. He is The Equalizer.
7.
Death Wish 4: The Crackdown (1987)
1h 39m Thriller Action Crime
After the death of his girlfriend's daughter from a drug overdose, Paul Kersey (Charles Bronson) takes on the local drug cartel.
8.
I Saw the Devil (2010)
2h 22m Thriller Horror
Kyung-chul is a dangerous psychopath who kills for pleasure. He has committed infernal serial murders in diabolic ways that one cannot even imagine and his victims range from young women to even children. The police have chased him for a long time, but were unable to catch him. One day, Joo-yeon, daughter of a retired police chief becomes his prey and is found dead in a horrific state. Her fiance Soo-hyun, a top secret agent, decides to track down the murderer himself. He promises himself that he will do everything in his power to take bloody vengeance against the killer, even if it means that he must become a monster himself to get this monstrous and inhumane killer.
9.
Death Wish V: The Face of Death (1994)
1h 35m Action Crime Drama
Paul Kersey is back at working vigilante justice when when his fiancée, Olivia, has her business threatened by mobsters
10.
Feast III: The Happy Finish (2009)
1h 19m Horror Action Comedy Thriller
The survivors are saved by the mysterious prophet Shot Bus Gus, who seemingly has the ability to control the beasts. He leads them into the sewers as they travel to the big city. Along the way they get help from karate expert Jean-Claude Seagal and learn that the beasts originate from a place called The Hive. Armed with this knowledge, they decide to fight back and destroy the beasts.
explore
Check out more list from our community