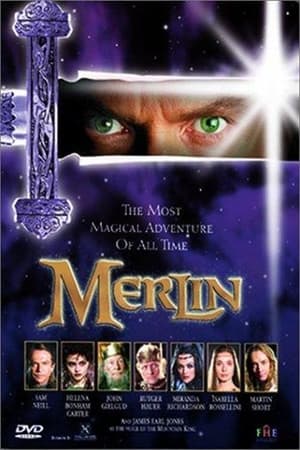 30 Best Shows Like Merlin ...
If you liked this movie , you will probably love these too! In this list we highlight some of the best films that share a very similar mood to '', and are worth checking out.
1.
Legend of the Seeker (2008)
42m Sci-Fi & Fantasy Action & Adventure
The adventures of woodsman Richard Cypher, who discovers that he was born to fulfill a prophecy of becoming a guardian hero to oppressed people. With the help of a mysterious woman named Kahlan and a wise old wizard named Zedd, he must stop a ruthless and bloodthirsty tyrant from unleashing an ancient evil and enslaving the world.
1h 31m Sci-Fi & Fantasy Action & Adventure
A retelling of the legend of King Arthur from the perspective of the wizard Merlin. Sam Neill stars in the title role in a story that covers not only the rise and fall of Camelot but also the phase in the legendary history of Britain that precedes it.
45m Action & Adventure Sci-Fi & Fantasy
A fantasy drama set in a world of legendary heroes and mythical creatures. Far from home and desperate for answers, Jason washes up on the shores of an ancient land. A mysterious place; a world of bull leaping, of snake haired goddesses and of palaces so vast it was said they were built by giants - this is the city of Atlantis. Aided by his two new friends, Pythagoras and Hercules, Jason embarks on a voyage of discovery, and salvation, which sees him brush shoulders with Medusa, come face to face with the Minotaur and even do battle with the dead.
4.
Merlin's Apprentice (2006)
3h Sci-Fi & Fantasy
Merlin's Apprentice is a British miniseries that aired on Channel 4 in 2006. The series is a sequel to the 1998 miniseries Merlin starring Sam Neill and Miranda Richardson. In this sequel, Merlin awakes after a nap of fifty years.
50m Drama Sci-Fi & Fantasy
Camelot is a historical-fantasy-drama television series based on the Arthurian legend, was produced by Graham King, Morgan O'Sullivan and Michael Hirst.
3h Sci-Fi & Fantasy
Legend of Earthsea is a two-night television miniseries adaptation of the "Earthsea" novels by Ursula K. Le Guin. It premiered on the Sci-Fi Channel in December 2004.
7.
The Lord of the Rings: The Fellowship of the Ring (2001)
2h 59m Adventure Fantasy Action
Young hobbit Frodo Baggins, after inheriting a mysterious ring from his uncle Bilbo, must leave his home in order to keep it from falling into the hands of its evil creator. Along the way, a fellowship is formed to protect the ringbearer and make sure that the ring arrives at its final destination: Mt. Doom, the only place where it can be destroyed.
1h 44m Fantasy Action Adventure Family
In his homeland of Alagaesia, a farm boy happens upon a dragon's egg -- a discovery that leads him on a predestined journey where he realized he's the one person who can defend his home against an evil king.
9.
Once Upon a Time (2011)
43m Drama Sci-Fi & Fantasy
There is a town in Maine where every story book character you've ever known is trapped between two worlds, victims of a powerful curse. Only one knows the truth and only one can break the spell.Emma Swan is a 28-year-old bail bonds collector who has been supporting herself since she was abandoned as a baby. Things change for her when her son Henry, whom she abandoned years ago, finds her and asks for her help explaining that she is from a different world where she is Snow White's missing daughter.
10.
The Lord of the Rings: The Two Towers (2002)
2h 59m Adventure Fantasy Action
Frodo and Sam are trekking to Mordor to destroy the One Ring of Power while Gimli, Legolas and Aragorn search for the orc-captured Merry and Pippin. All along, nefarious wizard Saruman awaits the Fellowship members at the Orthanc Tower in Isengard.
2h 7m Adventure Fantasy Romance Family
In a countryside town bordering on a magical land, a young man makes a promise to his beloved that he'll retrieve a fallen star by venturing into the magical realm. His journey takes him into a world beyond his wildest dreams and reveals his true identity.
12.
King Arthur: Legend of the Sword (2017)
2h 6m Action Drama Fantasy
When the child Arthur's father is murdered, Vortigern, Arthur's uncle, seizes the crown. Robbed of his birthright and with no idea who he truly is, Arthur comes up the hard way in the back alleys of the city. But once he pulls the sword Excalibur from the stone, his life is turned upside down and he is forced to acknowledge his true legacy... whether he likes it or not.
13.
Harry Potter and the Deathly Hallows: Part 2 (2011)
2h 10m Fantasy Adventure
Harry, Ron and Hermione continue their quest to vanquish the evil Voldemort once and for all. Just as things begin to look hopeless for the young wizards, Harry discovers a trio of magical objects that endow him with powers to rival Voldemort's formidable skills.
42m Drama
Mary, Queen of Scots, faces political and sexual intrigue in the treacherous world of the French court.
15.
Xena: Warrior Princess (1995)
44m Drama Action & Adventure
Xena is an infamous warrior on a quest to seek redemption for her past sins against the innocent. Accompanied her comrade-in-arms Gabrielle, the campy couple use their formidable fighting skills to help those who are unable to defend themselves.
1h Sci-Fi & Fantasy Drama Action & Adventure
Geralt of Rivia, a mutated monster-hunter for hire, journeys toward his destiny in a turbulent world where people often prove more wicked than beasts.
17.
Harry Potter and the Chamber of Secrets (2002)
2h 41m Adventure Fantasy
Cars fly, trees fight back, and a mysterious house-elf comes to warn Harry Potter at the start of his second year at Hogwarts. Adventure and danger await when bloody writing on a wall announces: The Chamber Of Secrets Has Been Opened. To save Hogwarts will require all of Harry, Ron and Hermione's magical abilities and courage.
18.
Harry Potter and the Order of the Phoenix (2007)
2h 18m Adventure Fantasy Mystery
The rebellion begins! Lord Voldemort has returned, but the Ministry of Magic is doing everything it can to keep the wizarding world from knowing the truth – including appointing Ministry official Dolores Umbridge as the new Defence Against the Dark Arts professor at Hogwarts. When Umbridge refuses to teach practical defensive magic, Ron and Hermione convince Harry to secretly train a select group of students for the wizarding war that lies ahead. A terrifying showdown between good and evil awaits in this enthralling film version of the fifth novel in J.K. Rowling's Harry Potter series. Prepare for battle!
19.
The Hobbit: The Desolation of Smaug (2013)
2h 41m Fantasy Adventure Action
The Dwarves, Bilbo and Gandalf have successfully escaped the Misty Mountains, and Bilbo has gained the One Ring. They all continue their journey to get their gold back from the Dragon, Smaug.
20.
The Mists of Avalon (2001)
3h 2m Sci-Fi & Fantasy Drama Action & Adventure
The Mists of Avalon is a 2001 miniseries based on the novel of the same name by Marion Zimmer Bradley. It was produced by American cable channel TNT and directed by Uli Edel.
1h 30m Drama
Irish construction workers built New York City and had a grand time doing it. Each guy on the Emerald City crew is struggling with something: drinking, gambling, loss, the burden of a family legacy, and facing a city that doesn't need them anymore.
45m Drama Sci-Fi & Fantasy
Set in the fictional college town of Hilltowne, Charmed follows the lives of three sisters, Macy, Mel and Maggie Vera who, after the tragic death of their mother, discover they are three of the most powerful witches of all time.
45m Drama Sci-Fi & Fantasy
Brakebills University is a secret institution specializing in magic. There, amidst an unorthodox education of spellcasting, a group of twenty-something friends soon discover that a magical fantasy world they read about as children is all too real— and poses grave danger to humanity.
24.
The Librarians (2013)
25.
Dragonheart: Vengeance (2020)
1h 37m Fantasy Action Adventure
Lukas, a young farmer whose family is killed by savage raiders in the countryside, sets out on an epic quest for revenge, forming an unlikely trio with a majestic dragon and a swashbuckling, sword-fighting mercenary, Darius.
1h Action & Adventure Sci-Fi & Fantasy
In this fresh take on the Arthurian legend, teenager Nimue joins forces with mercenary Arthur on a quest to find Merlin and deliver an ancient sword.
27.
Jonathan Strange & Mr Norrell (2015)
1h Drama Sci-Fi & Fantasy
With magic long since lost to England, two men are destined to bring it back; the reclusive Mr. Norrell and daring novice Jonathan Strange. So begins a dangerous battle between two great minds.
1h 30m Action & Adventure Sci-Fi & Fantasy
The miniseries is a continuation of the classic story The Wonderful Wizard of Oz, with science fiction and additional fantasy elements added. It focuses on the adventures of a small-town waitress named DG who is pulled into a magical realm called the O.Z., ruled by the tyrannical sorceress Azkadellia. Together with her companions Glitch, Raw, and Cain, DG journeys to uncover her lost memories, find her true parents, and foil Azkadellia's plot to trap the O.Z. in eternal darkness.
29.
Voyage of the Unicorn (2001)
2h 50m Adventure Fantasy TV Movie
One day the Aislings find themselves magically transported to a ship called the Unicorn. Here, they discover that they've been chosen to fulfill an incredible quest! They undergo an incredible journey of discovery in strange lands with enchanted creatures, but find their voyage is really one of the spirit, as they each learn faith and the power of love.
explore
Check out more list from our community