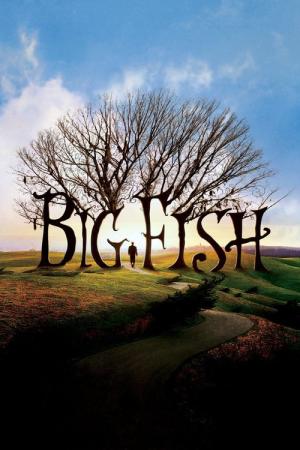 31 Best Movies Like Big Fish ...
If you liked this movie , you will for sure love these too! In this selection we highlight some of the best films that share a very similar mood to '', and are worth checking out.
2h 22m Comedy Drama Romance
A man with a low IQ has accomplished great things in his life and been present during significant historic events—in each case, far exceeding what anyone imagined he could do. But despite all he has achieved, his one true love eludes him.
2.
The Curious Case of Benjamin Button (2008)
2h 46m Drama Fantasy Romance
I was born under unusual circumstances. And so begins. The Curious Case of Benjamin Button, adapted from the 1920s story by F. Scott Fitzgerald about a man who is born in his eighties and ages backwards: a man, like any of us, who is unable to stop time. We follow his story, set in New Orleans, from the end of World War I in 1918 into the 21st century, following his journey that is as unusual as any man's life can be. Directed by David Fincher and starring Brad Pitt and Cate Blanchett with Taraji P. Henson, Tilda Swinton, Jason Flemyng, Elias Koteas and Julia Ormond, Benjamin Button, is a grand tale of a not-so-ordinary man and the people and places he discovers along the way, the loves he finds, the joys of life and the sadness of death, and what lasts beyond time.
3.
The Secret Life of Walter Mitty (2013)
1h 54m Adventure Comedy Drama Fantasy
A timid magazine photo manager who lives life vicariously through daydreams embarks on a true-life adventure when a negative goes missing.
2h 7m Adventure Fantasy Romance Family
In a countryside town bordering on a magical land, a young man makes a promise to his beloved that he'll retrieve a fallen star by venturing into the magical realm. His journey takes him into a world beyond his wildest dreams and reveals his true identity.
1h Documentary Drama
Ancient Rome: The Rise and Fall of an Empire is a 2006 BBC One docudrama series, with each episode looking at a different key turning point in the history of the Roman Empire.
2h 3m Comedy Drama Romance Fantasy
The night after another unsatisfactory New Year party, Tim's father tells his son that the men in his family have always had the ability to travel through time. Tim can't change history, but he can change what happens and has happened in his own life – so he decides to make his world a better place... by getting a girlfriend. Sadly, that turns out not to be as easy as he thinks.
2h 58m Fantasy Drama Romance
When the grim reaper comes to collect the soul of megamogul Bill Parrish, he arrives with a proposition: Host him for a "vacation" among the living in trade for a few more days of existence. Parrish agrees, and using the pseudonym Joe Black, Death begins taking part in Parrish's daily agenda and falls in love with the man's daughter. Yet when Black's holiday is over, so is Parrish's life.
8.
The Age of Adaline (2015)
1h 52m Fantasy Drama Romance
After 29-year-old Adaline recovers from a nearly lethal accident, she inexplicably stops growing older. As the years stretch on and on, Adaline keeps her secret to herself until she meets a man who changes her life.
1h 56m Adventure Comedy Fantasy
An aspiring painter meets various characters and learns valuable lessons while traveling across America.
10.
Where the Wild Things Are (2009)
1h 41m Family Fantasy Science Fiction
Max imagines running away from his mom and sailing to a far-off land where large talking beasts -- Ira, Carol, Douglas, the Bull, Judith and Alexander -- crown him as their king, play rumpus, build forts and discover secret hideaways.
2h 7m Adventure Drama Action
The story of an Indian boy named Pi, a zookeeper's son who finds himself in the company of a hyena, zebra, orangutan, and a Bengal tiger after a shipwreck sets them adrift in the Pacific Ocean.
12.
Edward Scissorhands (1990)
1h 45m Fantasy Drama Romance
A small suburban town receives a visit from a castaway unfinished science experiment named Edward.
13.
The NeverEnding Story (1984)
1h 42m Drama Family Fantasy Adventure
While hiding from bullies in his school's attic, a young boy discovers the extraordinary land of Fantasia, through a magical book called The Neverending Story. The book tells the tale of Atreyu, a young warrior who, with the help of a luck dragon named Falkor, must save Fantasia from the destruction of The Nothing.
14.
What Dreams May Come (1998)
1h 53m Drama Fantasy Romance
Chris Neilson dies to find himself in a heaven more amazing than he could have ever dreamed of. There is one thing missing: his wife. After he dies, his wife, Annie killed herself and went to hell. Chris decides to risk eternity in hades for the small chance that he will be able to bring her back to heaven.
15.
Beasts of the Southern Wild (2012)
1h 33m Drama
Hushpuppy, an intrepid six-year-old girl, lives with her father, Wink in 'the Bathtub', a southern Delta community at the edge of the world. Wink's tough love prepares her for the unraveling of the universe—for a time when he's no longer there to protect her. When Wink contracts a mysterious illness, nature flies out of whack—temperatures rise, and the ice caps melt, unleashing an army of prehistoric creatures called aurochs. With the waters rising, the aurochs coming, and Wink's health fading, Hushpuppy goes in search of her lost mother.
16.
Practical Magic (1998)
1h 44m Romance Comedy Fantasy
Sally and Gillian Owens, born into a magical family, have mostly avoided witchcraft themselves. But when Gillian's vicious boyfriend, Jimmy Angelov, dies unexpectedly, the Owens sisters give themselves a crash course in hard magic. With policeman Gary Hallet growing suspicious, the girls struggle to resurrect Angelov -- and unwittingly inject his corpse with an evil spirit that threatens to end their family line.
2h 3m Romance Drama
An epic love story centered around an older man who reads aloud to a woman with Alzheimer's. From a faded notebook, the old man's words bring to life the story about a couple who is separated by World War II, and is then passionately reunited, seven years later, after they have taken different paths.
1h 50m Comedy Drama Romance
Fifteen-year-old Charlotte Flax is tired of her wacky mom moving their family to a different town any time she feels it is necessary. When they move to a small Massachusetts town and Mrs. Flax begins dating a shopkeeper, Charlotte and her 9-year-old sister, Kate, hope that they can finally settle down. But when Charlotte's attraction to an older man gets in the way, the family must learn to accept each other for who they truly are.
1h 41m Fantasy Drama
In a fantasy world of opposing kingdoms, a 15-year old girl must find the fabled MirrorMask in order to save the kingdom and get home
20m
Magic for Beginners examines the mythologies found in fan culture, from longing to obsession to psychic connections. The need for such connections (whether real or imaginary) as well as the need for an emotional release that only fantasy can deliver are explored.
1h 35m Comedy Drama Fantasy Romance
With the help of a talking freeway billboard, a "wacky weatherman" tries to win the heart of an English newspaper reporter, who is struggling to make sense of the strange world of early-90s Los Angeles.
22.
Nights in Rodanthe (2008)
1h 37m Drama Romance
Adrienne is trying to decide whether to stay in her unhappy marriage or not, and her life changes when Paul, a doctor who is travelling to reconcile with his estranged son, checks into an inn where she is staying.
1h 51m Drama Romance
Travis and Gabby first meet as neighbors in a small coastal town and wind up in a relationship that is tested by life's most defining events.
1h 51m Adventure Drama
A look at the life of legendary American pilot Amelia Earhart, who disappeared while flying over the Pacific Ocean in 1937 in an attempt to make a flight around the world.
25.
Still Breathing (1997)
1h 49m Comedy Drama Romance
Two lost souls: she a con-artist in L.A.; he a puppeteer in San Antonio have the same dream linking each with the other. He travels to L.A. to find this woman he has become obsessed with. She resists, afraid of his kooky ideas until she travels with him to San Antonio and meets his wise grandmother. Story of two disparate people linked by "fate" gets increasingly interesting as it rolls along.
26.
Moonrise Kingdom (2012)
1h 34m Comedy Drama Romance
Set on an island off the coast of New England in the summer of 1965, Moonrise Kingdom tells the story of two twelve-year-olds who fall in love, make a secret pact, and run away together into the wilderness. As various authorities try to hunt them down, a violent storm is brewing off-shore – and the peaceful island community is turned upside down in more ways than anyone can handle.
2h 20m Adventure Fantasy
A surreal adaptation of Sir Thomas Malory's "Le Morte d'Arthur", chronicling Arthur Pendragon's conception, his rise to the throne, the search by his Knights of the Round Table for the Holy Grail, and ultimately his death.
28.
A Walk in the Clouds (1995)
1h 43m Drama Romance
World War II vet Paul Sutton falls for a pregnant and unwed woman who persuades him -- during their first encounter -- to pose as her husband so she can face her family.
29.
Falling in Love (1984)
1h 42m Drama Romance
During shopping for Christmas, Frank and Molly run into each other. This fleeting short moment will start to change their lives, when they recognize each other months later in the train home and have a good time together. Although both are married and Frank has two little kids, they meet more and more often, their friendship becoming the most precious thing in their lives.
30.
The Bridges of Madison County (1995)
2h 15m Drama Romance
Photographer Robert Kincaid wanders into the life of housewife Francesca Johnson for four days in the 1960s.
explore
Check out more list from our community