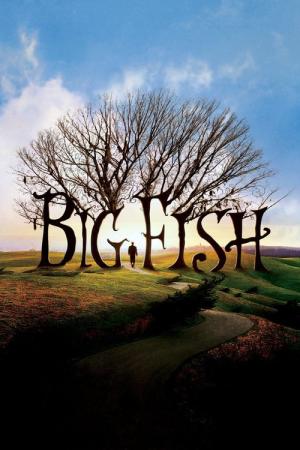 12 Best Movies Like Big Fish ...
If you liked this movie , you will definitely love these too! In this collection we highlight some of the best films that share a very similar premise to 'Big Fish', and are worth checking out.
1.
Beasts of the Southern Wild (2012)
1h 33m Drama
Hushpuppy, an intrepid six-year-old girl, lives with her father, Wink in 'the Bathtub', a southern Delta community at the edge of the world. Wink's tough love prepares her for the unraveling of the universe—for a time when he's no longer there to protect her. When Wink contracts a mysterious illness, nature flies out of whack—temperatures rise, and the ice caps melt, unleashing an army of prehistoric creatures called aurochs. With the waters rising, the aurochs coming, and Wink's health fading, Hushpuppy goes in search of her lost mother.
2.
Moonrise Kingdom (2012)
1h 34m Comedy Drama Romance
Set on an island off the coast of New England in the summer of 1965, Moonrise Kingdom tells the story of two twelve-year-olds who fall in love, make a secret pact, and run away together into the wilderness. As various authorities try to hunt them down, a violent storm is brewing off-shore – and the peaceful island community is turned upside down in more ways than anyone can handle.
2h 3m Comedy Drama Romance Fantasy
The night after another unsatisfactory New Year party, Tim's father tells his son that the men in his family have always had the ability to travel through time. Tim can't change history, but he can change what happens and has happened in his own life – so he decides to make his world a better place... by getting a girlfriend. Sadly, that turns out not to be as easy as he thinks.
1h 41m Fantasy Drama
In a fantasy world of opposing kingdoms, a 15-year old girl must find the fabled MirrorMask in order to save the kingdom and get home
2h 7m Adventure Fantasy Romance Family
In a countryside town bordering on a magical land, a young man makes a promise to his beloved that he'll retrieve a fallen star by venturing into the magical realm. His journey takes him into a world beyond his wildest dreams and reveals his true identity.
6.
The Secret Life of Walter Mitty (2013)
1h 54m Adventure Comedy Drama Fantasy
A timid magazine photo manager who lives life vicariously through daydreams embarks on a true-life adventure when a negative goes missing.
1h 50m Comedy Drama Romance
Fifteen-year-old Charlotte Flax is tired of her wacky mom moving their family to a different town any time she feels it is necessary. When they move to a small Massachusetts town and Mrs. Flax begins dating a shopkeeper, Charlotte and her 9-year-old sister, Kate, hope that they can finally settle down. But when Charlotte's attraction to an older man gets in the way, the family must learn to accept each other for who they truly are.
8.
Still Breathing (1997)
1h 49m Comedy Drama Romance
Two lost souls: she a con-artist in L.A.; he a puppeteer in San Antonio have the same dream linking each with the other. He travels to L.A. to find this woman he has become obsessed with. She resists, afraid of his kooky ideas until she travels with him to San Antonio and meets his wise grandmother. Story of two disparate people linked by "fate" gets increasingly interesting as it rolls along.
9.
Practical Magic (1998)
1h 44m Romance Comedy Fantasy
Sally and Gillian Owens, born into a magical family, have mostly avoided witchcraft themselves. But when Gillian's vicious boyfriend, Jimmy Angelov, dies unexpectedly, the Owens sisters give themselves a crash course in hard magic. With policeman Gary Hallet growing suspicious, the girls struggle to resurrect Angelov -- and unwittingly inject his corpse with an evil spirit that threatens to end their family line.
1h 51m Adventure Drama
A look at the life of legendary American pilot Amelia Earhart, who disappeared while flying over the Pacific Ocean in 1937 in an attempt to make a flight around the world.
11.
Nights in Rodanthe (2008)
1h 37m Drama Romance
Adrienne is trying to decide whether to stay in her unhappy marriage or not, and her life changes when Paul, a doctor who is travelling to reconcile with his estranged son, checks into an inn where she is staying.
12.
What Dreams May Come (1998)
1h 53m Drama Fantasy Romance
Chris Neilson dies to find himself in a heaven more amazing than he could have ever dreamed of. There is one thing missing: his wife. After he dies, his wife, Annie killed herself and went to hell. Chris decides to risk eternity in hades for the small chance that he will be able to bring her back to heaven.
explore
Check out more list from our community