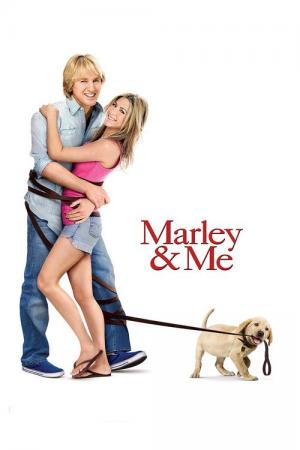 25 Best Movies Like Marley And Me ...
If you liked this one , you will for sure love these too! In this collection we highlight some of the best films that share a very similar mood to '', and are worth checking out.
1.
We Bought a Zoo (2011)
2h 4m Drama Comedy Family
Benjamin has lost his wife and, in a bid to start his life over, purchases a large house that has a zoo – welcome news for his daughter, but his son is not happy about it. The zoo is in need of renovation and Benjamin sets about the work with the head keeper and the rest of the staff, but, the zoo soon runs into financial trouble.
2.
A Dog's Purpose (2017)
1h 40m Comedy Drama Family Fantasy Adventure
A dog goes on quest to discover his purpose in life over the course of several lifetimes with multiple owners.
3.
Hachi: A Dog's Tale (2009)
1h 33m Drama Family
A drama based on the true story of a college professor's bond with the abandoned dog he takes into his home.
4.
A Dog's Way Home (2019)
2h Family Adventure Drama
A dog finds the meaning of his own existence through the lives of the humans he meets.
5.
Cheaper by the Dozen (2003)
1h 38m Comedy Family
The Baker brood moves to Chicago after patriarch Tom gets a job coaching football at Northwestern University, forcing his writer wife, Mary, and the couple's 12 children to make a major adjustment. The transition works well until work demands pull the parents away from home, leaving the kids bored -- and increasingly mischievous.
1h 27m Family Comedy
When Phil and Debbie Winslow relocate from their native Kansas to the sunny climes of Orange County, their big-hearted, havoc-wreaking Great Dane gets a taste of the dog's life, California-style.
1h 20m Comedy Drama
Jon Katz is close to burnout. He's a writer with writer's block; his wife has left for her sister's because he's emotionally distant; he rarely answers his phone. A kennel sends him a border collie that's undisciplined because of abuse. Despite a series of mishaps, Jon decides to keep trying with the dog, and he rents a dilapidated farm house to give the dog room to run. A local handyman refers Jon to a woman who might be able to help him train the dog. Reluctantly, Jon gives her a try. Is the dog the problem, or the owner?
8.
Homeward Bound: The Incredible Journey (1993)
1h 24m Adventure Comedy Drama Family
Remake of the popular Disney classic, this time featuring some well known voices as two dogs and a cat trek across America encountering all sorts of adventures in the quest to be reunited with their owners.
1h 25m TV Movie Comedy Drama Family
A homeless vet leaves his dying dog and best friend, Duke, on the doorstep of a clinic. The dedicated staff nurse Duke back to health, and then launch a campaign to locate the vet and re-unite him with his best pal.
1h 41m Comedy Drama Family Romance
Bill Dancer and his young companion Curly Sue are the classic homeless folks with hearts of gold. Their scams are aimed not at turning a profit, but at getting enough to eat. When they scam the rich and beautiful Grey Ellison into believing she backed her Mercedes into Bill, they're only hoping for a free meal. But Grey is touched, and over the objections of her snotty fiancé.
11.
Darling Companion (2012)
1h 43m Drama Romance
The story of a woman who loves her dog more than her husband. And then her husband loses the dog.
12.
Who Gets the Dog? (2016)
1h 35m Comedy Romance
A couple going through a divorce squabble over custody of their beloved dog.
1h 33m Drama Family
An abused beagle runs away from his owner. On the road, he meets young Marty Preston and follows him home. The boy immediately forms a bond with the dog and names him Shiloh. His stern father won't let him keep the dog because it belongs to Judd Travers, a local hunter. After Shiloh is mistreated again, he runs away and returns to Marty. Knowing his father will once again make him bring Shiloh back to Judd, he makes a home for the dog in an old shed up the hill from the Prestons' house and hides him from his family. His secret is soon discovered when a stray attacks the dog one night and he must turn to his father for help.
14.
A Dog Named Christmas (2009)
1h 35m Family Drama TV Movie
A developmentally challenged young man with a penchant for caring for animals in need sets out to convince his family - and their whole rural community - to participate in a local shelter's inaugural "Adopt a Dog for Christmas Program."
1h 24m Adventure Comedy Family
An eccentric socialite raises a gorilla as her son.
16.
Yours, Mine and Ours (1968)
1h 51m Comedy Drama Family
When a widower with ten children marries a widow with eight, can the twenty of them ever come together as one big happy family?
17.
Kit Kittredge: An American Girl (2008)
1h 41m Family Comedy Drama
The Great Depression hits home for nine year old Kit Kittredge when her dad loses his business and leaves to find work. Oscar nominee Abigail Breslin stars as Kit, leading a splendid cast in the first ever "American Girl" theatrical movie. In order to keep their home, Kit and her mother must take in boarders - paying house - guests who turn out to be full of fascinating stories. When mother's lockbox containing all their money is stolen, Kit's new hobo friend Will is the prime suspect. Kit refuses to believe that Will would steal, and her efforts to sniff out the real story get her and friends into big trouble. The police say the robbery was an inside job, committed by someone they know. So if it wasn't Will, then who did it.
1h 34m Family Drama
SMITTY is a family film about a rescue dog. When life gets tough for Ben, a friendly paw is all it takes to pull him through. Mischievous thirteen-year-old Ben is sent to his grandfather's farm for the summer, where he crosses paths with a lovable mutt. With help from the unlikely canine companion, Ben learns the importance of friendship, family and responsibility.
1h 46m Drama Comedy
A recently-widowed science fiction writer considers whether to adopt a hyper-imaginative 6-year-old abandoned and socially-rejected boy who says he's really from Mars.
1h 36m Drama Adventure Family
Workaholic Thomas Johnson dies in an auto accident and comes back to life as a dog. Remembering some of who he was, he returns to his wife and son to protect them from the man who caused his accident. But, as time goes by, he remembers more of his life, and realizes he wasn't such a good husband and father.
21.
Happy Christmas (2014)
1h 22m Comedy Drama
After a breakup with her boyfriend, a young woman moves in with her older brother, his wife, and their 2-year-old son.
22.
Disney's Air Bud (1997)
2h Animation Family
Walt Disney Productions (later The Walt Disney Company) has produced an anthology television series under several different titles since 1954. The original version of the series premiered on ABC in 1954. The show was broadcast weekly on one of the Big Three television networks until 1990, a 36-year span with only a two-year hiatus in 1984-85. The series was broadcast on Sunday for 25 of those years. From 1991 until 1997, the series aired infrequently. The program resumed a regular schedule in 1997 on the ABC fall schedule, coinciding with Disney's recent purchase of the network. From 1997 until 2008, the program aired regularly on ABC. Subsequently, ABC continued the series as an occasional special presentation.
1h 27m Comedy Family Drama
As a child, Michael Walker wished every day could be Christmas. That is, until a tragic accident crushed his holiday spirit. Thirty years later, Michael still can't muster any joy for the holidays, despite encouragement from his playful wife and well-intentioned parents. But when his young son faces a tragedy, Michael needs to make amends with his past. A mysterious man named Nick gives Michael a gift and instills in him the courage to find the joy that he lost.
1h 25m Comedy Family TV Movie
Harry Habert, owner of a rent office has an original idea: To rent babies from a nearby orphanage to the local families. He rents the Ward brothers to his first customers...
explore
Check out more list from our community