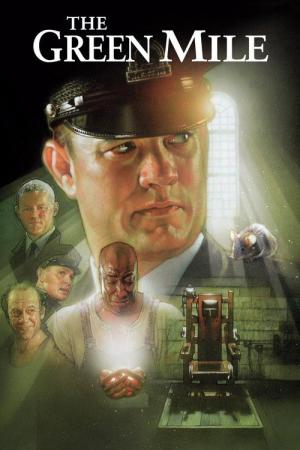 27 Best Movies Like The Green Mile ...
If you liked this movie , you will definitely love these too! In this selection we highlight some of the best films that share a very similar premise to '', and are worth checking out.
1.
The Shawshank Redemption (1994)
2h 22m Drama Crime
Framed in the 1940s for the double murder of his wife and her lover, upstanding banker Andy Dufresne begins a new life at the Shawshank prison, where he puts his accounting skills to work for an amoral warden. During his long stretch in prison, Dufresne comes to be admired by the other inmates -- including an older prisoner named Red -- for his integrity and unquenchable sense of hope.
2h 22m Comedy Drama Romance
A man with a low IQ has accomplished great things in his life and been present during significant historic events—in each case, far exceeding what anyone imagined he could do. But despite all he has achieved, his one true love eludes him.
2h 3m Drama Fantasy Romance Science Fiction
An ordinary man sees a bright light descend from the sky, and discovers he now has super-intelligence and telekinesis.
2h 31m Crime Drama
A man befriends a fellow criminal as the two of them begin serving their sentence on a dreadful prison island, which inspires the man to plot his escape.
5.
Dead Man Walking (1995)
2h 2m Drama
A justice drama based on a true story about a man on death row who, in his last days, forms a strong relationship with a nun who teaches him forgiveness and gives him spirituality, as she accompanies him to his execution.
6.
The Curious Case of Benjamin Button (2008)
2h 46m Drama Fantasy Romance
I was born under unusual circumstances. And so begins. The Curious Case of Benjamin Button, adapted from the 1920s story by F. Scott Fitzgerald about a man who is born in his eighties and ages backwards: a man, like any of us, who is unable to stop time. We follow his story, set in New Orleans, from the end of World War I in 1918 into the 21st century, following his journey that is as unusual as any man's life can be. Directed by David Fincher and starring Brad Pitt and Cate Blanchett with Taraji P. Henson, Tilda Swinton, Jason Flemyng, Elias Koteas and Julia Ormond, Benjamin Button, is a grand tale of a not-so-ordinary man and the people and places he discovers along the way, the loves he finds, the joys of life and the sadness of death, and what lasts beyond time.
2h 7m Crime Drama
When petty criminal Luke Jackson is sentenced to two years in a Florida prison farm, he doesn't play by the rules of either the sadistic warden or the yard's resident heavy, Dragline, who ends up admiring the new guy's unbreakable will. Luke's bravado, even in the face of repeated stints in the prison's dreaded solitary confinement cell, "the box," make him a rebel hero to his fellow convicts and a thorn in the side of the prison officers.
8.
Dancer in the Dark (2000)
9.
Dolores Claiborne (1995)
2h 12m Crime Drama Mystery
Dolores Claiborne was accused of killing her abusive husband twenty years ago, but the court's findings were inconclusive and she was allowed to walk free. Now she has been accused of killing her employer, Vera Donovan, and this time there is a witness who can place her at the scene of the crime. Things look bad for Dolores when her daughter Selena, a successful Manhattan magazine writer, returns to cover the story.
10.
Hearts in Atlantis (2001)
1h 41m Drama Mystery
A widowed mother and her son change when a mysterious stranger enters their lives.
11.
The Life of David Gale (2003)
2h 10m Drama Thriller Crime
A man against capital punishment is accused of murdering a fellow activist and is sent to death row.
1h 51m Drama Fantasy Science Fiction Thriller
Harassed by classmates who won't accept his shocking appearance, a shy young man known as "Powder" struggles to fit in. But the cruel taunts stop when Powder displays a mysterious power that allows him to do incredible things. This phenomenon changes the lives of all those around him in ways they never could have imagined.
1h 43m Drama Thriller
Upon taking a new job, young lawyer Rick Hayes is assigned to the clemency case of Cindy Liggett, a woman convicted of first degree murder and sentenced to death. As Hayes investigates the background for her case, the two begin to form a deep friendship, while all the while the date for her execution draws nearer.
2h 7m Crime Drama Thriller Mystery
Boozer, skirt chaser, careless father. You could create your own list of reporter Steve Everett's faults but there's no time. A San Quentin Death Row prisoner is slated to die at midnight – a man Everett has suddenly realized is innocent.
1h 53m Crime Drama
Idealistic young attorney Adam Hall takes on the death row clemency case of his racist grandfather, Sam Cayhall, a former Ku Klux Klan member he has never met.
2h Drama Fantasy Thriller
In the aftermath of his girlfriend's mysterious death, a young man awakens to strange horns sprouting from his temples.
18.
Animal Factory (2000)
1h 34m Crime Drama
Suburbanite Ron is spoiled, young and not overly worried about the marijuana charges leveled against him. But, after being made out to be a drug dealer, he faces a five-year jail sentence in San Quentin State Prison. Physically frail and unaccustomed to his rough surroundings, Ron is primed to fall victim to sexual predators and bullying guards – that is, until he's befriended by Earl, a veteran inmate who finds meaning in protecting the vulnerable new kid.
19.
A Letter from Death Row (1998)
1h 29m Drama Crime Mystery
A psychological thriller that takes you through the mind of convicted killer, Michael Raine, and his experiences on death row. Was he guilty of killing his girlfriend or was he a victim of a conspiracy to frame him for a crime he didn't commit? As the story unfolds Jessica Foster, an assistant to the Governor of Tennessee begins to interview Raine while on death row, claiming that she's writing a book about the inmates. Through various circumstances, Raine puts two and two together and builds a case that he believes can prove his innocence...or does he? Ms. Foster is the only one on the 'outside" who can give Raine a voice, but is she working for those who framed him? As time draws near to the date of his execution, in his most desperate hour Raine finds the missing pieces to the puzzle to prove his innocence, but is it too late...? Was this story told from Raine's point of view or from the book writers or from yours, the viewer - you decide.
1h 55m Action Crime
Frank Leone is nearing the end of his prison term for a relatively minor crime. Just before he is paroled, however, Warden Drumgoole takes charge. Drumgoole was assigned to a hell-hole prison after his administration was publicly humiliated by Leone, and has now arrived on the scene to ensure that Leone never sees the light of day.
2h 2m Drama Crime
A young half-Navajo convict dying of cancer forces a yuppie doctor to drive him to a magic healing lake.
1h 9m Action
Set in a prison, a death row inmate has a secret and the warden will go to any lengths to get it. Things dont go as planned as you would expect. A good action film with alot of good fight scenes and an interesting twist at the end.What we have learned to expect from Art Camacho.
2h 21m Crime Drama Mystery
Christine Collins is overjoyed when her kidnapped son is brought back home. But when Christine suspects that the boy returned to her isn't her child, the police captain has her committed to an asylum.
24.
Carolina Skeletons (1991)
25.
Killer: A Journal of Murder (1995)
26.
Extremely Loud & Incredibly Close (2011)
2h 9m Drama
A year after his father's death, Oskar, a troubled young boy, discovers a mysterious key he believes was left for him by his father and embarks on a scavenger hunt to find the matching lock.
explore
Check out more list from our community