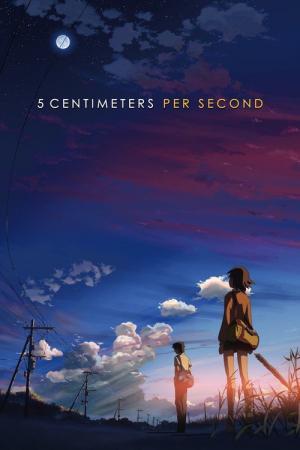 13 Best Anime Like ...
If you liked this one , you will for sure love these too! In this collection we highlight some of the best films that share a very similar mood to '5 Centimeters Per Second', and are worth checking out.
1.
Fireworks, Should We See It from the Side or The Bottom? (2017)
1h 30m Animation Drama Fantasy
Moshimo, Japan. The annual fireworks festival is about to take place and a group of schoolboys, arguing over whether they are round or flat when viewed from different angles, set out to find it out.
2.
Clannad: The Motion Picture (2007)
1h 34m Animation Drama
Clannad is set in a high-school located in some Japanese town. Okazaki Tomoya is a third-year student who doesn't take his studies seriously. Always late for class, he's seen as a delinquent by the rest of his classmates who are busy preparing for their entrance examinations. Needless to say, he hasn't too many close friends either.
3.
The Illusionist (2010)
1h 20m Animation Drama
A French illusionist travels to Scotland to work. He meets a young woman in a small village. Their ensuing adventure in Edinburgh changes both their lives forever.
4.
Grave of the Fireflies (1988)
1h 29m Animation Drama War
In the final months of World War II, 14-year-old Seita and his sister Setsuko are orphaned when their mother is killed during an air raid in Kobe, Japan. After a falling out with their aunt, they move into an abandoned bomb shelter. With no surviving relatives and their emergency rations depleted, Seita and Setsuko struggle to survive.
1h 49m Mystery Drama Romance
Quentin Jacobsen has spent a lifetime loving the magnificently adventurous Margo Roth Spiegelman from afar. So when she cracks open a window and climbs back into his life-dressed like a ninja and summoning him for an ingenious campaign of revenge-he follows. After their all-nighter ends and a new day breaks, Q arrives at school to discover that Margo, always an enigma, has now become a mystery. But Q soon learns that there are clues-and they're for him. Urged down a disconnected path, the closer he gets, the less Q sees of the girl he thought he knew.
2h 10m Animation Drama Romance
Shouya Ishida starts bullying the new girl in class, Shouko Nishimiya, because she is deaf. But as the teasing continues, the rest of the class starts to turn on Shouya for his lack of compassion. When they leave elementary school, Shouko and Shouya do not speak to each other again... until an older, wiser Shouya, tormented by his past behaviour, decides he must see Shouko once more. He wants to atone for his sins, but is it already too late...?
7.
The Place Promised in Our Early Days (2004)
1h 31m Animation Adventure Drama Romance Science Fiction
In a post-war alternative timeline, Japan is divided into the North, controlled by the Union, and the South, controlled by the United States. A mysterious high tower rises within the borders of the Union. Three high school students promise to cross the border with a self-built airplane and unravel the secret of the tower.
1h 12m Romance Animation Drama TV Movie
At Kichijōji Station, Tokyo, Taku Morisaki glimpses a familiar woman on the platform opposite boarding a train. Later, her photo falls from a shelf as he exits his apartment before flying to Kōchi Prefecture. Picking it up, he looks at it briefly before leaving. As the aeroplane takes off he narrates the events that brought her into his life...
43m Documentary
A making of documentary on the Studio Ghibli film Only Yesterday
10.
Tamako Love Story (2014)
1h 23m Romance Animation Comedy
Devoted to her family's rice-cake–making business and the high school baton club, Tamako is a little slow when it comes to love. She's oblivious to her childhood friend Mochizo's affections, even though all their friends know. With graduation closing in and Mochizo leaving for Tokyo, will Tamako realise her feelings and tell him in time?
11.
Millennium Actress (2001)
12.
From Up on Poppy Hill (2011)
1h 31m Animation Drama
A group of Yokohama students fight to save their school's clubhouse from the wrecking ball during preparations for the 1964 Tokyo Olympic Games. While working there, Umi and Shun gradually become attracted to each other but have to face a sudden trial. Even so, they keep going without fleeing the difficulties of reality.
13.
Journey to Agartha (2011)
1h 56m Animation Adventure Drama Fantasy
The film centers on Asuna, a young girl who spends her solitary days listening to the mysterious music emanating from the crystal radio she received from her late father as a memento. One day while walking home she is attacked by a fearsome monster and saved mysterious boy named Shun. However, Shun disappears and Asuna embarks on a journey of adventure to the land of Agartha with her teacher Mr. Morisaki to meet a Shun again. Through her journey she comes to know the cruelty and beauty of the world, as well as loss.
explore
Check out more list from our community