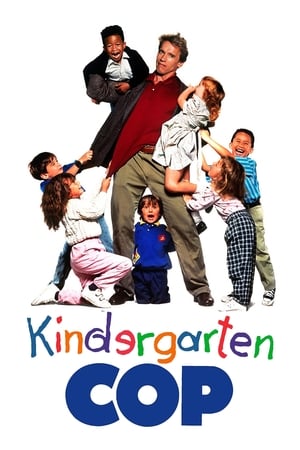 30 Best Movies Like Kindergarten Cop ...
If you liked this one , you will probably love these too! In this selection we highlight some of the best films that share a very similar premise to '', and are worth checking out.
1h 47m Comedy
Julius and Vincent Benedict are the results of an experiment that would allow for the perfect child. Julius was planned and grows to athletic proportions. Vincent is an accident and is somewhat smaller in stature. Vincent is placed in an orphanage while Julius is taken to a south seas island and raised by philosophers. Vincent becomes the ultimate low life and is about to be killed by loan sharks.
2.
Kindergarten Cop 2 (2016)
1h 40m Action Comedy
Assigned to recover sensitive stolen data, a gruff FBI agent goes undercover as a kindergarten teacher, but the school's liberal, politically correct environment is more than he bargained for.
1h 44m Action Crime
A tough Russian policeman is forced to partner up with a cocky Chicago police detective when he is sent to Chicago to apprehend a Georgian drug lord who killed his partner and fled the country.
1h 46m Action Comedy Crime
LAPD Sgt. Joe Friday -- the equally straight-laced nephew of the famous police sergeant of the same name -- is paired up with a young, freewheeling detective named Pep Streebeck. After investigating some strange robberies at the local zoo and the theft of a stockpile of pornographic magazines, they uncover cult activity in the heart of the city and are hot on the case to figure out who's behind it all.
5.
Miss Congeniality (2000)
1h 51m Comedy Crime Action
When the local FBI office receives a letter from a terrorist known only as 'The Citizen', it's quickly determined that he's planning his next act at the Miss America beauty pageant. Because tough-as-nails Gracie Hart is the only female Agent at the office, she's chosen to go undercover as the contestant from New Jersey.
1h 38m Action Comedy Crime
When Hong Kong Inspector Lee is summoned to Los Angeles to investigate a kidnapping, the FBI doesn't want any outside help and assigns cocky LAPD Detective James Carter to distract Lee from the case. Not content to watch the action from the sidelines, Lee and Carter form an unlikely partnership and investigate the case themselves.
1h 52m Crime Comedy Action
After making their way through high school (twice), big changes are in store for officers Schmidt and Jenko when they go deep undercover at a local college. But when Jenko meets a kindred spirit on the football team, and Schmidt infiltrates the bohemian art major scene, they begin to question their partnership. Now they don't have to just crack the case - they have to figure out if they can have a mature relationship. If these two overgrown adolescents can grow from freshmen into real men, college might be the best thing that ever happened to them.
8.
Beverly Hills Cop (1984)
1h 45m Action Comedy Crime
The heat is on in this fast paced action-comedy starring Eddie Murphy as Axel Foley, a street smart Detroit cop tracking down his best friend's killer in Beverly Hills. Axel quickly learns that his wild style doesn't fit in with the Beverly Hills Police Department, which assigns two officers (Judge Reinhold & John Ashton) to make sure things don't get out of hand. Dragging the stuffy detectives along for the ride, Axel smashes through a huge culture clash in his hilarious, high-speed pursuit of justice. Featuring cameos by Paul Reiser, Bronson Pinchot and Damon Wayans, Beverly Hills Cop is an exhilarating, sidesplitting adventure.
1h 47m Action Comedy Crime
Detectives Jimmy and Paul, despite nine years as partners, can still sometimes seem like polar opposites—especially when Paul's unpredictable antics get them suspended without pay. Already strapped for cash and trying to pay for his daughter's wedding, Jimmy decides to sell a rare baseball card that's worth tens of thousands. Unfortunately, when the collector's shop is robbed and the card vanishes with the crook, Paul and Jimmy end up going rogue, tracking down the card and the drug ring behind its theft, all on their own time and without any backup—except for each other.
1h 33m Action Comedy Crime
Miles Logan is a jewel thief who just hit the big time by stealing a huge diamond. However, after two years in jail, he comes to find out that he hid the diamond in a police building that was being built at the time of the robbery. In an attempt to regain his diamond, he poses as an LAPD detective.
11.
National Security (2003)
1h 28m Action Comedy Crime Thriller
Two mismatched security guards are thrown together to bust a smuggling operation.
12.
Cop and a Half (1993)
1h 37m Action Comedy Family
When a pint-sized 8-year-old kid witnesses a murder he offers to help the police, if they make him a cop, too. Saddled with this streetwise sidekick, a hardboiled cop is forced to take his new partner seriously as they race the clock to bring the bad guys to justice.
1h 42m Action Comedy
As his wedding day approaches, Ben heads to Miami with his soon-to-be brother-in-law James to bring down a drug dealer who's supplying the dealers of Atlanta with product.
1h 51m Action Crime Drama Mystery Thriller
Jim Brannigan is sent to London to bring back an American mobster who is being held for extradition but when he arrives he has been kidnapped which was set up by his lawyer. Brannigan in his American Irish way brings American law to the people of Scotland Yard in order to recapture this mobster with both a price tag on his head and a stuffy old London cop to contend with.
1h 35m Action Comedy
A spoof of buddy cop movies where two very different cops are forced to team up on a new reality based T.V. cop show.
16.
21 Jump Street (2012)
1h 49m Action Comedy Crime
In high school, Schmidt was a dork and Jenko was the popular jock. After graduation, both of them joined the police force and ended up as partners riding bicycles in the city park. Since they are young and look like high school students, they are assigned to an undercover unit to infiltrate a drug ring that is supplying high school students synthetic drugs.
17.
Big Mommas: Like Father, Like Son (2011)
1h 47m Crime Comedy Action
FBI agent Malcolm Turner and his 17-year-old son, Trent, go undercover at an all-girls performing arts school after Trent witnesses a murder. Posing as Big Momma and Charmaine, they must find the murderer before he finds them.
1h 40m Action Comedy Crime
The adventures of two California Highway Patrol motorcycle officers as they make their rounds on the freeways of Los Angeles.
1h 51m Action Comedy Crime
Seeking to raise his credibility as an actor and to land a role as a tough cop on a new show, Hollywood action star Nick Lang works a deal with New York City Police Capt. Brix, who by chance is one of his fans. Nick will be paired with detective Lt. John Moss and learn how to act like a real cop. But when Nick drives John crazy with questions and imitating him, he gets in the way of John's pursuit of a serial killer.
1h 42m Action Comedy Crime
George Kuffs didn't finish high-school, just lost his job, and his college-age girlfriend is pregnant. To top it off, George's brother Brad is killed and George inherits Brad's "patrol special" privatized police district and all the problems that come with it.
21.
Stop! Or My Mom Will Shoot (1992)
1h 27m Action Comedy
A tough cop's seemingly frail mother comes to stay with him and progressively interferes in his life. She buys him an illegal MAC-10 machine pistol and starts poking around in his police cases. Eventually, the film draws to a denouement involving the title of the film and the revelation that even though she seems frail and weak she is capable of strong actions in some circumstances, i.e. when her son is threatened by thugs and she shoots herself in the shoulder.
22.
A Low Down Dirty Shame (1994)
1h 40m Comedy Crime
A black detective becomes embroiled in a web of danger while searching for a fortune in missing drug money. During the course of his investigation, he encounters various old connections, ultimately confronting the criminal responsible for Shame's expulsion from the force. He must also deal with two women, Angela, a beautiful old flame, and Peaches, his energetic but annoying sidekick.
23.
Action Jackson (1988)
1h 36m Action Adventure Comedy Crime Drama
Vengeance drives a tough Detroit cop to stay on the trail of a power hungry auto magnate who's systematically eliminating his competition.
24.
Beverly Hills Cop III (1994)
1h 45m Action Comedy Crime
Back in sunny southern California and on the trail of two murderers, Axel Foley again teams up with LA cop Billy Rosewood. Soon, they discover that an amusement park is being used as a front for a massive counterfeiting ring – and it's run by the same gang that shot Billy's boss.
1h 41m Action Crime Thriller
A virtuous Hong Kong police officer must clear his name after he is framed for murder.
26.
Starsky & Hutch (2004)
1h 41m Comedy Crime
Join uptight David Starsky and laid-back Ken "Hutch" Hutchinson as they're paired for the first time as undercover cops. The new partners must overcome their differences to solve an important case with help from street informant Huggy Bear and persuasive criminal Reese Feldman.
27.
Beverly Hills Cop II (1987)
1h 43m Action Comedy Crime
Axel heads for the land of sunshine and palm trees to find out who shot police Captain Andrew Bogomil. Thanks to a couple of old friends, Axel's investigation uncovers a series of robberies masterminded by a heartless weapons kingpin—and the chase is on.
28.
Miss Congeniality 2: Armed and Fabulous (2005)
1h 55m Action Comedy
After her triumph at the Miss United States pageant, FBI agent Gracie Hart becomes an overnight sensation -- and the new "face of the FBI". But it's time to spring into action again when the pageant's winner, Cheryl, and emcee, Stan, are abducted.
1h 41m Action Comedy Crime
The extravagant cop Michael Dooley needs some help to fight a drug dealer who has tried to kill him. A "friend" gives him a dog named Jerry Lee (Officer Lewis), who has been trained to smell drugs. With his help, Dooley sets out to put his enemy behind the bars, but Jerry Lee has a personality of his own and works only when he wants to. On the other hand, the dog is quite good at destroying Dooley's car, house and sex-life...
explore
Check out more list from our community