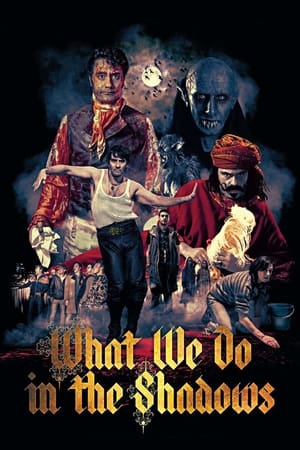 14 Best Movies Like What We Do In The Shadows ...
If you liked this one , you will definitely love these too! In this selection we highlight some of the best films that share a very similar premise to 'What We Do in the Shadows', and are worth checking out.
1.
Only Lovers Left Alive (2013)
2h 3m Drama Romance
A depressed musician reunites with his lover in the desolate streets of Detroit. Though their romance has endured several centuries, it is tested by the arrival of her capricious and unpredictable younger sister.
2.
Death Becomes Her (1992)
1h 44m Comedy Fantasy Horror
Madeline is married to Ernest, who was once arch-rival Helen's fiance. After recovering from a mental breakdown, Helen vows to kill Madeline and steal back Ernest. Unfortunately for everyone, the introduction of a magic potion causes things to be a great deal more complicated than a mere murder plot.
3.
Suburban Gothic (2014)
1h 30m Horror Comedy
An awkward, unemployed man who can talk to the dead teams up with a rebellious bartender to find the vengeful ghost that's been terrorizing their town.
1h 53m Comedy Fantasy
Vampire Barnabas Collins is inadvertently freed from his tomb and emerges into the very changed world of 1972. He returns to Collinwood Manor to find that his once-grand estate and family have fallen into ruin.
1h 33m Comedy Horror
Two fraternity pledges go to a sleazy bar looking for strippers to entertain their college friends.
1h 23m Horror Comedy
A comedic spoof based on the worldwide phenomenon "The Twilight Saga."
1h 45m Fantasy Drama Horror Comedy
A cemetery man has the unusual problem of the dead rising from the grave. Himself and his assistant must end these creatures' lives again after they are reborn. Everything is going well until "She" comes along and stirs things up a bit.
8.
What We Do in the Shadows (2014)
1h 26m Comedy Horror
Vampire housemates try to cope with the complexities of modern life and show a newly turned hipster some of the perks of being undead.
1h 47m Comedy Horror
Two roommates deathly afraid of ghosts both fall in love with a girl who believes their home is haunted.
10.
Eagle vs Shark (2007)
1h 27m Comedy Romance
Love blossoms for Lily over double Meaty Boy burgers at mid-day when uber-computer nerd Jarrod comes in and leaves with free extra large fries. After gatecrashing Jarrod's party and proving her skills on the game console, Lily goes down to Jarrod's home town with him so he can settle an old score with a past school bully.
11.
The Walking Deceased (2015)
1h 30m Science Fiction Comedy
THE WALKING DECEASED is the Scary Movie of the zombie genre, ripping on the biggest and best of zombie pop-culture, arguably the most crazed genre in the world. The story follows a group of survivors from all walks of the apocalypse – an idiotic Sheriff with definite coma-induced brain damage, his hardass son and a hobo with only a crossbow to stave off the walking dead, four squabbling friends forced to survive this zombieland together, and a lonely zombie who just needs love to fully regain his warm body – who leave their once-safe mall hideout in search of the rumored Safe Haven Ranch, a refuge untouched by the zombie virus that has ravaged humanity. But despite the comforting name, they discover that this sanctuary may not be as welcoming as advertised.
1h 25m Comedy Fantasy Horror
Best friends and hardcore partiers Sam, Alice and Prune have scored invitations to 'Medici Night', the legendary VIP bash held every year at a remote castle. But when they discover that this wild party is being thrown by an elite race of blood-crazed vampires, they'll have to stake, stab, slice, bludgeon and blast their way out of a soiree where the hosts are thirsty and the bar is now open.
13.
The Lair of the White Worm (1988)
1h 33m Horror Comedy
In a remote corner of England's Peak District, a mysterious skull is unearthed. But even weirder is that Lady Sylvia steals the skull for use in worshiping - very erotically - her pagan god, The White Worm, who hungers for the taste of virginal flesh.
1h 24m Comedy Horror
Lizzie Borden High's class of '72 are going through the motions at their tenth-year reunion, until deranged alum Walter Baylor, driven insane by a sadistic senior-year prank, escapes from the mental institution and crashes the party. When guests start getting bumped off, the other alumni, including snooty yacht salesman Bob Spinnaker, class tease Bunny Packard, and class zero Gary Nash, spring into action to uncover the culprit.
explore
Check out more list from our community