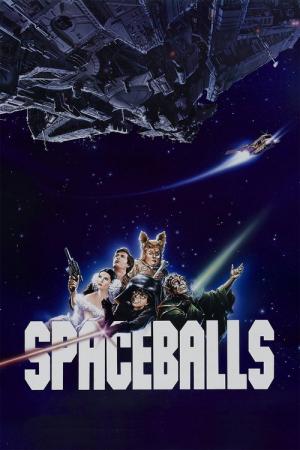 13 Best Movies Like Spaceballs ...
If you liked this one , you will probably love these too! In this list we highlight some of the best films that share a very similar mood to 'Spaceballs', and are worth checking out.
42m Drama Comedy Sci-Fi & Fantasy
Follows the crew of the not-so-functional exploratory ship in the Earth's interstellar fleet, 400 years in the future.
2.
The Lost Skeleton of Cadavra (2001)
1h 30m Comedy Horror Science Fiction
Remember the good old days when anyone with a camera and a few thousand bucks could schlep up to Bronson canyon and quickly make a cheap sci-fi/horror B-movie? Well, they're back! The Lost Skeleton of Cadavra is an affectionate, meticulous re-creation of those notoriously cheesy clunkers, as a gaggle of beloved stereotypes pursue "that rarest of radioactive elements - atmospherium."
3.
Austin Powers: International Man of Mystery (1997)
1h 34m Science Fiction Comedy Crime
As a swingin' fashion photographer by day and a groovy British superagent by night, Austin Powers is the '60s' most shagadelic spy, baby! But can he stop megalomaniac Dr. Evil after the bald villain freezes himself and unthaws in the '90s? With the help of sexy sidekick Vanessa Kensington, he just might.
4.
Flight of the Navigator (1986)
1h 30m Family Science Fiction Adventure
12-year-old David is accidentally knocked out in the forest near his home, but when he awakens eight years have passed. His family is overjoyed to have him back, but is just as perplexed as he is that he hasn't aged. When a NASA scientist discovers a UFO nearby, David gets the chance to unravel the mystery and recover the life he lost.
5.
The Adventures of Buckaroo Banzai Across the 8th Dimension (1984)
1h 43m Comedy Science Fiction Adventure Romance
Adventurer/surgeon/rock musician Buckaroo Banzai and his band of men, the Hong Kong Cavaliers, take on evil alien invaders from the 8th dimension.
6.
Star Wars: The Force Awakens (2015)
2h 16m Action Adventure Science Fiction Fantasy
Thirty years after defeating the Galactic Empire, Han Solo and his allies face a new threat from the evil Kylo Ren and his army of Stormtroopers.
7.
Star Wreck: In the Pirkinning (2005)
1h 43m Science Fiction Action Comedy
Star Wreck: In the Pirkinning begins with Captain James B. Pirk of the starship Kickstart shipwrecked on the 21st century Earth with his crew. Originally from the distant future, Pirk and his crew traveled back in time to save the Earth from hostile aliens, but lost their ship and became stranded. Pirk's daily routine consists mainly of stuffing his face at the local fast food restaurant, and he is finding it difficult to convince the ladies he is, in fact, an intergalactic space hero from the future. As the prospects for humanity's conquest of space look increasingly bleaker, Pirk comes up with a questionable plan to save mankind's future...
1h 33m Action Comedy Science Fiction
In the last moments of World War II, a secret Nazi space program evaded destruction by fleeing to the Dark Side of the Moon. During 70 years of utter secrecy, the Nazis construct a gigantic space fortress with a massive armada of flying saucers.
1h 35m Comedy Science Fiction Thriller Adventure
John Canyon is one of the last independent space transport entrepreneurs. Rough times force him to carry suspicious cargo to Earth without questions being asked. During the flight the cargo turns out to be multitude of unstoppable and deadly killer robots.
2h 7m Adventure Comedy Science Fiction
A slick young Turk kidnapped by extraterrestrials shows his great « humanitarian spirit » by outwitting the evil commander-in-chief of the planet of G.O.R.A.
11.
The Hitchhiker's Guide to the Galaxy (2005)
1h 49m Adventure Comedy Family Science Fiction
Mere seconds before the Earth is to be demolished by an alien construction crew, Arthur Dent is swept off the planet by his friend Ford Prefect, a researcher penning a new edition of "The Hitchhiker's Guide to the Galaxy."
12.
Robin Hood: Men in Tights (1993)
1h 44m Comedy
Robin Hood comes home after fighting in the Crusades to learn that the noble King Richard is in exile and that the despotic King John now rules England, with the help of the Sheriff of Rottingham. Robin Hood assembles a band of fellow patriots to do battle with King John and the Sheriff.
13.
Spaced Invaders (1990)
1h 40m Comedy Family Science Fiction
A crew of Martians overhears a radio broadcast of Orson Welles' "War of the Worlds" coming from Earth, and, thinking the Martian fleet is attacking Earth, they land their broken-down ship in a backwater mid-American town. As luck would have it, they land on Halloween and get mistaken for trick-or-treaters. Comedy ensues as the Martians try to get taken seriously.
explore
Check out more list from our community