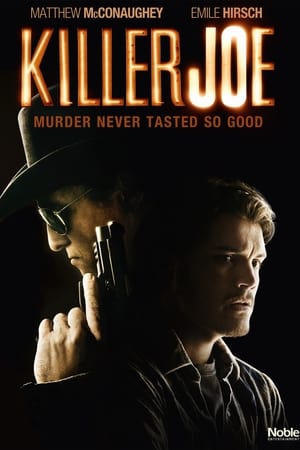 31 Best Movies Like Killer Joe ...
If you liked this one , you will for sure love these too! In this collection we highlight some of the best films that share a very similar premise to '', and are worth checking out.
1h 47m Thriller Drama Mystery
As investigative reporter Ward Jansen and his partner Yardley Acheman chase a sensational, career-making story with the help of Ward's younger brother Jack and sultry death-row groupie Charlotte Bless, the pair tries to prove violent swamp-dweller Hillary Van Wetter was framed for the murder of a corrupt local sheriff.
2.
The Killer Inside Me (2010)
1h 49m Crime Drama Thriller
Deputy Sheriff Lou Ford is a pillar of the community in his small west Texas town, patient and apparently thoughtful. Some people think he is a little slow and maybe boring, but that is the worst they say about him. But then nobody knows about what Lou calls his "sickness": He is a brilliant, but disturbed sociopathic sadist.
3.
The Ice Harvest (2005)
1h 28m Action Adventure Comedy Crime Drama Thriller
A shady lawyer attempts a Christmas Eve crime, hoping to swindle the local mob out of some money. But his partner, a strip club owner, might have different plans for the cash.
1h 37m Crime Drama Thriller
The owner of a seedy small-town Texas bar discovers that one of his employees is having an affair with his wife. A chaotic chain of misunderstandings, lies and mischief ensues after he devises a plot to have them murdered.
2h 2m Action Crime Drama Thriller
On his first day on the job as a narcotics officer, a rookie cop works with a rogue detective who isn't what he appears.
1h 36m Crime Drama
While investigating a young nun's rape, a corrupt New York City police detective, with a serious drug and gambling addiction, tries to change his ways and find forgiveness.
1h 38m Thriller Crime Drama
When a promised job for Texan Michael fails to materialise in Wyoming, Mike is mistaken by Wayne to be the hitman he hired to kill his unfaithful wife, Suzanne. Mike takes full advantage of the situation, collects the money and runs. During his getaway, things go wrong, and soon get worse when he runs into the real hitman, Lyle.
8.
No Country for Old Men (2007)
2h 2m Crime Drama Thriller
Llewelyn Moss stumbles upon dead bodies, $2 million and a hoard of heroin in a Texas desert, but methodical killer Anton Chigurh comes looking for it, with local sheriff Ed Tom Bell hot on his trail. The roles of prey and predator blur as the violent pursuit of money and justice collide.
2h Crime Thriller
A psychological thriller about a man who is sometimes controlled by his murder-and-mayhem-loving alter ego.
1h 57m Thriller Crime Drama
A lawyer finds himself in far over his head when he attempts to get involved in drug trafficking.
1h 31m Crime Thriller
When the quiet life of a beach bum is upended by dreadful news, he sets off for his childhood home to carry out an act of vengeance. However, he proves an inept assassin and finds himself in a brutal fight to protect his estranged family.
12.
A History of Violence (2005)
1h 36m Drama Thriller Crime
An average family is thrust into the spotlight after the father commits a seemingly self-defense murder at his diner.
2h 4m Comedy Crime Thriller
After serving prison time for a self-defense killing, Sailor Ripley reunites with girlfriend Lula Fortune. Lula's mother, Marietta, desperate to keep them apart, hires a hitman to kill Sailor. But he finds a whole new set of troubles when he and Bobby Peru, an old buddy who's also out to get Sailor, try to rob a store. When Sailor lands in jail yet again, the young lovers appear further than ever from the shared life they covet.
14.
Best Laid Plans (1999)
1h 32m Drama Thriller Crime
Rich, successful Bryce meets beautiful Lissa at a bar one night and invites her back to his house, not suspecting for a moment that Lissa isn't really who she seems. What unfolds next is a dangerous, tangled web of double-crosses and seduction.
15.
One False Move (1992)
1h 45m Crime Drama Thriller
Following a series of drug deals and murders, three criminals -- Fantasia, Ray Malcolm and Pluto -- travel from Los Angeles to Houston, finally arriving in a small Arkansas town to go into hiding. Two detectives from the LAPD, who are already on the case, contact the town's sheriff, Dale Dixon, to alert him of the fugitives' presence in the area. Underestimating Dixon, the criminals have no idea what they are about to face.
1h 48m Drama Thriller
When two married business executives having an affair are blackmailed by a violent criminal, they are forced to turn the tables on him to save their families.
17.
Internal Affairs (1990)
1h 55m Crime Drama
Keen young Raymold Avila joins the Internal Affairs Department of the Los Angeles police. He and partner Amy Wallace are soon looking closely at the activities of cop Dennis Peck whose financial holdings start to suggest something shady. Indeed Peck is involved in any number of dubious or downright criminal activities. He is also devious, a womaniser, and a clever manipulator, and he starts to turn his attention on Avila.
1h 40m Drama Thriller Crime
A man confesses to an FBI agent his family's story of how his religious fanatic father's visions lead to a series of murders to destroy supposed 'demons'.
19.
Miller's Crossing (1990)
1h 55m Drama Thriller Crime
Set in 1929, a political boss and his advisor have a parting of the ways when they both fall for the same woman.
20.
Out of the Furnace (2013)
1h 56m Thriller Drama Crime
Two brothers live in the economically-depressed Rust Belt, when a cruel twist of fate lands one in prison. His brother is then lured into one of the most violent crime rings in the Northeast.
1h 51m Crime Drama Thriller
Trapped in their New York brownstone's panic room, a hidden chamber built as a sanctuary in the event of break-ins, newly divorced Meg Altman and her young daughter Sarah play a deadly game of cat-and-mouse with three intruders - Burnham, Raoul and Junior - during a brutal home invasion. But the room itself is the focal point because what the intruders really want is inside it.
22.
Things to Do in Denver When You're Dead (1995)
1h 56m Drama Crime
Five different criminals face imminent death after botching a job quite badly.
1h 31m Drama Thriller
A naive young man assumes a dead man's identity and finds himself embroiled in an underground world of power, violence, and chance where men gamble behind closed doors on the lives of other men.
24.
The Killing of a Chinese Bookie (1976)
25.
Blood and Wine (1996)
1h 41m Crime Drama Thriller
A man who has failed as a father and husband commits a heist to make money for his fledging business, but things become complicated when his wife interferes.
26.
We Own the Night (2007)
1h 57m Drama Crime Thriller
A New York nightclub manager tries to save his brother and father from Russian mafia hitmen.
27.
Before the Devil Knows You're Dead (2007)
1h 57m Crime Drama Thriller
When two brothers organize the robbery of their parents' jewelry store, the job goes horribly wrong, triggering a series of events that send them and their family hurtling towards a shattering climax.
1h 40m Crime Action Drama
With friends like these, who needs enemies? That's the question bad guy Porter is left asking after his wife and partner steal his heist money and leave him for dead -- or so they think. Five months and an endless reservoir of bitterness later, Porter's partners and the crooked cops on his tail learn how bad payback can be.
52m Documentary
In 1560 BC, when Rome was still a marsh and the Acropolis was an empty rock, Egypt was already 1,000 years old. Although the period of the pyramid-builders was long over, Egypt lay on the threshold of its greatest age. The New Kingdom would be an empire forged by conquest, maintained by intimidation and diplomacy, and remembered long after its demise.
1h 46m Drama Crime
Bob Saginowski finds himself at the center of a robbery gone awry and entwined in an investigation that digs deep into the neighborhood's past where friends, families, and foes all work together to make a living - no matter the cost.
explore
Check out more list from our community