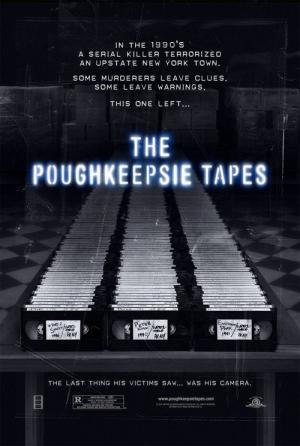 31 Best Movies Like The Poughkeepsie Tapes ...
If you liked this film , you will probably love these too! In this list we highlight some of the best films that share a very similar mood to '', and are worth checking out.
1.
Megan Is Missing (2011)
1h 25m Drama Horror Thriller
Fictional drama based on actual events, about two teenage girls who encounter an Internet predator.
1h 21m Horror Thriller
A young woman studying the habits of webcam chat users from the apparent safety of her apartment witnesses a brutal murder online and is quickly immersed in a nightmare in which she and her loved ones are targeted for the same grisly fate as the first victim.
1h 41m Mystery Thriller
Special Agent Jennifer Marsh works in an elite division of the FBI dedicated to fighting cybercrime. She thinks she has seen it all, until a particularly sadistic criminal arises on the Internet. This tech-savvy killer posts live feeds of his crimes on his website; the more hits the site gets, the faster the victim dies. Marsh and her team must find the elusive killer before time runs out.
1h 44m Crime Horror Thriller
Milos, a retired porn star, leads a normal family life trying to make ends meet. Presented with the opportunity of a lifetime to financially support his family for the rest of their lives, Milos must participate in one last mysterious film. From then on, Milos is drawn into a maelstrom of unbelievable cruelty and mayhem.
2h 5m Horror Thriller
While doing a thesis about violence, Ángela finds a snuff video where a girl is tortured until death. Soon she discovers that the girl was a former student in her faculty...
6.
Friday the 13th Part 2 (1981)
1h 27m Horror Thriller
Five years after the horrible bloodbath at Camp Crystal Lake, it seems Jason Voorhees and his demented mother are in the past. Paul opens up a new camp close to the infamous site, ignoring warnings to stay away, and a sexually-charged group of counselors follow -- including child psychologist major Ginny. But Jason has been hiding out all this time, and now he's ready for revenge.
7.
Friday the 13th: A New Beginning (1985)
1h 32m Horror
Homicidal maniac Jason returns from the grave to cause more bloody mayhem. Young Tommy may have escaped from Crystal Lake, but he's still haunted by the gruesome events that happened there. When gory murders start happening at the secluded halfway house for troubled teens where he now lives, it seems like his nightmarish nemesis, Jason, is back for more sadistic slaughters.
1h 50m Horror Thriller Mystery
Found footage helps a true-crime novelist realize how and why a family was murdered in his new home, though his discoveries put his entire family in the path of a supernatural entity.
1h 16m Horror
A prostitute looking for her next meal hitches a ride with a trucker that leaves her praying for her next breath.
1h 39m Horror Drama Thriller
A young woman's quest for revenge against the people who kidnapped and tortured her as a child leads her and her best friend, also a victim of child abuse, on a terrifying journey into a living hell of depravity.
12.
Friday the 13th (1980)
1h 35m Horror
Camp counselors are stalked and murdered by an unknown assailant while trying to reopen a summer camp that was the site of a child's drowning.
13.
The New York Ripper (1982)
1h 33m Horror Thriller Mystery
A burned-out New York police detective teams up with a college psychoanalyst to track down a vicious serial killer randomly stalking and killing various young women around the city.
14.
The Dorm That Dripped Blood (1982)
1h 28m Horror Mystery Thriller
A crazed killer stalks college students who gave up their vacation to clean a deserted dormitory.
15.
A Bay of Blood (1971)
1h 25m Horror Thriller
An elderly heiress is killed by her husband who wants control of her fortunes. What ensues is an all-out murder spree as relatives and friends attempt to reduce the inheritance playing field, complicated by some teenagers who decide to camp out in a dilapidated building on the estate.
17.
Friday the 13th (2009)
1h 37m Horror
A group of young adults visit a boarded up campsite named Crystal Lake where they soon encounter the mysterious Jason Voorhees and his deadly intentions.
1h 29m Horror Thriller Mystery
A masked killer, wearing World War II U.S. Army fatigues, stalks a small New Jersey town bent on reliving a 35-year-old double murder by focusing on a group of college kids holding an annual Spring Dance.
19.
The Toolbox Murders (1978)
20.
The Cat o' Nine Tails (1971)
1h 52m Horror Mystery Thriller
A reporter and a blind retired journalist try to solve a series of murders. The crimes are connected to experiments by a pharmaceutical company in secret research. The two end up becoming targets of the killer.
21.
The Bird with the Crystal Plumage (1970)
1h 36m Horror Mystery Thriller
An American writer living in Rome witnesses an attempted murder that is connected to an ongoing killing spree in the city, and conducts his own investigation despite himself and his girlfriend being targeted by the killer.
1h 29m Horror
As he helps a young artist with her upcoming exhibition, the owner of a mannequin shop's deadly, suppressed desires come to the surface.
23.
Don't Answer the Phone! (1980)
2h 7m Horror Mystery Thriller
A musician witnesses the murder of a famous psychic, and then teams up with a fiesty reporter to find the killer while evading attempts on their lives by the unseen killer bent on keeping a dark secret buried.
1h 26m Horror Mystery Thriller
It's Miriam's 21st Birthday. As a birthday gift, Miriam's aunt Gail has decided to lend Miriam her beautiful country house for an entire weekend. Aunt Gail's country house is amazing. It's a four bedroom house surrounded by breathtaking mountains and miles and miles of woods. Miriam invites her young college friends Cassy, Mark, Tanya and Leo to join her at the country house for what looks to be the most amazing weekend ever. Of course they all jump at the chance to spend a free weekend in the country, in the middle of nowhere. Miriam's friends are totally in the mood for a big time party weekend. They're also anxious to escape the dark and gloomy concrete jungle known as Manhattan. Miriam, Cassy and Tanya bring the food. Mark brings the beer and Leo, the aspiring filmmaker, brings his new video camera. Leo hopes to produce a short movie by documenting every amazing moment of this weekend getaway...
26.
I Spit on Your Grave (1978)
1h 41m Horror Thriller
After a young writer is brutally gang-raped and left for dead by four men, she systematically hunts them down one by one to exact a terrible vengeance.
1h 31m Horror Thriller
Fifteen years after murdering his sister on Halloween night 1963, Michael Myers escapes from a mental hospital and returns to the small town of Haddonfield, Illinois to kill again.
28.
The Texas Chainsaw Massacre: The Beginning (2006)
1h 31m Horror Thriller
Chrissie and her friends set out on a road trip for a final fling before one is shipped off to Vietnam. Along the way, bikers harass the foursome and cause an accident that throws Chrissie from the vehicle. The lawman who arrives on the scene kills one of the bikers and brings Chrissie's friends to the Hewitt homestead, where young Leatherface is learning the tools of terror.
1h 37m Horror Thriller
A masked killer targets six college kids responsible for a prank gone wrong three years earlier and who are currently throwing a large New Year's Eve costume party aboard a moving train.
30.
The Last House on the Left (2009)
1h 50m Crime Thriller Horror Drama
A group of teenage girls heading into the city hook up with a gang of drug-addled ne'er-do-wells and are brutally murdered. The killers find their way to the home of one of their victim's parents, where both father and mother exact a horrible revenge.
explore
Check out more list from our community