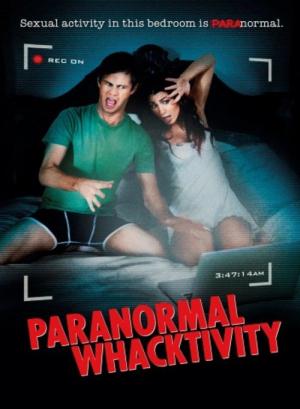 23 Best Paranormal Whacktivity Nudity ...
If you liked this film , you will for sure love these too! In this selection we highlight some of the best films that share a very similar premise to '', and are worth checking out.
1.
Paranormal Movie (2013)
1h 27m Comedy
A man, long haunted by the paranormal, captures on camera the horror and hilarity he and his beautiful girlfriend encounter after moving into a new home.
1h 38m Comedy Horror
After she and her husband move into a haunted house, a woman gives birth to a demonic infant that wreaks havoc.
1h 26m Comedy
Home with their newly-formed family, happy parents Dan and Jody are haunted by sinister, paranormal activities. Determined to expel the insidious force, they install security cameras and discover their family is being stalked by an evil dead demon.
4.
Summer of Blood (2014)
1h 26m Horror Comedy
Lousy lover and egocentric Eric Sparrow is dumped by his girlfriend after rejecting her marital proposal. After a few failed dates his luck turns when a chance encounter with a vampire turns him into a sex god.
5.
A Haunted House (2013)
1h 26m Comedy Horror
Malcolm and Kisha move into their dream home, but soon learn a demon also resides there. When Kisha becomes possessed, Malcolm - determined to keep his sex life on track - turns to a priest, a psychic, and a team of ghost-busters for help in this spoof of all the "found-footage/documentary style" films released in recent years.
1h 32m Comedy Horror
Spoof horror in which a group of college kids do a semester abroad in Romania and realise that if the partying doesn't kill them, the vampires just might!
1h 47m Comedy Horror
Two roommates deathly afraid of ghosts both fall in love with a girl who believes their home is haunted.
8.
The Happy House (2013)
1h 20m Horror Comedy
Their relationship on the rocks, a young Brooklyn couple heads to a remote B&B to work things out. But from the moment they arrive at The Happy House it's one disaster after another, and they soon begin to suspect they've wandered into a real life horror movie. Events escalate from weird to terrifying as they contend with the house's batty owner, her imposing son, a moody Swedish lepidopterist, a pedantic English professor, an extraordinarily rare butterfly, the world's best blueberry muffins, a .44 Magnum, a demented serial killer, and one very strict rulebook.
9.
The Walking Deceased (2015)
1h 30m Science Fiction Comedy
THE WALKING DECEASED is the Scary Movie of the zombie genre, ripping on the biggest and best of zombie pop-culture, arguably the most crazed genre in the world. The story follows a group of survivors from all walks of the apocalypse – an idiotic Sheriff with definite coma-induced brain damage, his hardass son and a hobo with only a crossbow to stave off the walking dead, four squabbling friends forced to survive this zombieland together, and a lonely zombie who just needs love to fully regain his warm body – who leave their once-safe mall hideout in search of the rumored Safe Haven Ranch, a refuge untouched by the zombie virus that has ravaged humanity. But despite the comforting name, they discover that this sanctuary may not be as welcoming as advertised.
1h 25m Comedy Fantasy Horror
Best friends and hardcore partiers Sam, Alice and Prune have scored invitations to 'Medici Night', the legendary VIP bash held every year at a remote castle. But when they discover that this wild party is being thrown by an elite race of blood-crazed vampires, they'll have to stake, stab, slice, bludgeon and blast their way out of a soiree where the hosts are thirsty and the bar is now open.
11.
Hansel & Gretel Get Baked (2013)
1h 28m Fantasy Horror Action
After getting a taste for blood as children, Hansel and Gretel have become the ultimate vigilantes, hell-bent on retribution. Now, unbeknownst to them, Hansel and Gretel have become the hunted, and must face an evil far greater than witches... their past.
1h 26m Comedy Horror
A group of stoners inhale more than they bargained for when they smoke from an evil bong in this campy comedy. The guys buy a vintage bong named EeBee from an ad in High Times magazine, but they have no idea the possessed pipe will gradually suck them into a horrifying surreal world. As they fight for their lives, EeBee's former owner (none other than Tommy Chong) -- the only one who understands the power of the bong -- tries to rescue them.
1h 23m Comedy
While the original parodied slasher flicks like Scream, Keenen Ivory Wayans's sequel to Scary Movie takes comedic aim at haunted house movies. A group of students visit a mansion called "Hell House," and murderous high jinks ensue.
1h 29m Horror Comedy
Four girls go to a cabin in the woods, which is inhabited by evil. This cabin then ensnares them in a labyrinth of macabre as they must battle their way out.
15.
Supernatural Activity (2012)
1h 30m Comedy Drama
The world's most beloved illusionist, armed with his team of oxymoron's, embark on the freakiest, most adventurous paranormal investigation of all time. Terrorized at every turn by an unexplainable irregular patterns of mysterious paradox's, this witch-hunting, ghost busting, creature questing supernatural spooftacular is the funniest footage ever found!
1h 23m Comedy
Cindy finds out the house she lives in is haunted by a little boy and goes on a quest to find out who killed him and why. Also, Alien "Tr-iPods" are invading the world and she has to uncover the secret in order to stop them.
17.
Hide and Creep (2004)
1h 25m Comedy Horror Science Fiction
Residents of a small Southern town contend with bloodthirsty zombies, a mysterious flying saucer, and bad television reception.
18.
30 Nights of Paranormal Activity with the Devil Inside the Girl with the Dragon Tattoo (2013)
1h 20m Comedy
After a stint in a psychiatric hospital, a young woman returns to the house where her father killed the entire cast of The Artist during his exorcism.
4m Comedy
The adventures of two young boys, Chris and Zach, who live in a world surrounded by not so normal things.
1h 15m Horror
In a quiet suburban neighborhood, two sisters are about to experience the dark and sinister world of Terror Toons.
1h 24m Comedy Horror
Three naïve guys, in their 20s, drive from Illinois to LA. A sleazy real-estate agent gives them a great deal on a house in the Hollywood Hills. The night they arrive, a solitary Mexican, who speaks only Spanish, tries to warn them that the place is possessed by Satan. They don't understand him, move in, and plan a party after they meet Lucy, their gorgeous neighbor from down the hill. An old friend of theirs, studying to be a priest, joins them. In the basement is a portal to Hell, so at the party, guests meet their end in various ways. Lucy and her friends may not be who the lads think. Is there any hope for these innocents? Maybe their neutered dog can help.
22.
2001 Maniacs: Field of Screams (2010)
1h 26m Comedy Horror
When this year's round of unsuspecting Northerners fail to show up for their annual Guts N' Glory Jamboree, the residents of Pleasant Valley take their cannibalistic carnival on the road and head to Iowa where they encounter spoiled heiresses Rome & Tina Sheraton and the cast and crew of their "Road Rascals" reality show. Performing "The Bloodiest Show on Earth", our Southern Maniacs prove more than ratings killers in what John Landis has called "one of the rare sequels that surpasses the original".
explore
Check out more list from our community