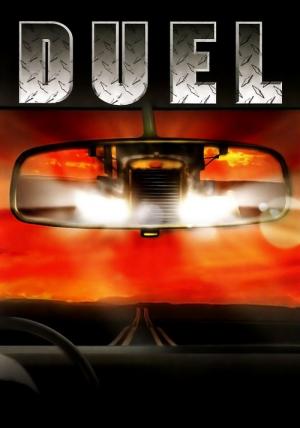 14 Best Movies Like Duel ...
If you liked this movie , you will definitely love these too! In this collection we highlight some of the best films that share a very similar mood to 'Duel', and are worth checking out.
1.
Beyond the Reach (2014)
1h 35m Thriller
A high-rolling corporate shark and his impoverished young guide play the most dangerous game during a hunting trip in the Mojave Desert.
2.
Joy Ride 2: Dead Ahead (2008)
1h 31m Crime Thriller
While driving to Las Vegas for the bachelor party of her sister Melissa and her fiance Bobby, Kayla stops the car in the gas station to meet her date, Nik, a guy she met on the internet. Nik convinces her to take a secondary road under the protest of Bobby but the car breaks down. They find a house in the middle of nowhere and decide to take the car parked in the house's garage to the next city...
3.
Dirty Mary Crazy Larry (1974)
1h 33m Action Adventure Crime
Two lovers, driving their Dodge Charger, are ruthlessly chased by the police after robbing a grocery store.
1h 38m Horror Action Thriller
On a stormy night, young Jim, who transports a luxury car from Chicago to California to deliver it to its owner, feeling tired and sleepy, picks up a mysterious hitchhiker, who has appeared out of nowhere, thinking that a good conversation will help him not to fall asleep. He will have enough time to deeply regret such an unmeditated decision.
1h 24m Action Thriller
Sam Dietz, the relentless police detective, returns to Los Angeles from a self-imposed exile to help the police solve another series of brutal killings committed by another crafty serial killer whom targets Dietz's latest love interest.
1h 24m Action Horror Crime Thriller
While driving through the New Mexico Desert during a rainy night, the college students Jim Halsey and his girlfriend Grace Andrews give a ride to the hitchhiker John Ryder. While in their car, the stranger proves to be a psychopath threatening the young couple with a knife, but Jim succeeds to throw him out of the car on the road. On the next morning, the young couple sees John in another car.
7.
Fast & Furious (2009)
1h 47m Action Crime Drama Thriller
When a crime brings them back to L.A., fugitive ex-con Dom Toretto reignites his feud with agent Brian O'Conner. But as they are forced to confront a shared enemy, Dom and Brian must give in to an uncertain new trust if they hope to outmaneuver him. And the two men will find the best way to get revenge: push the limits of what's possible behind the wheel.
1h 36m Horror
The film is set in the fictional Utah community of Santa Ynez, which is being terrorized by a mysterious black coupe that appears out of nowhere and begins running people down. After the car kills off the town's Sheriff, it becomes the job of Captain Wade Parent to stop the murderous driver.
9.
The California Kid (1974)
1h 14m Horror Action Thriller TV Movie
A sadistic small-town sheriff has a habit of deliberately forcing speeders to their deaths on the mountain roads leading into town. The brother of one of the victims rolls into town in his hot rod to investigate his brother's death.
1h 53m Action Thriller
Austin's hottest DJ, Jungle Julia, sets out into the night to unwind with her two friends Shanna and Arlene. Covertly tracking their moves is Stuntman Mike, a scarred rebel leering from behind the wheel of his muscle car, revving just feet away.
1h 13m TV Movie Thriller
Carol Turner, a frazzled, airheaded mother of two, driving alone from Phoenix to Denver, where her son has been hospitalized, witnesses the shooting of a highway patrolman by a psychopath in a yellow Mustang. Now he is relentlessly pursuing her in order to eliminate the only witness.
1h 20m Action Crime Thriller Horror
James Cray watched as his wife was killed by Fargo, a hit-and-run serial murderer. After severely injuring Fargo and going to prison for several years, James is now determined to avenge his wife's death. He drives across the country looking for Fargo's 1972 Cadillac Eldorado, which the now-disabled killer has turned into a rolling death trap. James' search is helped by a state traffic officer and a singer with her own agenda.
1h 38m Action Thriller
A runaway train, transporting deadly, toxic chemicals, is barreling down on Stanton, Pennsylvania, and proves to be unstoppable until a veteran engineer and young conductor risk their lives to try and stop it with a switch engine.
1h 37m Mystery Thriller Drama
Three young people on a road trip from Colorado to New Jersey talk to a trucker on their CB radio, then must escape when he turns out to be a psychotic killer.
explore
Check out more list from our community