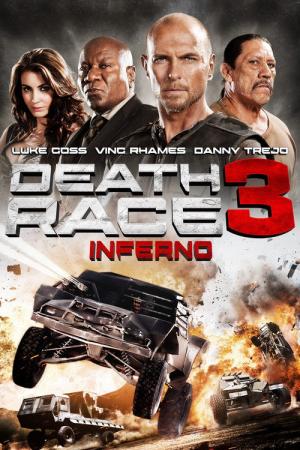 30 Best Movies Like Death Race ...
If you liked this one , you will probably love these too! In this list we highlight some of the best films that share a very similar mood to '', and are worth checking out.
1h 45m Action Thriller Science Fiction
Terminal Island, New York: 2020. Overcrowding in the US penal system has reached a breaking point. Prisons have been turned over to a monolithic Weyland Corporation, which sees jails full of thugs as an opportunity for televised sport. Adrenalized inmates, a global audience hungry for violence and a spectacular, enclosed arena come together to form the 'Death Race', the biggest, most brutal event.
1h 35m Action Thriller Science Fiction
Set in the near future, Lockout follows a falsely convicted ex-government agent , whose one chance at obtaining freedom lies in the dangerous mission of rescuing the President's daughter from rioting convicts at an outer space maximum security prison.
4.
The Running Man (1987)
1h 41m Science Fiction Action Thriller
By 2017, the global economy has collapsed and U.S. society has become a totalitarian police state, censoring all cultural activity. The government pacifies the populace by broadcasting a number of game shows in which convicted criminals fight for their lives, including the gladiator-style The Running Man, hosted by the ruthless Damon Killian, where "runners" attempt to evade "stalkers" and certain death for a chance to be pardoned and set free.
1h 35m Action Thriller Science Fiction
Mind-control technology has taken society by a storm, a multiplayer on-line game called "Slayers" allows players to control human prisoners in mass-scale. Simon controls Kable, the online champion of the game. Kable's ultimate challenge becomes regaining his identity and independence by defeating the game's mastermind.
6.
The Hunger Games (2012)
2h 22m Science Fiction Adventure Fantasy
Every year in the ruins of what was once North America, the nation of Panem forces each of its twelve districts to send a teenage boy and girl to compete in the Hunger Games. Part twisted entertainment, part government intimidation tactic, the Hunger Games are a nationally televised event in which "Tributes" must fight with one another until one survivor remains. Pitted against highly-trained Tributes who have prepared for these Games their entire lives, Katniss is forced to rely upon her sharp instincts as well as the mentorship of drunken former victor Haymitch Abernathy. If she's ever to return home to District 12, Katniss must make impossible choices in the arena that weigh survival against humanity and life against love. The world will be watching.
1h 55m Action Thriller
Ray Breslin is the world's foremost authority on structural security. After analyzing every high security prison and learning a vast array of survival skills so he can design escape-proof prisons, his skills are put to the test. He's framed and incarcerated in a master prison he designed himself. He needs to escape and find the person who put him behind bars.
1h 35m Action Thriller Science Fiction
In the future, the inmates of a private underground prison are computer-controlled with cameras, dream readers, and devices that can cause pain or death. John (Christopher Lambert) and his illegally pregnant wife Karen (Loryn Locklin) are locked inside "The Fortress" but are determined to escape before the birth of their baby.
9.
Mad Max: Fury Road (2015)
2h 1m Action Adventure Science Fiction
An apocalyptic story set in the furthest reaches of our planet, in a stark desert landscape where humanity is broken, and most everyone is crazed fighting for the necessities of life. Within this world exist two rebels on the run who just might be able to restore order.
1h 58m Action Drama Science Fiction Thriller
In the year 2022, a ruthless prison warden has created the ultimate solution for his most troublesome and violent inmates: Absolom, a secret jungle island where prisoners are abandoned and left to die. But Marine Captain John Robbins, convicted of murdering a commanding officer, is determined to escape the island in order to reveal the truth behind his murderous actions and clear his name.
11.
Adrenalin: Fear the Rush (1996)
1h 17m Action Science Fiction Thriller
In a not-too-distant future, a lethal virus sweeps across Europe, prompting the creation of quarantine refugee camps in the United States. Police officers Delon (Natasha Henstridge) and Lemieux (Christopher Lambert) learn of a grisly murder in the Boston camp and team up to investigate. Suspecting the ruthless killer is infected with the virus, the pair have just hours to stop him before he becomes contagious and infects the entire population.
12.
Black Moon Rising (1986)
1h 40m Action
An FBI free-lancer stashes a stolen Las Vegas-crime tape in a high-tech car stolen by someone else.
13.
Demolition Man (1993)
1h 55m Crime Action Science Fiction
Simon Phoenix, a violent criminal cryogenically frozen in 1996, escapes during a parole hearing in 2032 in the utopia of San Angeles. Police are incapable of dealing with his violent ways and turn to his captor, who had also been cryogenically frozen after being wrongfully accused of killing 30 innocent people while apprehending Phoenix.
1h 56m Action Thriller Crime
When the government puts all its rotten criminal eggs in one airborne basket, it's asking for trouble. Before you can say, "Pass the barf bag," the crooks control the plane, led by creepy Cyrus "The Virus" Grissom. Watching his every move is the just-released Cameron Poe, who'd rather reunite with his family.
1h 36m Science Fiction
In a dystopian future, Dredd, the most famous judge (a cop with instant field judiciary powers) is convicted for a crime he did not commit while his murderous counterpart escapes.
16.
Force of Execution (2013)
1h 38m Action Crime
Seagal stars as mob kingpin Mr. Alexander, an old-school boss who rules his criminal empire with both nobility and brutality. For a simple prison hit, he sends his best enforcer and protégé Roman Hurst (Foster). When the hit goes wrong, Hurst is forced to pay the price of his failure: banishment in the city that he almost once ruled. But a war is brewing for the soul of the city between Alexander, a cold-blooded gangster known as 'The Iceman" (Rhames) and a merciless Mexican cartel. Hurst, with the help of an ex-con restaurant owner (Trejo) who has a few hidden moves of his own, will rediscover his own will to survive the coming conflict and to wreak vengeance on those who have wronged him.
17.
The Fast and the Furious (2001)
1h 46m Action Crime Thriller
Dominic Toretto is a Los Angeles street racer suspected of masterminding a series of big-rig hijackings. When undercover cop Brian O'Conner infiltrates Toretto's iconoclastic crew, he falls for Toretto's sister and must choose a side: the gang or the LAPD.
1h 34m Action Thriller Science Fiction
David Lord finds himself forced into the savage world of a modern gladiatorial arena, where men fight to the death for the entertainment of the online masses.
1h 47m Action Crime Thriller
Ex-Federale agent Machete is recruited by the President of the United States for a mission which would be impossible for any mortal man – he must take down a madman revolutionary and an eccentric billionaire arms dealer who has hatched a plan to spread war and anarchy across the planet.
1h 46m Action Crime Science Fiction Thriller
The Law Enforcement Technology Advancement Centre (LETAC) has developed SID version 6.7: a Sadistic, Intelligent, and Dangerous virtual reality entity which is synthesized from the personalities of more than 150 serial killers, and only one man can stop him.
21.
Ballistic: Ecks vs. Sever (2002)
1h 31m Action Adventure Thriller
Jonathan Ecks, an FBI agent, realizes that he must join with his lifelong enemy, Agent Sever, a rogue DIA agent with whom he is in mortal combat, in order to defeat a common enemy. That enemy has developed a "micro-device" that can be injected into victims in order to kill them at will.
22.
The Last Patrol (2000)
1h 35m Drama Action Thriller Science Fiction
After a massive earthquake destroys Los Angeles, a new order is formed. But disagreement among the ranks leads to more war and disruption, and The Last Patrol must bring order if there's to be any hope for the future.
2h 10m Action Thriller Crime
Former cop Brian O'Conner partners with ex-con Dom Toretto on the opposite side of the law. Since Brian and Mia Toretto broke Dom out of custody, they've blown across many borders to elude authorities. Now backed into a corner in Rio de Janeiro, they must pull one last job in order to gain their freedom.
1h 29m Adventure Action Thriller
Brandon, a respected street fighter, is forced to flee the city after his brother is murdered and the money that was supposed to be paid back to a local gangster is stolen. While lying low at his father's house in a small Southern town, Brandon soon gets involved in the local underground cage-fighting circuit. With the help of Drake Colby, a former MMA champion, Brandon devises a scheme to bring a massive payday, if they are able to survive.
1h 41m Action Science Fiction Thriller
A male prison escapee heads for his hidden loot, electronically attached to a female prisoner.
2h 18m Action Crime Science Fiction Thriller
Sean Archer, a very tough, rugged FBI Agent. Who is still grieving for his dead son Michael. Archer believes that his son's killer is his sworn enemy, a very powerful criminal, Castor Troy. One day, Archer has finally cornered Castor, however, their fight has knocked out Troy cold. As Archer finally breathes easy over the capture of his enemy, he finds out that Troy has planted a bomb that will destroy the entire city of Los Angeles and all of its inhabitants. Unfortunately the only other person who knows its location is Castor's brother Pollux, and he refuses to talk. The solution, a special operation doctor that can cut off people's faces, and can place a person's face onto another person. Archer undergoes one of those surgeries to talk to Pollux. However, Castor Troy somehow regains consciousness and now wants revenge on Archer for taking his face. Not only is Troy ruining Archer's mission, but his personal life as well. Archer must stop Troy again. This time, it's personal.
27.
Bullet to the Head (2012)
28.
Half Past Dead (2002)
1h 38m Crime Action Thriller
A man goes undercover in a hi-tech prison to find out information to help prosecute those who killed his wife. While there, he stumbles onto a plot involving a death-row inmate and his $200 million stash of gold.
29.
Death Race 2000 (1975)
1h 20m Action Comedy Science Fiction
In a boorish future, the government sponsors a popular, but bloody, cross-country race in which points are scored by mowing down pedestrians. Five teams, each comprised of a male and female, compete using cars equipped with deadly weapons. Frankenstein, the mysterious returning champion, has become America's hero, but this time he has a passenger from the underground resistance.
explore
Check out more list from our community