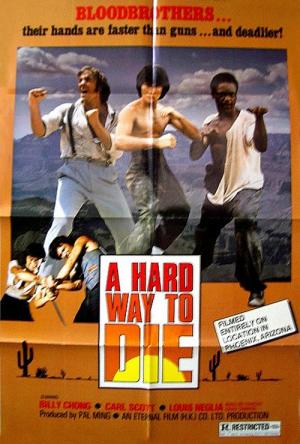 18 Best Hard Way To Die ...
If you liked this movie , you will definitely love these too! In this list we highlight some of the best films that share a very similar mood to '', and are worth checking out.
1.
New Fists of Fury (1976)
2.
In Eagle Dragon Fist (1979)
3.
Clan of the White Lotus (1980)
1h 35m Action
Shaolin practitioners and brothers Wu and Hung kill the merciless Pai Mei. However, Pai Mei's even more merciless brother White Lotus takes revenge; killing most of the Shaolin disciples, including Wu and Hung's girlfriend, leaving only Wu's pregnant wife and Hung as the only remaining practitioners of Shaolin left to avenge the deaths. But Hung's kung-fu will not be powerful enough so he must learn feminine kung-fu techniques to help him try and defeat White Lotus.
4.
Two Champions of Shaolin (1980)
Shaolin warrior Tung Chien-chen is injured in battle against the hated Wu Tang clan, and nursed back to health by a knife-throwing master. As he recovers, Tung learns this deadly art, and also falls in love with his teacher's daughter. But when a Wu Tang attack disrupts the young lovers' wedding, Tung must put his new skill to use as he seeks revenge.
1h 28m Action
A spoilt rich kid turns up at a fu school to show off, but he gets clobbered by the boastful Little Tiger, who is later framed for the kid's murder when a gang of blackmailers make an example of him. The police allow Tiger to escape, in order to find the real culprits. Tiger hides at his girlfriend's place, but a model she works with does some whoring on the side for the blackmailer, and so the crooks are onto his trail...
6.
Challenge of the Masters (1976)
The Wong family kung fu school gets smacked around by a rival school. Wong Fei-hong gets fed up with the abuse and goes to learn from his fathers master. After one of the rival schools members kills some of the towns people Wong Fei-hong becomes enraged trains even more comes back and gets his revenge.
7.
The Kid with the Golden Arm (1979)
8.
To Kill with Intrigue (1977)
Young master Cao Le chases his pregnant girlfriend away from the family castle. He does it in order to save her from vicious bandits who are going to murder his family.
9.
Hate Thy Neighbor (1968)
Ken Dakota's search for the murderer of his brother, killed by bandit Gary Stevens, at the behest of land owner Chris Malone. Dakota attempts to bring the men responsible for his brothers death to justice.
10.
Fearless Hyena 2 (1983)
1h 32m Action
A pair of evil kung-fu artists, Heaven and Earth, are slaughtering the entire Yin-Yang brotherhood.
11.
Crippled Avengers (1978)
Crippled Avengers is a 1978 Shaw Brothers kung fu film directed by Chang Cheh and starring four members of the Venom Mob. It has been released in North America as Mortal Combat and Return of the 5 Deadly Venoms. The film follows a group of martial artists seeking revenge after being crippled by Tu Tin-To (Chen Kuan Tai), a martial arts master, and his son (Lu Feng).
12.
The Shaolin Temple (1982)
1h 35m Action
The Tang emperor is betrayed by one of his generals, who installs himself as emperor in the East Capital. The son of one of his slave workers escapes to the Shaolin Temple, learns kung fu, and sets out to kill the traitor who killed his father.
13.
Five Deadly Venoms (1978)
1h 38m Action
A kung-fu student is instructed by his dying teacher to track down five of the teacher's ex-students. Each of the five is equipped with a lethal martial arts skill, and the teacher fears this might be used for evil purposes. However, not only does the teacher not know the identity of the students (who all wore masks under his training), but some of the students also don't know each other!
1h 49m Action
The 5 Kao brothers, separated since childhood, are unaware that the master Teng Lung Manor, Lung Chen-feng has killed their father. All five, however, seek to defeat the vicious gangsters at the Manor.
15.
Martial Arts of Shaolin (1986)
In ancient China, Zhi Ming trains at the legendary Northern Shaolin temple to avenge the death of his father at the hands of a nefarious magistrate.
16.
Once Upon a Time in China and America (1997)
So goes to the U.S. to open a martial arts school. Around this time, many Chinese people were sold off to U.S. railroad companies, and were brutally treated by the Americans under the harsh working conditions. Thus, the American workers' hatred towards the Chinese immigrants is high. As a result, So gets into trouble with the Americans and the mob, and calls Master Wong for help.
1h 37m Action
A survivor of an attack on a rebel group opposing the Manchu invasion of China creates the Goose Fist fighting technique and tries for revenge on a traitor.
explore
Check out more list from our community