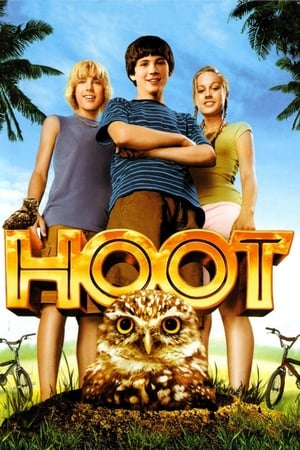 13 Best Movies Like Hoot ...
If you liked this film , you will for sure love these too! In this list we highlight some of the best films that share a very similar mood to 'Hoot', and are worth checking out.
1.
Little Monsters (1989)
1h 42m Adventure Fantasy Comedy Family
A young boy is scared of the monster under his bed. He asks his 6th grade brother to swap rooms for the night as a bet that the monster really exists. Soon the brother becomes friends with the monster and discovers a whole new world of fun and games under his bed where pulling pranks on kids and other monsters is the main attraction.
1h 24m Adventure Comedy Family
An eccentric socialite raises a gorilla as her son.
1h 46m Family Adventure
Three brothers - Marshall, Marty and Mark dream of becoming naturalists and portraying animal life of America. One summer their dream comes true, they travel through America, filming alligators, bears and moose.
1h 28m Comedy Family
Charlie and Dan have been best friends and business partners for thirty years; their Manhattan public relations firm is on the verge of a huge business deal with a Japanese company. With two weeks to sew up the contract, Dan gets a surprise: a woman he married on a drunken impulse nearly nine years before (annulled the next day) shows up to tell him he's the father of her twins, now seven, and she'll be in jail for 14 days for a political protest. Dan volunteers to keep the tykes, although he's up tight and clueless. With Charlie's help is there any way they can be dad and uncle, meet the kids' expectations, and still land the account?
1h 30m Action Adventure Comedy Family
Bingo, the runaway circus dog, is off the leash and saving Chuckie's life! Bingo and the boy become the best of friends in this canine comedy featuring doggy disguises and skateboarding, pinball and prison. Chuckie and his parents (Cindy Williams and David Rasche) are moving house, a thousand miles away, but Bingo won't be allowed to join them. Chuckie and Bingo's determination to be reunited is t
6.
Beethoven's 5th (2003)
1h 31m Comedy Family
When Sara takes Beethoven to spend summer vacation with wacky Uncle Freddie in an old mining town, the mischievous canine "digs up" the missing clue to a legendary hidden fortune of Rita and Moe Selig. Now everybody wants to be the dog's best friend as his discovery unleashes a frenzy of treasure hunting among the community's cast of kooky creatures. With help from Uncle Freddie and Garrett (a friend or maybe more), Sara and Beethoven try to help uncover a secret that has been in the crazy little town for years. Description above from the Wikipedia article Beethoven's 5th (film), licensed under CC-BY-SA, full list of contributors on Wikipedia.
7.
For the Love of Benji (1977)
1h 25m Family
Benji gets lost after a flight overseas and becomes a stray in Athens, Greece. He then tries everyday to reunite with his family while mysterious people pursue him, in a race to get a code which was secretly tattooed on his paw at the airport. But who are the bad guys and who are the agents that can be trusted? Will Benji and his kids and their nanny ever get to enjoy their vacation?
1h 35m Adventure Family
Sandy Ricks is sent by his mom to Coral Key, a rustic island in the Florida keys, to spend the summer with his uncle Porter Ricks. Sandy dislikes everything about his new environment until a new friend comes into his life, a dolphin named Flipper, that brings uncle and nephew together and leads Sandy on the summer adventure of a lifetime.
1h 27m Adventure Drama Family
Many kids might say their best friend is a puppy or a pony. But for 12-year-old Sandy, the most special pet of all is the exuberant dolphin he rescues and who returns the favor by rescuing Sandy from sharks.The dolphin named Flipper first swam into the world's minds and hearts in this 1963 film starring Chuck Connors and Luke Halpin as Sandy (a role he would continue in the 1964-68 TV series that followed.) James B. Clark, a long-time family filmmaker whose credits include "Island of the Blue Dolphins" and "My Side of the Mountain," directs the story of hard times (Hurricane Hazel and its aftermath) and joy (Sandy's dolphin-powered rides through the waves). And two fins up for Mitzie, the animal star who plays flipper.
10.
Princess Protection Program (2009)
1h 29m TV Movie Comedy Drama Family
When an evil dictator threatens to take over the kingdom, Princess Rosalinda gets put into the Princess Protection Program. She is taken under the wing of General Joe Mason, an agent from the agency, and his daughter, Carter, who works after school at a nearby bait shop. Rosalinda goes undercover as a regular teen named, Rosie with the help of Carter. In turn, Rosalinda helps Carter overcome insecurities with herself and her crush on Donny who also likes her but can't tell or get shy.
11.
Larger Than Life (1996)
1h 33m Comedy
Motivational Speaker Jack Corcoran is determined to get his career off the ground, but the biggest gigs he can get are the ones nobody wants. Then one day, he receives a telegram that his circus clown father has passed away, and has left a "huge" inheritance. When he gets there, he finds that his inheritance has come in the form of an elephant that was his father's pride and joy in circus acts. His main intention is to sell the pachyderm off. Jack must choose between loud and rude zookeeper Mo or attractive animal show owner Terry. As the two treks through the country Jack and the elephant develop a bond, and it changes his approach on life for the better.
12.
Zeus and Roxanne (1997)
1h 38m Adventure Comedy Family Romance
Mary Beth is a marine biologist that gets annoyed when a dog called Zeus stows aboard her research boat. Nevertheless she is intrigued when the intrusive canine makes best-friends with her captive dolphin, Roxanne. She falls in love with Zeus's owner, Terry, a musician who rides a bike.
explore
Check out more list from our community