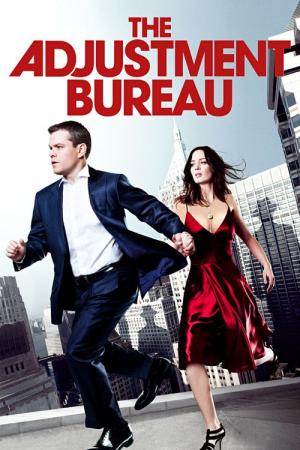 13 Best Movies Like The Adjustment Bureau ...
If you liked this film , you will definitely love these too! In this selection we highlight some of the best films that share a very similar premise to 'The Adjustment Bureau', and are worth checking out.
In the year 2035, convict James Cole reluctantly volunteers to be sent back in time to discover the origin of a deadly virus that wiped out nearly all of the earth's population and forced the survivors into underground communities. But when Cole is mistakenly sent to 1990 instead of 1996, he's arrested and locked up in a mental hospital. There he meets psychiatrist Dr. Kathryn Railly, and patient Jeffrey Goines, the son of a famous virus expert, who may hold the key to the mysterious rogue group, the Army of the 12 Monkeys, thought to be responsible for unleashing the killer disease.
2h 9m
Director: Terry Gilliam
Screenplay: Janet Peoples
Screenplay: David Webb Peoples
Science Fiction Thriller Mystery
A short film by Nicole DeLarge.
8m
Director, Writer: Nicole DeLarge
Called in to recover evidence in the aftermath of a horrific explosion on a New Orleans ferry, Federal agent Doug Carlin gets pulled away from the scene and taken to a top-secret government lab that uses a time-shifting surveillance device to help prevent crime.
2h 6m
Director: Tony Scott
Screenplay: Bill Marsilii
Screenplay: Terry Rossio
Action Thriller Science Fiction
A young woman with a mysterious past lands in Southport, North Carolina where her bond with a widower forces her to confront the dark secret that haunts her.
1h 55m
Director: Lasse Hallström
Novel: Nicholas Sparks
Screenplay: Dana Stevens
Screenplay: Gage Lansky
Romance Thriller
Michael Jennings is a genius who's hired – and paid handsomely – by high-tech firms to work on highly sensitive projects, after which his short-term memory is erased so he's incapable of breaching security. But at the end of a three-year job, he's told he isn't getting a paycheck and instead receives a mysterious envelope. In it are clues he must piece together to find out why he wasn't paid – and why he's now in hot water.
1h 59m
Director: John Woo
Screenplay: Dean Georgaris
Action Adventure Mystery Science Fiction Thriller
Three college students on a road trip across the Southwest experience a detour – the tracking of a computer genius who has already hacked into MIT and exposed security faults. When the trio find themselves drawn to an eerily isolated area, suddenly everything goes dark. When one of the students regains consciousness, he finds himself in a waking nightmare.
1h 37m
Director, Writer: William Eubank
Writer: Carlyle Eubank
Writer: David Frigerio
Thriller Science Fiction
7.
The Butterfly Effect (2004)
A young man struggles to access sublimated childhood memories. He finds a technique that allows him to travel back into the past, to occupy his childhood body and change history. However, he soon finds that every change he makes has unexpected consequences.
1h 53m
Director, Screenplay: Eric Bress
Director, Screenplay: J. Mackye Gruber
Science Fiction Thriller
A parasitic alien soul is injected into the body of Melanie Stryder. Instead of carrying out her race's mission of taking over the Earth, "Wanda" (as she comes to be called) forms a bond with her host and sets out to aid other free humans.
2h 5m
Director, Screenplay: Andrew Niccol
Novel: Stephenie Meyer
Action Adventure Romance Science Fiction Thriller
Construction worker Douglas Quaid discovers a memory chip in his brain during a virtual-reality trip. He also finds that his past has been invented to conceal a plot of planetary domination. Soon, he's off to Mars to find out who he is and who planted the chip.
1h 53m
Author: Philip K. Dick
Director: Paul Verhoeven
Screenplay: Gary Goldman
Screenplay: Dan O'Bannon
Screenplay: Ronald Shusett
Action Adventure Science Fiction
The night after another unsatisfactory New Year party, Tim's father tells his son that the men in his family have always had the ability to travel through time. Tim can't change history, but he can change what happens and has happened in his own life – so he decides to make his world a better place... by getting a girlfriend. Sadly, that turns out not to be as easy as he thinks.
2h 3m
Director, Writer: Richard Curtis
Comedy Drama Romance Fantasy
11.
Predestination (2014)
Predestination chronicles the life of a Temporal Agent sent on an intricate series of time-travel journeys designed to prevent future killers from committing their crimes. Now, on his final assignment, the Agent must stop the one criminal that has eluded him throughout time and prevent a devastating attack in which thousands of lives will be lost.
1h 37m
Director, Writer: Peter Spierig
Director, Writer: Michael Spierig
Story: Robert A. Heinlein
Science Fiction Thriller
Decorated soldier Captain Colter Stevens wakes up in the body of an unknown man, discovering he's involved in a mission to find the bomber of a Chicago commuter train. He learns he's part of a top-secret experimental program that enables him to experience the final 8 minutes of another person's life. Colter re-lives the train incident over and over again, gathering more clues each time.
1h 33m
Director: Duncan Jones
Writer: Ben Ripley
Thriller Science Fiction Mystery
13.
Eternal Sunshine of the Spotless Mind (2004)
Joel Barish, heartbroken that his girlfriend underwent a procedure to erase him from her memory, decides to do the same. However, as he watches his memories of her fade away, he realises that he still loves her, and may be too late to correct his mistake.
1h 48m
Director, Story: Michel Gondry
Screenplay, Story: Charlie Kaufman
Story: Pierre Bismuth
Science Fiction Drama Romance
explore
Check out more list from our community