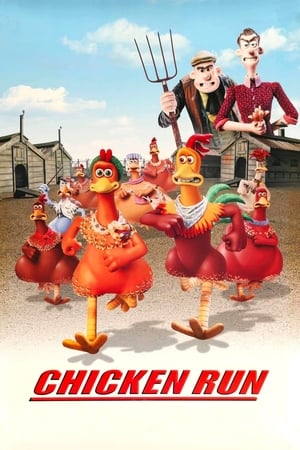 30 Best Movies Like Chicken Run ...
If you liked this movie , you will probably love these too! In this list we highlight some of the best films that share a very similar premise to '', and are worth checking out.
1h 25m Adventure Animation Comedy Family
London high-society mouse, Roddy is flushed down the toilet by Sid, a common sewer rat. Hang on for a madcap adventure deep in the sewer bowels of Ratropolis, where Roddy meets the resourceful Rita, the rodent-hating Toad and his faithful thugs, Spike and Whitey.
2.
Horton Hears a Who! (2008)
1h 26m Animation Comedy Family Adventure Fantasy
One day, Horton the elephant hears a cry from help coming from a speck of dust. Even though he can't see anyone on the speck, he decides to help it. As it turns out, the speck of dust is home to the Whos, who live in their city of Whoville. Horton agrees to help protect the Whos and their home.
3.
The Secret Life of Pets (2016)
1h 27m Adventure Comedy Animation Family
The quiet life of a terrier named Max is upended when his owner takes in Duke, a stray whom Max instantly dislikes.
1h 16m Animation Family Adventure Comedy War
Set in 1944, Valiant is a woodland pigeon who wants to become a great hero someday. When he hears they are hiring recruits for the Royal Homing Pigeon Service, he immediately sets out for London. On the way, he meets a smelly but friendly pigeon named Bugsy, who joins him, mainly to get away from clients he cheated in a game of find-the pebble, and helps him sign up for the war.
1h 23m Adventure Animation Comedy Family
A neurotic worker ant in love with a rebellious princess rises to unlikely stardom when he switches places with a soldier. Signing up to march in a parade, he ends up under the command of a bloodthirsty general. But he's actually been enlisted to fight against a termite army.
6.
Barnyard: The Original Party Animals (2006)
1h 30m Animation Comedy Family
When the farmer's away, all the animals play, and sing, and dance. Eventually, though, someone has to step in and run things, a responsibility that ends up going to Otis, a carefree cow.
1h 40m Animation Family
Nemo, an adventurous young clownfish, is unexpectedly taken from his Great Barrier Reef home to a dentist's office aquarium. It's up to his worrisome father Marlin and a friendly but forgetful fish Dory to bring Nemo home -- meeting vegetarian sharks, surfer dude turtles, hypnotic jellyfish, hungry seagulls, and more along the way.
1h 36m Comedy Adventure Family
A young Peruvian bear travels to London in search of a new home. Finding himself lost and alone at Paddington Station, he meets the kindly Brown family.
1h 37m Adventure Animation Comedy Family
Dory is reunited with her friends Nemo and Marlin in the search for answers about her past. What can she remember? Who are her parents? And where did she learn to speak Whale?
10.
A Turtle's Tale 2: Sammy's Escape from Paradise (2012)
22m Action & Adventure Animation Kids Sci-Fi & Fantasy
The Teenage Mutant Ninja Turtles are back in an all-new animated series on Nickelodeon! Surfacing topside for the first time on their fifteenth birthday, the titular turtles, Leonardo, Michelangelo, Raphael and Donatello, find that life out of the sewers isn't exactly what they thought it would be. Now the turtles must work together as a team to take on new enemies that arise to take over New York City.
1h 26m Family Animation Adventure Comedy
Alex the lion is the king of the urban jungle, the main attraction at New York's Central Park Zoo. He and his best friends—Marty the zebra, Melman the giraffe and Gloria the hippo—have spent their whole lives in blissful captivity before an admiring public and with regular meals provided for them. Not content to leave well enough alone, Marty lets his curiosity get the better of him and makes his escape—with the help of some prodigious penguins—to explore the world.
12.
Stuart Little 2 (2002)
1h 18m Family Adventure Animation Comedy
Stuart, an adorable white mouse, still lives happily with his adoptive family, the Littles, on the east side of Manhattan's Central Park. More crazy mouse adventures are in store as Stuart, his human brother, George, and their mischievous cat, Snowbell, set out to rescue a friend.
1h 31m Family Animation Adventure Comedy
Barry B. Benson, a bee who has just graduated from college, is disillusioned at his lone career choice: making honey. On a special trip outside the hive, Barry's life is saved by Vanessa, a florist in New York City. As their relationship blossoms, he discovers humans actually eat honey, and subsequently decides to sue us.
14.
The Land Before Time (1988)
1h 9m Animation Adventure Family
An orphaned brontosaurus named Littlefoot sets off in search of the legendary Great Valley. A land of lush vegetation where the dinosaurs can thrive and live in peace. Along the way he meets four other young dinosaurs, each one a different species, and they encounter several obstacles as they learn to work together in order to survive.
15.
Planes: Fire & Rescue (2014)
1h 23m Animation Comedy Adventure Family
When world-famous air racer Dusty learns that his engine is damaged and he may never race again, he must shift gears and is launched into the world of aerial firefighting. Dusty joins forces with veteran fire and rescue helicopter Blade Ranger and his team, a bunch of all-terrain vehicles known as The Smokejumpers. Together, the fearless team battles a massive wildfire, and Dusty learns what it takes to become a true hero.
16.
Penguins of Madagascar (2014)
1h 32m Family Animation Adventure Comedy
Skipper, Kowalski, Rico and Private join forces with undercover organization The North Wind to stop the villainous Dr. Octavius Brine from destroying the world as we know it.
1h 43m Animation Family Comedy
Woody, Buzz, and the rest of Andy's toys haven't been played with in years. With Andy about to go to college, the gang find themselves accidentally left at a nefarious day care center. The toys must band together to escape and return home to Andy.
1h 57m Animation Comedy Family
Mumble the penguin has a problem: his son Erik, who is reluctant to dance, encounters The Mighty Sven, a penguin who can fly! Things get worse for Mumble when the world is shaken by powerful forces, causing him to brings together the penguin nations and their allies to set things right.
19.
Toy Story That Time Forgot (2014)
22m Animation Family TV Movie Adventure Comedy Fantasy
During a post-Christmas play date, the gang find themselves in uncharted territory when the coolest set of action figures ever turn out to be dangerously delusional. It's all up to Trixie, the triceratops, if the gang hopes to return to Bonnie's room in this Toy Story That Time Forgot.
20.
The Lion King 1 1/2 (2004)
1h 21m Animation Adventure Family Comedy
Led by Woody, Andy's toys live happily in his room until Andy's birthday brings Buzz Lightyear onto the scene. Afraid of losing his place in Andy's heart, Woody plots against Buzz. But when circumstances separate Buzz and Woody from their owner, the duo eventually learns to put aside their differences.
1h 35m Family Animation
An adolescent lion is accidentally shipped from the New York Zoo to Africa. Now running free, his zoo pals must put aside their differences to help bring him back.
23.
Lilo & Stitch (2002)
1h 25m Animation Family
As Stitch, a runaway genetic experiment from a faraway planet, wreaks havoc on the Hawaiian Islands, he becomes the mischievous adopted alien "puppy" of an independent little girl named Lilo and learns about loyalty, friendship, and 'ohana, the Hawaiian tradition of family.
24.
Home on the Range (2004)
1h 16m Animation Family
When a greedy outlaw schemes to take possession of the "Patch Of Heaven" dairy farm, three determined cows, a karate-kicking stallion and a colorful corral of critters join forces to save their home. The stakes are sky-high as this unlikely animal alliance risk their hides and match wits with a mysterious band of bad guys.
25.
A Bug's Life (1998)
1h 35m Adventure Animation Comedy Family
On behalf of "oppressed bugs everywhere," an inventive ant named Flik hires a troupe of warrior bugs to defend his bustling colony from a horde of freeloading grasshoppers led by the evil-minded Hopper.
1h 38m Animation Family Adventure Comedy
Bolt is the star of the biggest show in Hollywood. The only problem is, he thinks it's real. After he's accidentally shipped to New York City and separated from Penny, his beloved co-star and owner, Bolt must harness all his "super powers" to find a way home.
1h 18m Fantasy Family Animation Adventure
What can two little mice possibly do to save an orphan girl who's fallen into evil hands? With a little cooperation and faith in oneself, anything is possible! As members of the mouse-run International Rescue Aid Society, Bernard and Miss Bianca respond to orphan Penny's call for help. The two mice search for clues with the help of an old cat named Rufus.
1h 22m Animation Comedy Family Adventure
Jon and Garfield visit the United Kingdom, where a case of mistaken cat identity finds Garfield ruling over a castle. His reign is soon jeopardized by the nefarious Lord Dargis, who has designs on the estate.
1h 31m Animation Comedy Family
Two turkeys from opposite sides of the tracks must put aside their differences and team up to travel back in time to change the course of history—and get turkey off the holiday menu for good.
explore
Check out more list from our community