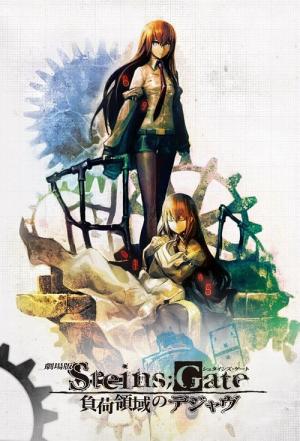 14 Best Shows Like Steins Gate ...
If you liked this movie , you will probably love these too! In this collection we highlight some of the best films that share a very similar premise to '', and are worth checking out.
23m Sci-Fi & Fantasy Animation
The dark untold story of Steins;Gate that leads with the eccentric mad scientist Okabe, struggling to recover from a failed attempt at rescuing Kurisu. He decides to give up and abandons his lively scientist alter ego, in pursuit to forget the past. When all seems to be normal, he is seemingly pulled back into the past by meeting an acquaintance of Kurisu, who tells him that they have begun testing a device that stores the memory of a human and creates a simulation of them with their characteristics and personalities. Okabe begins testing and finds out that the simulation of Kurisu has brought back anguish and some new unexpected tragedies.Zero is a side story that explores events from the Beta Attractor Field's future that contribute in making the end of the original story possible.
Struggling manga author Satoru Fujinuma is beset by his fear to express himself. However, he has a supernatural ability of being forced to prevent deaths and catastrophes by being sent back in time before the incident occurred, repeating time until the accident is prevented. One day, he gets involved in an accident that has him framed as a murderer. Desperate to save the victim, he sends himself back in time only to find himself as a grade-schooler one month before fellow classmate Kayo Hinazuki went missing. Satoru now embarks on a new quest: to save Kayo and solve the mystery behind her disappearance.
3.
Code Geass: Lelouch of the Rebellion (2006)
25m Action & Adventure Animation Drama Sci-Fi & Fantasy
Japan has been invaded and conquered by the Britannian Empire. Japan is now known as Area 11 and its citizens known as Elevens. The Britannian Empire takes away Japan's autonomous power and imposes its rule through the use of Knightmares. The Empire's rule has never faltered, but cracks have begun to show...
4.
Puella Magi Madoka Magica (2011)
25m Animation Sci-Fi & Fantasy
She has a loving family and best friends, laughs and cries from time to time... Madoka Kaname, an eighth grader of Mitakihara middle school, is one of those who lives such a life. One day, she had a very magical encounter. She doesn't know if it happened by chance or by fate yet. This is a fateful encounter that can change her destiny. This is a beginning of the new story of the magical witch girls.
24m Action & Adventure Animation Comedy Sci-Fi & Fantasy
Honnouji Academy is forcefully ruled by the iron-fisted control of its student council and its president, Satsuki Kiryuuin. Transfer student, Ryuuko Matoi, arrives on campus carrying a giant sword, that is actually half of a scissor. She is looking for the woman who holds the other half of her sword who killed her father. It is said that Satsuki Kiryuuin knows the identity of the killer but when Ryuuko confronts her she is beaten by the student council and their powerful "goku uniforms" whom she cannot match in strength. However, once Ryuuko receives her own "Kamui" by the name of Senketsu , the odds are lifted in her favor.
6.
The Future Diary (2011)
24m Action & Adventure Animation Drama Mystery
Reality quickly unravels when antisocial Yukiteru is called into a death match against 11 other mentally scarred individuals. Each player has a prophetic device tuned to their personality, giving them control over their future—and the fate of their foes.
25m Animation Action & Adventure Sci-Fi & Fantasy
When summer break begins, Haruka is only thinking of hanging out with her friends—until one fateful night she learns that she's the keystone in an interdimensional battle for not only the Earth's future, but the very survival of all existence across the multiverse.
8.
The Girl Who Leapt Through Time (2006)
1h 38m Fantasy Animation Drama Science Fiction
When 17-year-old Makoto Konno gains the ability to, quite literally, "leap" backwards through time, she immediately sets about improving her grades and preventing personal mishaps. However, she soon realises that changing the past isn't as simple as it seems, and eventually, will have to rely on her new powers to shape the future of herself and her friends.
9.
Love, Chunibyo & Other Delusions (2012)
As one of the thousands of Japanese students afflicted with "chunibyo," a state where they're so desperate to stand out that they've convinced themselves that they have secret knowledge and hidden powers, Yuta spent most of his middle school years living in a complete fantasy world. He's finally managing to overcome his delusions but his chunibyo have attracted the attentions of another sufferer, and she's decided that this makes him her soul mate.
10.
Rick and Morty (2013)
22m Animation Comedy Sci-Fi & Fantasy Action & Adventure
Rick is a mentally-unbalanced but scientifically-gifted old man who has recently reconnected with his family. He spends most of his time involving his young grandson Morty in dangerous, outlandish adventures throughout space and alternate universes. Compounded with Morty's already unstable family life, these events cause Morty much distress at home and school.
11.
Fullmetal Alchemist (2003)
25m Action & Adventure Animation Sci-Fi & Fantasy
Two young brothers are raised as alchemists, but when they are severely injured trying to perform a forbidden act, they begin searching for the one thing that can save them; the fabled philosopher's stone.
24m Animation Action & Adventure Sci-Fi & Fantasy
In the distant future, mankind has lived quietly and restlessly underground for hundreds of years, subject to earthquakes and cave-ins. Living in one such village are 2 young men: one named Simon who is shy and naïve, and the other named Kamina who believes in the existence of a "surface" world above their heads.
13.
The Devil Is a Part-Timer! (2013)
25m Action & Adventure Animation Comedy Sci-Fi & Fantasy
Foiled by a hero when he's inches away from conquering the world, the devil finds himself in modern-day Tokyo. With no real-world skills to speak of, the devil is forced to make ends meet flipping burgers at a fast food joint! To stall any further plans of world domination, the hero tracks the devil's trail and takes on the lowly tasks of a telemarketer.
explore
Check out more list from our community