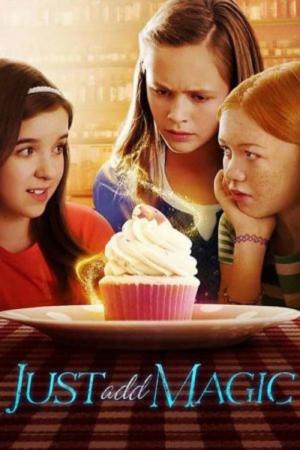 17 Best Shows Like Young Dracula ...
If you liked this movie , you will probably love these too! In this collection we highlight some of the best films that share a very similar mood to '', and are worth checking out.
1h 31m Family
VAMPIRE DOG is a feature length family film about finding courage and discovering that you belong. Ace, a 12-year-old boy is new in middle school. His grandfather from Transylvania passes away at the ripe age of 99, and sends him his dog, Fang, to look after. Ace soon discovers that Fang is a vampire dog. Professor Warhol, a mad scientist and her bumbling assistant Frank, try to capture Fang to steal his DNA, in order to look young. They are constantly in pursuit of Fang but Fang uses his superpowers to stay one step ahead of them. During their adventure Ace shows Fang how to behave like a normal dog and embrace his vampire powers. Fang helps Ace open up and come alive again through his music. Ace and Fang discover with the help of each other, when they face their fears, they can do anything.
2.
The Boy Who Cried Werewolf (2010)
1h 37m Family Fantasy Horror TV Movie
A Californian family inherits a castle in Romania. This is especially exciting to the son, who is obsessed with monsters. And he is not disappointed.
5.
Every Witch Way (2014)
The series follows 14-year-old Emma Alonso, as she moves to Miami and her life turns upside-down. Not only does she discover that she is a witch, she also has a crush on the boy next door, Daniel. But Daniel's ex-girlfriend Maddie, who is an 'evil witch' and leader of the school clique the 'Panthers', is still willing to fight for the boy she loves.
43m Comedy Drama Sci-Fi & Fantasy
Cassie Nightingale, Middleton's favorite enchantress, and her young-teenage daughter Grace, who shares that same special intuition as her mom, welcome Dr. Sam Radford and his son to town. When the New York transplants move in next to the Grey House, they are immediately spellbound by the mother-daughter duo next door, but Sam and Cassie quickly find they may not see eye to eye. With her signature charm, Cassie attempts to bring everyone together, ensuring all of Middleton is in for new changes, big surprises and, of course, a little bit of magic!"Good Witch" is based on Bell's beloved character Cassie, the raven-haired enchantress who kept audiences spellbound for seven installments of Hallmark Channel's longest-running and highest-rated original movie franchise of all time.
7.
Bibi Blocksberg (2002)
1h 42m Adventure Comedy Family Fantasy
In order to save some kids who are about to die in a fire, Bibi, the daughter of a prestigious witch, manages to trigger a heavy rain with her powers. The head of all witches gives her an award called "Crystal Ball", reserved for older girls. German adventure film very much in line of Harry Potter, but in female version.
8.
Vampire Sisters (2012)
Keeping secrets can be difficult, especially when you're a twelve-year-old half-vampire moving from Transylvania to a new life in Germany. Going to school, making new friends and fitting in — it's all tough when you can't just be yourself. With a vampire father and a human mother, sisters Dakaria (Daka) and Silvania don't live in your typical blended family. Each girl embraces a different side of her genetic makeup: Daka wishes she was 100% vampire; Silvania wishes she was 100% human; and both believe they can finally realize their hearts' desires when the opportunity to change presents itself. Will Daka and Silvania realize that, sometimes, your uniqueness is your greatest strength?
9.
A Talking Cat!?! (2013)
A mysterious talking cat uses its powers of communication to enrich the lives of two different families, and bring them together.
1h 29m Comedy Drama Family Fantasy Music TV Movie
Geppetto is a 2000 made-for-television musical remake of the popular children's book The Adventures of Pinocchio and the original 1940 Disney film. Starring Drew Carey and Julia Louis-Dreyfus, the film debuted on The Wonderful World of Disney. The score featured original songs written by Broadway composer Stephen Schwartz. Schwartz had developed the songs as a reunion for Mary Poppins stars Julie Andrews and Dick Van Dyke, but Andrews was undergoing throat surgery so the idea was dropped.
1h 30m Family Comedy Adventure Fantasy
Family adventure based on Mary Norton's classic children's books about a race of tiny people who live under the floorboards, resourcefully surviving by borrowing bits and pieces from the large residents who dwell above. After being discovered by 'human beans', borrower Arrietty and her parents are forced to leave their home while attempting to evade the clutches of obsessive scientist Professor Mildeye.
12.
Wingin' It (2010)
Wingin' It is a Canadian teen sitcom airing on Family. The series was produced by Temple Street Productions in association with Family. It stars Demetrius Joyette and Dylan Everett. This show included guest-stars from other Family Channel shows such as The Latest Buzz. The show began airing on Disney XD Canada on June 1, 2011. Family announced that the series was renewed for a third season on June 13, 2011. The third season has aired in the United Kingdom and started airing in Canada on March 3, 2013 with new episodes every Sunday. All the episodes have already been broadcast in the UK on CBBC. Since March 1, 2013, Wingin' It has been airing with new episodes from Season 1 onward Mondays-Fridays at 7PM. It is also currently being broadcast by TVB Pearl in Hong Kong, airing Mondays-Fridays at 5PM. Family announced that the series is not planned for a fourth season.
13.
Sabrina, the Teenage Witch (1996)
22m Comedy Family Sci-Fi & Fantasy
On her sixteenth birthday, Sabrina Spellman discovers she has magical powers. She lives with her 600-year-old aunts Hilda and Zelda as well as talking cat Salem in the fictional town of Westbridge, Massachusetts.
14.
Dr. Dolittle 3 (2006)
Lisa Dolittle sends her daughter to 'Durango', a Dude Ranch, to find herself. While there, she uses her talent to talk to the animals in order to save Durango from being taken over by a neighboring Ranch.
15.
A Christmoose Carol (2005)
1h 30m Family
A bullied young boy befriends a flying, talking moose that crashed through his ceiling after a test-flight with Santa went terribly awry in this holiday film for the whole family. But later, just as Mr. Moose and Beril strike up a friendship, the young boy's nefarious landlord Mr. Pannecke decides a mounted moose head would make a fine new addition to his trophy wall. But Santa has other plans for Mr. Moose, and when he turns up looking for his lost pal, Beril is faced with the prospect of losing his one and only friend.
11m Animation Action & Adventure Sci-Fi & Fantasy
Posing as a viscount's daughter, Faith infiltrates Lady Genevieve's gala and is attacked by Roden's gargoyle security team. Elsewhere, Willow offers to Dawn with her plus-sized problem and is called upon to upgrade the castle's defense system.
explore
Check out more list from our community