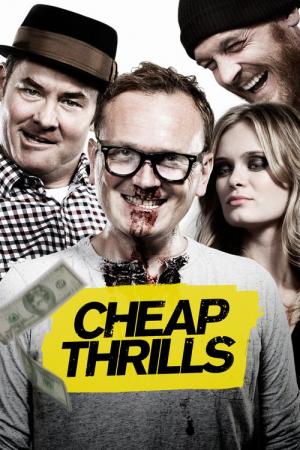 10 Best Movies Like Cheap Thrills ...
If you liked this movie , you will probably love these too! In this selection we highlight some of the best films that share a very similar mood to 'Cheap Thrills', and are worth checking out.
1h 30m Drama Thriller
On a particularly busy day at a suburban Ohio fast food restaurant, manager Sandra receives a phone call from a police officer saying that an employee has stolen money from a customer.
1h 42m Comedy Crime Thriller Drama
A cop who moonlights as a hit man agrees to kill the hated mother of a desperate drug dealer in exchange for a tumble with the young man's virginal sister.
1h 42m Drama Action Comedy Thriller Crime
Three laborers on a Northern California marijuana plantation become increasingly paranoid when they learn that their boss has been murdered. They know enough to run, taking with them enough of the crop to pay them for services rendered. Hooking up with go-between Lucy in the next town, they plot their next move.
4.
Burn After Reading (2008)
1h 36m Comedy Drama
When a disc containing memoirs of a former CIA analyst falls into the hands of gym employees, Linda and Chad, they see a chance to make enough money for Linda to have life-changing cosmetic surgery. Predictably, events whirl out of control for the duo, and those in their orbit.
1h 31m Drama Thriller
A naive young man assumes a dead man's identity and finds himself embroiled in an underground world of power, violence, and chance where men gamble behind closed doors on the lives of other men.
1h 51m Thriller Crime Drama
Literature professor Jim Bennett leads a secret life as a high-stakes gambler. Always a risk-taker, Bennett bets it all when he borrows from a gangster and offers his own life as collateral. Staying one step ahead, he pits his creditor against the operator of an illicit gambling ring while garnering the attention of Frank, a paternalistic loan shark. As his relationship with a student deepens, Bennett must risk everything for a second chance.
1h 37m Crime Drama Thriller
The owner of a seedy small-town Texas bar discovers that one of his employees is having an affair with his wife. A chaotic chain of misunderstandings, lies and mischief ensues after he devises a plot to have them murdered.
2h 2m Action Crime Drama Thriller
On his first day on the job as a narcotics officer, a rookie cop works with a rogue detective who isn't what he appears.
1h 36m Comedy Crime Drama Thriller Horror
The activities of rampaging, indiscriminate serial killer Ben are recorded by a willingly complicit documentary team, who eventually become his accomplices and active participants. Ben provides casual commentary on the nature of his work and arbitrary musings on topics of interest to him, such as music or the conditions of low-income housing, and even goes so far as to introduce the documentary crew to his family. But their reckless indulgences soon get the better of them.
1h 31m Crime Thriller
When the quiet life of a beach bum is upended by dreadful news, he sets off for his childhood home to carry out an act of vengeance. However, he proves an inept assassin and finds himself in a brutal fight to protect his estranged family.
explore
Check out more list from our community