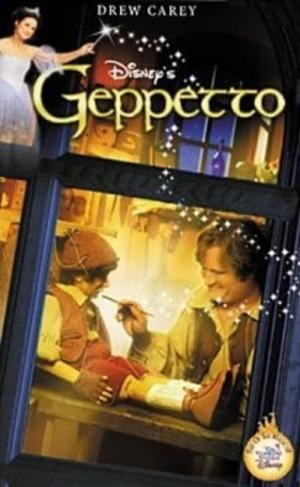 11 Best Movies Like Life Size ...
If you liked this film , you will definitely love these too! In this collection we highlight some of the best films that share a very similar premise to 'Geppetto', and are worth checking out.
1h 33m Family Comedy
A young girl's aunt tells her the tale of a young ice skater and an enchanted reindeer.
2.
Jack and the Beanstalk: The Real Story (2001)
3h 6m Action & Adventure Sci-Fi & Fantasy Drama
Jack and the Beanstalk: The Real Story is a 2001 American television miniseries. It was directed by Brian Henson and was a co-production of CBS and Jim Henson Television. It is an alternative version of the classic English fairy tale Jack and the Beanstalk. The story was considerably reworked to reflect what Henson believed to be a more ethical, humanist view. The cast includes Matthew Modine, Mia Sara, Jon Voight, and Vanessa Redgrave. Richard Attenborough, Daryl Hannah, and a young James Corden play giants. Among the other giants in the film are beings from the mythology of various cultures, including Hebrew, Buddhist, and Nordic.
1h 38m Comedy Family Fantasy
An extraordinarily intelligent young girl from a cruel and uncaring family discovers she possesses telekinetic powers and is sent off to a school headed by a tyrannical principal.
4.
The Adventures of Pinocchio (1996)
1h 30m Animation Family Fantasy
One of puppet-maker Geppetto's creations comes magically to life. This puppet, Pinocchio, has one major desire and that is to become a real boy someday. In order to accomplish this goal he has to learn to act responsibly. This film shows you the adventures on which he learns valuable lessons.
5.
Lilly the Witch The Dragon and the Magic Book (2009)
1h 29m Fantasy Family Comedy
Lilly was a normal girl with a healthy sense of adventure. That is, until she finds a magical book, complete with a funny little dragon, "Hector". With the help of her new friend and the book, Lilly has the ability to time-travel and truly satisfy her adventure- lust!.
1h 27m Comedy Drama Family Fantasy Science Fiction
Eleven-year-old North has had it with his parents. They are always busy with their careers and don't give North the attention he needs, so he files a lawsuit against them. The judge rules that North should either find new parents or return to his own parents within two months. Thus North starts off on a journey around the world to find parents that really care about him.
7.
Five Children and It (2004)
1h 28m Adventure Fantasy Drama Science Fiction Family
A Psammead is 'It', an ancient, irritable, ugly sand fairy, which five children find one day in a gravel pit. As a reward for finding him, It grants the children one wish a day, the results of which will last until sunset.
1h 38m Adventure Comedy Family Fantasy
Pia's life, a girl from a small German town, changes when surprisingly, finds in her garden a huge black monster. She soon discovers that the mysterious creature, which called Yoko, is actually a kind yeti spiritually protecting animals and children worldwide. Yoko is constantly showing his friends Pia and their unique qualities, but children are not the only ones who want the Yeti. Its great value calls attention to two hunters who want to take advantage of the yeti.
1h 48m Comedy Family Fantasy
Roberto Benigni adapts the classic children's tale by Carlo Collodi for the big-budget family-oriented comedy Pinocchio.
10.
A Knight in Camelot (1998)
1h 30m Adventure Fantasy Comedy Science Fiction Family TV Movie
Yet another variation on Mark Twain's "A Connecticut Yankee At King Arthur's Court." Here, a computer malfunction causes a science researcher to be sent back in time with her laptop, which she uses to amaze the court.
11.
The Indian in the Cupboard (1995)
1h 36m Adventure Family Fantasy
A nine-year-old boy gets a plastic Indian and a cupboard for his birthday and finds himself involved in adventure when the Indian comes to life and befriends him.
explore
Check out more list from our community