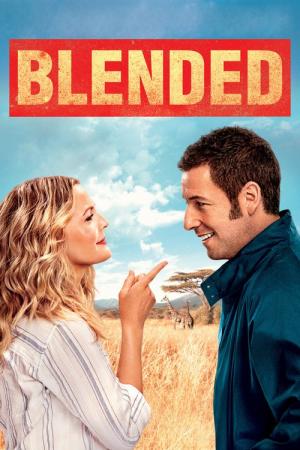 30 Best Movies Like Blended ...
If you liked this film , you will definitely love these too! In this list we highlight some of the best films that share a very similar mood to '', and are worth checking out.
1.
Just Go with It (2011)
1h 57m Comedy Romance
A plastic surgeon, romancing a much younger schoolteacher, enlists his loyal assistant to pretend to be his soon to be ex-wife, in order to cover up a careless lie. When more lies backfire, the assistant's kids become involved, and everyone heads off for a weekend in Hawaii that will change all their lives.
2.
Yours, Mine & Ours (2005)
1h 30m Comedy Family Romance
Admiral Frank Beardsley returns to New London to run the Coast Guard Academy, his last stop before a probable promotion to head the Guard. A widower with eight children, he runs a loving but tight ship, with charts and salutes. The kids long for a permanent home. Helen North is a free spirit, a designer whose ten children live in loving chaos, with occasional group hugs. Helen and Frank, high school sweethearts, reconnect at a reunion, and it's love at first re-sighting. They marry on the spot. Then the problems start as two sets of kids, the free spirits and the disciplined preppies, must live together. The warring factions agree to work together to end the marriage.
1h 48m Comedy Romance Drama
When she learns she's in danger of losing her visa status and being deported, overbearing book editor Margaret Tate forces her put-upon assistant, Andrew Paxton, to marry her.
1h 39m Comedy Romance
Henry is a player skilled at seducing women. But when this veterinarian meets Lucy, a girl with a quirky problem when it comes to total recall, he realizes it's possible to fall in love all over again…and again, and again. That's because the delightful Lucy has no short-term memory, so Henry must woo her day after day until he finally sweeps her off her feet.
5.
The Wedding Date (2005)
1h 28m Comedy Romance
With the wedding of her younger sister fast approaching, Kat Ellis faces the undesirable prospect of traveling alone to London for the ceremony. While this is bad enough, Jeffrey, the man who left her as they moved closer to marriage, happens to be the groom's best man. Determined to show everyone -- most of all Jeffrey -- that her romantic life is as full and thrilling as ever, Kat hires a charming male escort as her date.
1h 42m Comedy
After their high school basketball coach passes away, five good friends and former teammates reunite for a Fourth of July holiday weekend.
7.
Are We There Yet? (2005)
1h 35m Adventure Comedy Family Romance
The fledgling romance between Nick, a playboy bachelor, and Suzanne, a divorced mother of two, is threatened by a particularly harrowing New Years Eve. When Suzanne's work keeps her in Vancouver for the holiday, Nick offers to bring her kids to the city from Portland, Oregon. The kids, who have never liked any of the men their mom dates, are determined to turn the trip into a nightmare for Nick.
8.
Failure to Launch (2006)
1h 37m Comedy
Tripp, an attractive man in his thirties, is still living with his parents Al and Sue. Tripp's best friends Demo and Ace are also still living in their parents' homes and seem proud of it. Al and Sue are not happy, however, and are fascinated when friends whose adult son has recently moved away from home reveal they hired an expert to arrange the matter and couldn't be happier with the result.
1h 51m Comedy Romance
Altruistic Jane finds herself facing her worst nightmare as her younger sister announces her engagement to the man Jane secretly adores.
10.
Instant Family (2018)
1h 58m Comedy Drama
When Pete and Ellie decide to start a family, they stumble into the world of foster care adoption. They hope to take in one small child but when they meet three siblings, including a rebellious 15 year old girl, they find themselves speeding from zero to three kids overnight.
2h 10m Comedy
Mexican immigrant and single mother Flor Moreno finds housekeeping work with Deborah and John Clasky, a well-off couple with two children of their own. When Flor admits she can't handle the schedule because of her daughter, Cristina, Deborah decides they should move into the Clasky home. Cultures clash and tensions run high as Flor and the Claskys struggle to share space while raising their children on their own, and very different, terms.
12.
How to Lose a Guy in 10 Days (2003)
1h 56m Comedy Romance
It's the battle of wills, as Andie (Kate Hudson) needs to prove she can dump a guy in 10 days, whereas Ben (Matthew McConaughey) needs to prove he can win a girl in 10 days. Now, the clock is ticking - and the wildly entertaining comedy smash is off and running in this irresistible tale of sex, lies and outrageous romantic fireworks!
1h 35m Romance Comedy
Upon discovering her husband's infidelity, Sandy leaves the suburbs and moves into the city. There, she befriends Aram, a guy whose wife only married him so she could get a green card. Sandy hires Aram to be her nanny, and it isn't long until Aram and Sandy find out they get along wonderfully and start to date. But is their relationship real or is it, in fact, just a rebound for both of them?
14.
Chasing Liberty (2004)
1h 51m Comedy Romance
The President's daughter, unable to experience life like a normal 18 year-old, escapes from her entourage of Secret Service agents while traveling in Europe. She falls in love with a handsome British stranger, who also happens to be working undercover for her father.
1h 48m Comedy Romance
Melanie Parker, an architect and mother of Sammy, and Jack Taylor, a newspaper columnist and father of Maggie, are both divorced. They meet one morning when overwhelmed Jack is left unexpectedly with Maggie and forgets that Melanie was to take her to school. As a result, both children miss their school field trip and are stuck with the parents. The two adults project their negative stereotypes of ex-spouses on each other, but end up needing to rely on each other to watch the children as each must save his job. Humor is added by Sammy's propensity for lodging objects in his nose and Maggie's tendency to wander.
16.
I Now Pronounce You Chuck & Larry (2007)
1h 55m Comedy Romance
Firefighters Chuck Ford and Larry Valentine are guy's guys, loyal to the core—which is why when widower Larry asks Chuck to pose as his gay lover so that he can get domestic partner benefits for his kids, his buddy agrees. However, things get dicey when a bureaucrat comes calling, and the boys are forced to present a picture of domestic bliss.
2h 16m Comedy Romance
Two women, one from the United States and one from the United Kingdom, swap homes at Christmastime after bad breakups with their boyfriends. Each woman finds romance with a local man but realizes that the imminent return home may end the relationship.
18.
The Back-up Plan (2010)
1h 46m Comedy Romance
When Zoe tires of looking for Mr. Right, she decides to have a baby on her own. But on the day she's artificially inseminated, she meets Stan, who seems to be just who she's been searching for all her life. Now, Zoe has to figure out how to make her two life's dreams fit with each other.
1h 46m Comedy Romance
Heiress, Joanna Stayton hires carpenter, Dean Proffitt to build a closet on her yacht—and refuses to pay him for the project when it's done. But after Joanna accidentally falls overboard and loses her memory, Dean sees an opportunity to get even.
1h 36m Comedy Romance
When Longfellow Deeds, a small-town pizzeria owner and poet, inherits $40 billion from his deceased uncle, he quickly begins rolling in a different kind of dough. Moving to the big city, Deeds finds himself besieged by opportunists all gunning for their piece of the pie. Babe, a television tabloid reporter, poses as an innocent small-town girl to do an exposé on Deeds.
1h 40m Romance Comedy
When yet another anniversary passes without a marriage proposal from her boyfriend, Anna decides to take action. Aware of a Celtic tradition that allows women to pop the question on Feb. 29, she plans to follow her lover to Dublin and ask him to marry her. Fate has other plans, however, and Anna winds up on the other side of the Emerald Isle with handsome, but surly, Declan -- an Irishman who may just lead Anna down the road to true love.
1h 49m Comedy Romance
Two couples go to a mutual friends wedding, and end up swapping partners.
1h 37m Comedy Romance
Obsessed with the BBC production of "Pride and Prejudice", a woman travels to a Jane Austen theme park in search for her perfect gentleman.
1h 27m Comedy TV Movie Family
Two single parents - male and female - along with their kids have to involuntarily share a house for their holidays.
25.
The Prince and Me (2004)
1h 51m Comedy Romance
A fairy tale love-story about pre-med student Paige who falls in love with a Danish Prince "Eddie" who refused to follow the traditions of his parents and has come to the US to quench his thirst for rebellion. Paige and Edward come from two different worlds, but there is an undeniable attraction between them.
1h 52m Romance Comedy
A spoiled, wealthy yacht owner is thrown overboard and becomes the target of revenge from his mistreated employee.
1h 41m Romance Comedy
Two parents fall in love over the course of a single day while playing hooky from their children's college tour.
28.
Pulling Strings (2013)
1h 51m Comedy Romance
Rachel is an intelligent, modern-day woman constantly on the move. Primarily focused on her career as a diplomatic consul for the U.S. embassy, she's literally lived her life on the move, globe-trotting from city to city. Currently working in Mexico City and set to leave for London, Rachel's world turns upside down on the eve of her own goodbye party when she gets drunk and passes out on the street. Saved by Alejandro, a handsome Mariachi singer and single father, Rachel wakes up in his apartment with no recollection of how she got there. Nor does she remember that she rejected his visa the day before, which he desperately needs for his daughter. Romance unexpectedly blossoms between the two, but either sparks or fists will fly after she finds out his secret.
1h 31m Comedy Fantasy Romance
After fishing out coins from a water fountain in Italy, cynical New Yorker Beth Harper finds herself being wooed by several ardent suitors. As she deals with the attention, Beth tries to figure out whether a charming reporter really loves her.
explore
Check out more list from our community