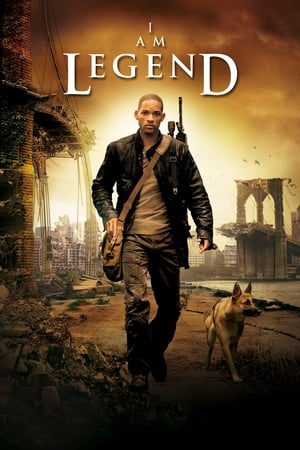 31 Best Movies Like I Am Legend ...
If you liked this one , you will probably love these too! In this list we highlight some of the best films that share a very similar mood to '', and are worth checking out.
1h 56m Action Drama Horror Science Fiction Thriller
Life for former United Nations investigator Gerry Lane and his family seems content. Suddenly, the world is plagued by a mysterious infection turning whole human populations into rampaging mindless zombies. After barely escaping the chaos, Lane is persuaded to go on a mission to investigate this disease. What follows is a perilous trek around the world where Lane must brave horrific dangers and long odds to find answers before human civilization falls.
2.
The Book of Eli (2010)
1h 58m Action Thriller Science Fiction
A post-apocalyptic tale, in which a lone man fights his way across America in order to protect a sacred book that holds the secrets to saving humankind.
3.
28 Days Later... (2002)
1h 53m Horror Thriller Science Fiction
Twenty-eight days after a killer virus was accidentally unleashed from a British research facility, a small group of London survivors are caught in a desperate struggle to protect themselves from the infected. Carried by animals and humans, the virus turns those it infects into homicidal maniacs -- and it's absolutely impossible to contain.
1h 51m Adventure Drama
A father and his son walk alone through burned America. Nothing moves in the ravaged landscape save the ash on the wind and water. It is cold enough to crack stones, and, when the snow falls it is gray. The sky is dark. Their destination is the warmer south, although they don't know what, if anything, awaits them there.
1h 40m Horror Thriller Science Fiction
The inhabitants of the British Isles have lost their battle against the onslaught of disease, as the deadly rage virus has killed every citizen there. Six months later, a group of Americans dare to set foot on the isles, convinced the danger has come and gone. But it soon becomes all too clear that the scourge continues to live, waiting to pounce on its next victims.
6.
The Walking Dead (2010)
42m Action & Adventure Drama Sci-Fi & Fantasy
Sheriff's deputy Rick Grimes awakens from a coma to find a post-apocalyptic world dominated by flesh-eating zombies. He sets out to find his family and encounters many other survivors along the way.
1h 31m Thriller Science Fiction
When a deadly airborne virus threatens to wipe out the northeastern United States, teacher Elliott Moore and his wife Alma flee from contaminated cities into the countryside in a fight to discover the truth. Is it terrorism, the accidental release of some toxic military bio weapon -- or something even more sinister?
1h 35m Action Science Fiction Horror
Forced underground by the next ice age, a struggling outpost of survivors must fight to preserve humanity against a threat even more savage than nature.
1h 40m Horror Action Science Fiction
When a virus leaks from a top-secret facility, turning all resident researchers into ravenous zombies and their lab animals into mutated hounds from hell, the government sends in an elite military task force to contain the outbreak. Alice and Rain are charged with leading the mission. But they only have three hours before the pathogen becomes airborne and infects the world.
2h 1m Action Adventure Drama Mystery Science Fiction Thriller
A teacher opens a time capsule that has been dug up at his son's elementary school; in it are some chilling predictions -- some that have already occurred and others that are about to -- that lead him to believe his family plays a role in the events that are about to unfold.
11.
The Maze Runner (2014)
1h 53m Action Mystery Science Fiction Thriller
Set in a post-apocalyptic world, young Thomas is deposited in a community of boys after his memory is erased, soon learning they're all trapped in a maze that will require him to join forces with fellow "runners" for a shot at escape.
1h 24m Action Drama Horror Science Fiction Thriller
A deadly virus has spread across the globe. Contagion is everywhere, no one is safe, and no one can be trusted. Four friends race through the back roads of the American West on their way to a secluded utopian beach in the Gulf of Mexico where they could peacefully wait out the pandemic. Their plans take a grim turn when their car breaks down on an isolated road starting a chain of events that will seal their fates.
1h 31m Horror Drama Science Fiction
A family is forced to live in silence while hiding from creatures that hunt by sound.
1h 46m Drama Thriller Science Fiction
As an epidemic of a lethal airborne virus - that kills within days - rapidly grows, the worldwide medical community races to find a cure and control the panic that spreads faster than the virus itself.
2h 4m Thriller Drama Science Fiction
Five years after an ominous unseen presence drives most of society to suicide, a survivor and her two children make a desperate bid to reach safety.
16.
The Hunger Games (2012)
2h 22m Science Fiction Adventure Fantasy
Every year in the ruins of what was once North America, the nation of Panem forces each of its twelve districts to send a teenage boy and girl to compete in the Hunger Games. Part twisted entertainment, part government intimidation tactic, the Hunger Games are a nationally televised event in which "Tributes" must fight with one another until one survivor remains. Pitted against highly-trained Tributes who have prepared for these Games their entire lives, Katniss is forced to rely upon her sharp instincts as well as the mentorship of drunken former victor Haymitch Abernathy. If she's ever to return home to District 12, Katniss must make impossible choices in the arena that weigh survival against humanity and life against love. The world will be watching.
1h 38m Science Fiction Action Drama Thriller
Due to an experimental vaccine, Dr. Robert Neville is the only human survivor of an apocalyptic war waged with biological weapons. Besides him, only a few hundred deformed, nocturnal people remain - sensitive to light, and homicidally psychotic.
19.
Children of Men (2006)
1h 49m Drama Action Thriller Science Fiction
In 2027, in a chaotic world in which humans can no longer procreate, a former activist agrees to help transport a miraculously pregnant woman to a sanctuary at sea, where her child's birth may help scientists save the future of humankind.
41m Action & Adventure Drama Sci-Fi & Fantasy
Their mission is simple: Find a cure. Stop the virus. Save the world. When a global pandemic wipes out eighty percent of the planet's population, the crew of a lone naval destroyer must find a way to pull humanity from the brink of extinction.
21.
The Hunger Games: Mockingjay - Part 1 (2014)
2h 3m Science Fiction Adventure Thriller
Katniss Everdeen reluctantly becomes the symbol of a mass rebellion against the autocratic Capitol.
1h 38m Drama Horror Science Fiction
Martin was a normal teenage boy before the country collapsed in an empty pit of economic and political disaster. A vampire epidemic has swept across what is left of the nation's abandoned towns and cities, and it's up to Mister, a death dealing, rogue vampire hunter, to get Martin safely north to Canada, the continent's New Eden.
1h 25m Action Thriller Science Fiction
From visionary producer J.J. Abrams (Lost) and director Matt Reeves comes the worldwide sensation of non-stop terror and suspense everyone is talking about.
2h 6m Horror Science Fiction Thriller
After a violent storm, a dense cloud of mist envelops a small Maine town, trapping artist David Drayton and his five-year-old son in a local grocery store with other people. They soon discover that the mist conceals deadly horrors that threaten their lives, and worse, their sanity.
44m Science Fiction Drama Mystery
A high concept thriller that tells the story of Dr. Ephraim Goodweather, the head of the Center for Disease Control Canary Team in New York City. He and his team are called upon to investigate a mysterious viral outbreak with hallmarks of an ancient and evil strain of vampirism. As the strain spreads, Eph, his team, and an assembly of everyday New Yorkers, wage war for the fate of humanity itself.
1h 40m Science Fiction Action Adventure
One thousand years after cataclysmic events forced humanity's escape from Earth, Nova Prime has become mankind's new home. Legendary General Cypher Raige returns from an extended tour of duty to his estranged family, ready to be a father to his 13-year-old son, Kitai. When an asteroid storm damages Cypher and Kitai's craft, they crash-land on a now unfamiliar and dangerous Earth. As his father lies dying in the cockpit, Kitai must trek across the hostile terrain to recover their rescue beacon. His whole life, Kitai has wanted nothing more than to be a soldier like his father. Today, he gets his chance.
27.
The Last Man on Earth (1964)
2h 15m Adventure Action Science Fiction
In a futuristic world where the polar ice caps have melted and made Earth a liquid planet, a beautiful barmaid rescues a mutant seafarer from a floating island prison. They escape, along with her young charge, Enola, and sail off aboard his ship.
30.
War of the Worlds (2005)
1h 57m Adventure Thriller Science Fiction
Ray Ferrier is a divorced dockworker and less-than-perfect father. Soon after his ex-wife and her new husband drop off his teenage son and young daughter for a rare weekend visit, a strange and powerful lightning storm touches down.
explore
Check out more list from our community