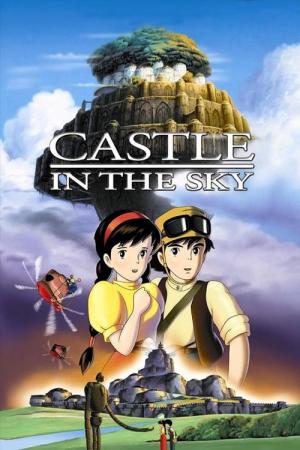 14 Best Movies Like Castle In The Sky ...
If you liked this film , you will probably love these too! In this list we highlight some of the best films that share a very similar mood to 'Castle in the Sky', and are worth checking out.
1.
Kiki's Delivery Service (1989)
2.
The Pirate Fairy (2014)
1h 18m Animation Family
Zarina, a smart and ambitious dust-keeper fairy who's captivated by Blue Pixie Dust and its endless possibilities, flees Pixie Hollow and joins forces with the scheming pirates of Skull Rock, who make her captain of their ship. Tinker Bell and her friends must embark on an epic adventure to find Zarina, and together they go sword-to-sword with the band of pirates led by a cabin boy named James, who'll soon be known as Captain Hook himself.
1h 34m Family Comedy Animation Adventure
In Italy in the 1930s, sky pirates in biplanes terrorize wealthy cruise ships as they sail the Adriatic Sea. The only pilot brave enough to stop the scourge is the mysterious Porco Rosso, a former World War I flying ace who was somehow turned into a pig during the war. As he prepares to battle the pirate crew's American ace, Porco Rosso enlists the help of spunky girl mechanic Fio Piccolo and his longtime friend Madame Gina.
4.
My Neighbor Totoro (1988)
1h 26m Fantasy Animation Family
Two sisters move to the country with their father in order to be closer to their hospitalized mother, and discover the surrounding trees are inhabited by Totoros, magical spirits of the forest. When the youngest runs away from home, the older sister seeks help from the spirits to find her.
5.
Welcome to the Space Show (2010)
2h 16m Animation Science Fiction
Five children save the life of a dog-like alien while at a self-run summer camp. He attempts to reward them by taking them to an alien colony on the Moon. Events take a turn for the worse when his report on that attack that injured him causes passage from the Moon to the Earth to be banned, and children are stranded in space. The children need to find a way back home before camp ends and their parents discover that they are missing. They also have to avoid the poachers that injured their alien friend, and now seem to be stalking them all.
6.
Lilo & Stitch (2002)
1h 25m Animation Family
As Stitch, a runaway genetic experiment from a faraway planet, wreaks havoc on the Hawaiian Islands, he becomes the mischievous adopted alien "puppy" of an independent little girl named Lilo and learns about loyalty, friendship, and 'ohana, the Hawaiian tradition of family.
1h 59m Adventure Animation Fantasy
The Raccoons of the Tama Hills are being forced from their homes by the rapid development of houses and shopping malls. As it becomes harder to find food and shelter, they decide to band together and fight back. The Raccoons practice and perfect the ancient art of transformation until they are even able to appear as humans in hilarious circumstances.
8.
Nausicaa of the Valley of the Wind (1984)
1h 57m Adventure Animation Fantasy
After a global war, the seaside kingdom known as the Valley of the Wind remains one of the last strongholds on Earth untouched by a poisonous jungle and the powerful insects that guard it. Led by the courageous Princess Nausicaä, the people of the Valley engage in an epic struggle to restore the bond between humanity and Earth.
1h 45m Animation Fantasy Science Fiction
After receiving a package from his grandfather, Ray, a young inventor who lives in England during the mid-19th century, finds himself caught in the middle of a deadly conflict related to a revolutionary advance in steam power.
10.
Treasure Planet (2002)
1h 35m Adventure Animation Family Fantasy Science Fiction
When space galleon cabin boy Jim Hawkins discovers a map to an intergalactic "loot of a thousand worlds," a cyborg cook named John Silver teaches him to battle supernovas and space storms. But, soon, Jim realizes Silver is a pirate intent on mutiny!
11.
Princess Mononoke (1997)
2h 14m Adventure Fantasy Animation
Ashitaka, a prince of the disappearing Emishi people, is cursed by a demonized boar god and must journey to the west to find a cure. Along the way, he encounters San, a young human woman fighting to protect the forest, and Lady Eboshi, who is trying to destroy it. Ashitaka must find a way to bring balance to this conflict.
2h 5m Animation Family Fantasy
A young girl, Chihiro, becomes trapped in a strange new world of spirits. When her parents undergo a mysterious transformation, she must call upon the courage she never knew she had to free her family.
13.
Pokemon the Movie: Destiny Deoxys (2004)
1h 38m Adventure Animation Family Fantasy
A comet bearing a deadly Pokemon creature crash-lands onto Earth, terrorising a nearby high-tech city, where Ash, Pikachu and friends are currently visiting...
14.
The Tale of the Princess Kaguya (2013)
2h 17m Animation Drama Fantasy
Found inside a shining stalk of bamboo by an old bamboo cutter and his wife, a tiny girl grows rapidly into an exquisite young lady. The mysterious young princess enthralls all who encounter her - but ultimately she must confront her fate, the punishment for her crime.
explore
Check out more list from our community