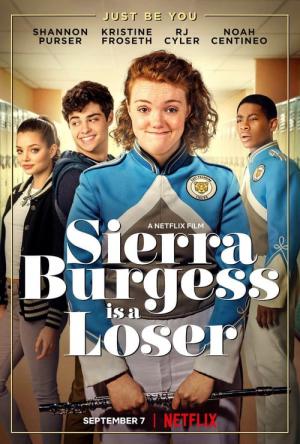 13 Best Movies Like Sierra Burgess ...
If you liked this one , you will definitely love these too! In this selection we highlight some of the best films that share a very similar premise to 'Sierra Burgess Is a Loser', and are worth checking out.
1.
The Last Summer (2019)
2.
The Perks of Being a Wallflower (2012)
1h 43m Drama
Pittsburgh, Pennsylvania, 1991. High school freshman Charlie is a wallflower, always watching life from the sidelines, until two senior students, Sam and her stepbrother Patrick, become his mentors, helping him discover the joys of friendship, music and love.
3.
To All the Boys I've Loved Before (2018)
1h 40m Comedy Romance
Lara Jean's love life goes from imaginary to out of control when her secret letters to every boy she's ever fallen for are mysteriously mailed out.
1h 40m Romance Comedy
Bianca's universe turns upside down when she learns that her high school refers to her as a 'DUFF' (Designated Ugly Fat Friend). Hoping to erase that label, she enlists the help of a charming jock and her favorite teacher. Together they'll face the school's mean girl and remind everyone that we are all someone's DUFF… and that's totally fine.
1h 21m Drama Fantasy Comedy TV Movie
The story is about Amber, a mean popular girl who gets electrocuted and dies and is not allowed to enter into heaven unless she helps the least popular girl in school become Prom Queen within a week, but things do not go as planned.
6.
A Night in the Life of Jimmy Reardon (1988)
1h 30m Drama Romance
A recent high school graduate is faced with two options, either go to a business school where his father wants him to go to, or get a full time job. However he decides to defy his father and go to Hawaii. Trouble is he has no money. Along the way he comes to understand his parents and eventually bonds with his father.
1h 33m Comedy
Olive, an average high school student, sees her below-the-radar existence turn around overnight once she decides to use the school's gossip grapevine to advance her social standing. Now her classmates are turning against her and the school board is becoming concerned, including her favorite teacher and the distracted guidance counselor. With the support of her hilariously idiosyncratic parents and a little help from a long-time crush, Olive attempts to take on her notorious new identity and crush the rumor mill once and for all.
8.
Can't Buy Me Love (1987)
9.
Tim Timmerman, Hope of America (2017)
1h 29m Romance Drama
When Juli meets Bryce in the second grade, she knows it's true love. After spending six years trying to convince Bryce the same, she's ready to give up - until he starts to reconsider.
1h 41m Comedy Drama Romance
Jodi, the tallest girl in her high school, has always felt uncomfortable in her own skin. But after years of slouching, being made fun of, and avoiding attention at all costs, Jodi finally decides to find the confidence to stand tall.
45m Drama Comedy
A bullied teenager turns to beauty pageants as a way to exact her revenge, with the help of a disgraced coach who soon realizes he's in over his head.
13.
Love at First Hiccup (2009)
1h 25m Comedy Romance
Victor, a bumbling and gullible high school freshman, has caught a serious case of Anya-itis—an acute, incurable crush on hot senior Anya. Too bad she dates the most popular guy in school and doesn't have a clue that Victor exists. After a string of awkward run-ins, his chances of scoring a date with Anya seem to go from hardly any to, well, zero. But his shy and goofy charm—and an elaborate scheme to win the girl of his dreams—just might do the trick.
explore
Check out more list from our community