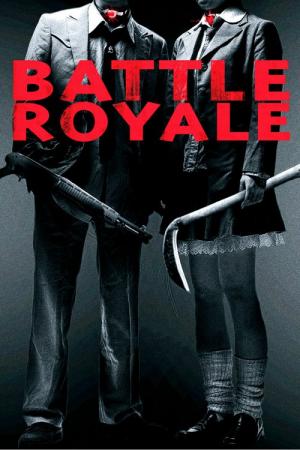 12 Best Movies Like Battle Royale ...
If you liked this one , you will probably love these too! In this list we highlight some of the best films that share a very similar premise to 'Battle Royale', and are worth checking out.
1.
The Hunger Games: Catching Fire (2013)
2h 26m Adventure Action Science Fiction
Katniss Everdeen has returned home safe after winning the 74th Annual Hunger Games along with fellow tribute Peeta Mellark. Winning means that they must turn around and leave their family and close friends, embarking on a "Victor's Tour" of the districts. Along the way Katniss senses that a rebellion is simmering, but the Capitol is still very much in control as President Snow prepares the 75th Annual Hunger Games (The Quarter Quell) - a competition that could change Panem forever.
2.
Lord of the Flies (1963)
1h 32m Thriller Adventure Drama
Amidst a nuclear war, a plane carrying a group of schoolboys crash lands on a deserted island. With no adult survivors, the boys are forced to fend for themselves. At first they cooperate, but when the they split into two separate camps -- one led by the pragmatic Ralph and the other by militaristic Jack -- their society falls into disarray, leading to a disturbing examination of human nature and a chilling conclusion.
1h 30m Thriller Science Fiction Mystery
A group of strangers find themselves trapped in a maze-like prison. It soon becomes clear that each of them possesses the peculiar skills necessary to escape, if they don't wind up dead first.
4.
The Chronicles of Riddick (2004)
1h 59m Action Science Fiction
After years of outrunning ruthless bounty hunters, escaped convict Riddick suddenly finds himself caught between opposing forces in a fight for the future of the human race. Now, waging incredible battles on fantastic and deadly worlds, this lone, reluctant hero will emerge as humanity's champion - and the last hope for a universe on the edge of annihilation.
1h 47m Science Fiction Action Thriller
A mercenary reluctantly leads a motley crew of warriors who soon come to realize they've been captured and deposited on an alien planet by an unknown nemesis. With the exception of a peculiar physician, they are all cold-blooded killers, convicts, death squad members... hunters who have now become the hunted.
1h 35m Horror Action Thriller
Every ten or seven years in an unsuspecting town, The Tournament takes place. A battle royale between 30 of the world's deadliest assassins. The last man standing receiving the $10,000,000 cash prize and the title of Worlds No 1, which itself carries the legendary million dollar a bullet price tag.
7.
Battle Royale II (2003)
8.
Cyborg 2: Glass Shadow (1993)
1h 39m Action Adventure Science Fiction
In the year 2074, the cybernetics market is dominated by two rival companies: USA's Pinwheel Robotics and Japan's Kobayashi Electronics. Cyborgs are commonplace, used for anything from soldiers to prostitutes. Casella Reese is a prototype cyborg developed for corporate espionage and assassination. She is filled with a liquid explosive called Glass Shadow. Pinwheel plans to eliminate the entire Kobayashi board of directors by using Casella
9.
The Running Man (1987)
1h 41m Science Fiction Action Thriller
By 2017, the global economy has collapsed and U.S. society has become a totalitarian police state, censoring all cultural activity. The government pacifies the populace by broadcasting a number of game shows in which convicted criminals fight for their lives, including the gladiator-style The Running Man, hosted by the ruthless Damon Killian, where "runners" attempt to evade "stalkers" and certain death for a chance to be pardoned and set free.
10.
Starship Troopers (1997)
2h 9m Adventure Action Thriller Science Fiction
Set in the future, the story follows a young soldier named Johnny Rico and his exploits in the Mobile Infantry. Rico's military career progresses from recruit to non-commissioned officer and finally to officer against the backdrop of an interstellar war between mankind and an arachnoid species known as "the Bugs".
11.
Letters from Iwo Jima (2006)
2h 21m Action Drama War
The story of the battle of Iwo Jima between the United States and Imperial Japan during World War II, as told from the perspective of the Japanese who fought it.
12.
Shogun Assassin (1980)
1h 25m Action
A Shogun who grew paranoid as he became senile sent his ninjas to kill his samurai. They failed but did kill the samurai's wife. The samurai swore to avenge the death of his wife and roams the countryside with his toddler son in search of vengeance.
explore
Check out more list from our community