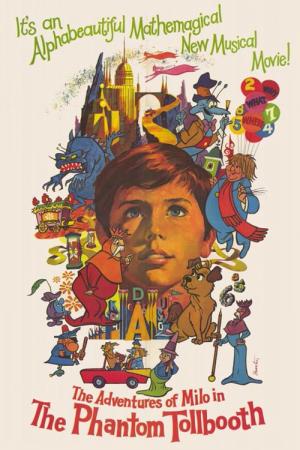 10 Best The Magic Pony ...
If you liked this movie , you will for sure love these too! In this list we highlight some of the best films that share a very similar mood to 'The Phantom Tollbooth', and are worth checking out.
1.
The Little Mermaid (1989)
1h 23m Animation Family Fantasy
This colorful adventure tells the story of an impetuous mermaid princess named Ariel who falls in love with the very human Prince Eric and puts everything on the line for the chance to be with him. Memorable songs and characters -- including the villainous sea witch Ursula.
3.
Charlotte's Web (1973)
1h 34m Family Music Animation Drama Comedy
Wilbur the pig is scared of the end of the season, because he knows that come that time, he will end up on the dinner table. He hatches a plan with Charlotte, a spider that lives in his pen, to ensure that this will never happen.
4.
Go West: A Lucky Luke Adventure (2007)
1h 30m Adventure Animation Comedy Western
The Daltons have escaped to New York, where their accumulated loot is hidden in the carts of Monsieur Pierre's group of honest, naive European immigrants, who naively bought land in California from Crook, who inserted a clause they must claim it within 80 days. Joe emotionally blackmails Luke to guide them there, hoping to escape on the way. The usual route must shortened from 6 to 2 months, so no danger can be avoided. Given Lucky's reputation, Crook decides to shadow them to add sabotage, just to be sure- or is it?
5.
The Bears' Famous Invasion of Sicily (2019)
6.
The Three Heroes: The Heiress to the Throne (2018)
1h 30m Animation Family
The Prince of Kiev decided to appoint an heir to the throne, only bad luck - who could it be? A relative, friend of the family or maybe an overseas princess? Without thinking twice, the Prince-Father chooses almost a princess, and most importantly a relative - his niece Zabava. Today, she and her husband, Elisha (do you remember the faithful student of Dobryni Nikitich?), Receive her education in faraway Constantinople, where the treacherous Vasileus rules. In order to return the heiress to her native lands, three heroes are sent in a hurry, and, of course, the main court horse, Julius.
7.
Three Heroes and the Shamakhan Queen (2010)
1h 13m Animation Family Comedy Adventure
A bogatyr is an epic warrior from ancient Kievan Rus. Most are directed in the traditional bylinas, traditional Russian epic poems, as being endowed with enormous strength and cunning, although often not completely immune to human weaknesses. Here, our three heroes gather together once more to rescue the ruler of the land from the attempts of an evil foreign queen. She plans to make him fall in love with her so her youth and beauty can be renewed, but in exchange will destroy his kingdom.
1h 25m Animation Drama
12 year-­old Adama lives in a remote village in West Africa, sheltered by the Cliffs. Out, beyond, lies "the land of breaths", the kingdom of wicked spirits hungry for war. When Samba, his elder brother, suddenly vanishes from the village, Adama decides to set off in search of him. Accompanied first by Abdou, a tragically lucid griot, then by Maximin, a street urchin who is his own negative twin, he crosses a Europe in the grip of war. We're in 1914. Borne by the energy of desperation and the poetry of childhood, Adama travels to the hell of the frontline in order to free his brother. Ultimately, Adama's love for his brother will open an unexpected way to his initiatory journey.
9.
Giovanni's Island (2014)
2h 59m Drama Music
The impulsive and charismatic Don Giovanni travels through Europe seducing women, accompanied by his long-suffering servant Leporello. But when Don Giovanni commits murder, he unleashes a dark power beyond his control. Kasper Holten's production is rich in both colourful comedy and exhilarating drama. Set designs by Es Devlin (Les Troyens) and costume designs by Anja Vang Kragh (Stella McCartney, John Galliano for Christian Dior), with video projections by Luke Halls and choreography by Signe Fabricius, portray the visually entrancing world of Don Giovanni. At the heart of the production are the beauty and invention of Mozart's dazzling score, which ranges from gorgeous arias and dramatic duets to the brilliant layering of dance melodies that bring Act I to a virtuoso close.
10.
Alyosha Popovich and Tugarin Zmey (2004)
1h 12m Animation Comedy Drama Family Fantasy
Alesha Popovich has to catch Tugarin Zmey and bring back the stolen money with the help of a talking Horse (which talks all the time and has an opinion on everything), a wise granny, a donkey and a beauty Lyubava.
explore
Check out more list from our community