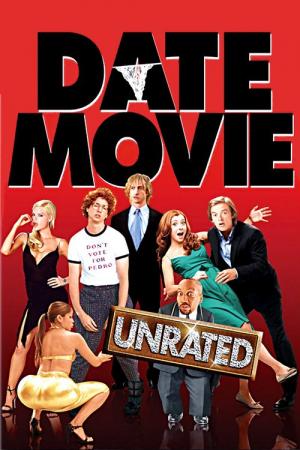 10 Best Movies Like Date Movie ...
If you liked this film , you will probably love these too! In this collection we highlight some of the best films that share a very similar premise to 'Date Movie', and are worth checking out.
1h 30m Comedy Romance
When his lawyer wife, Sofia, becomes pregnant, chronic underachiever Tom Reilly must take a job at his father-in-law's advertising firm. Tom has to adjust to the demands of a very high-powered job, and he finds himself in an increasingly hostile office rivalry with Chip, Sofia's paraplegic former lover.
1h 26m Action Adventure Comedy
When Edward, Peter, Lucy and Susan each follow their own path, they end up finding themselves at Willy's Chocolate factory. Walking through a wardrobe, they discover the world of Gnarnia, which is ruled by the White Bitch. Meeting up with characters such as Harry Potter and Captain Jack Swallows, the newly reunited family must team up with Aslo, a wise-but-horny lion to stop the white bitch's army
3.
The Wedding Date (2005)
1h 28m Comedy Romance
With the wedding of her younger sister fast approaching, Kat Ellis faces the undesirable prospect of traveling alone to London for the ceremony. While this is bad enough, Jeffrey, the man who left her as they moved closer to marriage, happens to be the groom's best man. Determined to show everyone -- most of all Jeffrey -- that her romantic life is as full and thrilling as ever, Kat hires a charming male escort as her date.
4.
Say It Isn't So (2001)
1h 35m Comedy Romance
Boy meets girl; boy falls in love (and had wild, non-stop sex) with girl; boy loses girl... when they discover they are brother and sister! But when he learns that he's the victim of the ultimate case of mistaken identity, the lovesick young man -- whom everyone still thinks is after some taboo thrills -- must race across the country to stop her from marrying another man.
1h 41m Comedy Romance
Jimmie is seeing his single friends get married one by one. He isn't too worried until his girlfriend Anne catches the bouquet at his friend Marco's wedding. Suddenly, his wild mustang days are numbered. He finally decides to propose to her, but he sticks his foot in his mouth and botches the proposal. Being insulted by the defeatist proposal, Anne leaves town on an assignment. After she's gone, he finds out that his recently-deceased grandfather's will stipulates that he gets nothing of a multi-million dollar fortune unless he's married by 6:05pm on his 30th birthday: tomorrow! Not being able to find Anne, Jimmie begins backtracking through his past girlfriends to find a wife.
6.
The Sweetest Thing (2002)
1h 24m Romance Comedy
Christina's love life is stuck in neutral. After years of avoiding the hazards of a meaningful relationship, one night while club-hopping with her girlfriends, she meets Peter, her perfect match. Fed up with playing games, she finally gets the courage to let her guard down and follow her heart, only to discover that Peter has suddenly left town. Accompanied by Courtney, she sets out to capture the one that got away.
1h 29m Comedy Romance
Two best friends become rivals when their respective weddings are accidentally booked for the same day.
1h 20m Comedy Romance
Playboy Thomas Fuentes has so far been able to skate by in life on good looks and charm alone. But when his duplicitous relationships with three women -- impassioned waitress Cici, meticulous lawyer Lorena and bored socialite Patricia -- spiral out of control, he suffers a mental breakdown. His doctor recommends that he choose just one girlfriend -- but can he choose in time before they discover his deception?
9.
Forces of Nature (1999)
1h 45m Romance Comedy
Ben Holmes, a professional book-jacket blurbologist, is trying to get to Savannah for his wedding. He just barely catches the last plane, but a seagull flies into the engine as the plane is taking off. All later flights are cancelled because of an approaching hurricane, so he is forced to hitch a ride in a Geo Metro with an attractive but eccentric woman named Sara.
10.
American Wedding (2003)
1h 43m Comedy Romance
With high school a distant memory, Jim and Michelle are getting married -- and in a hurry, since Jim's grandmother is sick and wants to see him walk down the aisle -- prompting Stifler to throw the ultimate bachelor party. And Jim's dad is reliable as ever, doling out advice no one wants to hear.
explore
Check out more list from our community