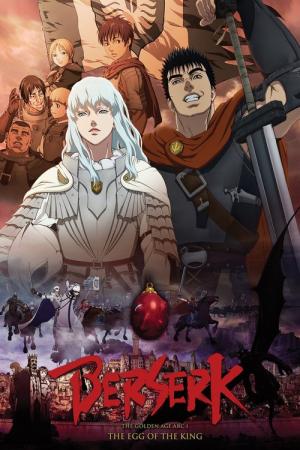 22 Best Movies Like Berserk ...
If you liked this movie , you will definitely love these too! In this selection we highlight some of the best films that share a very similar premise to '', and are worth checking out.
1.
Berserk: The Golden Age Arc III - The Advent (2013)
1h 50m Action Adventure Drama Fantasy Animation
A year has passed since Guts parted ways with the Band of the Hawks. Meanwhile, his former mercenary group is plotting a rescue mission to save an imprisoned Griffith.
2.
Berserk: The Golden Age Arc II - The Battle for Doldrey (2012)
1h 38m Action Adventure Drama Fantasy Animation
The Band of the Hawk participates in the Midland war campaign. On the bloody battlefield, they conquer decisive victories that lead them to Doldrey, an old fortress that will decide the outcome of the war.
23m Action & Adventure Sci-Fi & Fantasy Animation
Guts, a man who calls himself "The Black Swordsman", looks back upon his days serving as a member of a group of mercenaries. Led by an ambitious, ruthless, and intelligent man named Griffith, together they battle their way into the royal court, and are forced into a fate that changes their lives.
1h 55m Adventure Action Animation
A 6th-century Scandinavian warrior named Beowulf embarks on a mission to slay the man-like ogre, Grendel.
1h 34m Fantasy Adventure Animation
Jubei is a masterless ninja who travels the land alone, lending his services to those with gold—or a worthy cause. His fearsome abilities have served him well, but a plot to overthrow the government threatens to end his wandering ways—and possibly his life.
6.
Sword of the Stranger (2007)
1h 43m Action Animation History
Pursued by formidable Chinese assassins, young Kotaro and his dog run into No Name, a mysterious stranger who gets pulled into the chase. The unlikely companions form a bond over saving the dog from a poison attack, but chaos erupts when the assassins find Kotaro, and No Name must face his past before a horrible fate is met again.
7.
Dante's Inferno: An Animated Epic (2010)
1h 24m Action Adventure Animation Horror
Dante journeys through the nine circles of Hell -- limbo, lust, gluttony, greed, anger, heresy, violence, fraud and treachery -- in search of his true love, Beatrice. An animated version of the video game of the same name.
8.
InuYasha the Movie 3: Swords of an Honorable Ruler (2003)
1h 39m Animation Fantasy Adventure
Inuyasha and his brother, Sesshomaru, each inherited a sword from their father after his death. However, their father had a third sword, named Sounga, that he sealed away. Seven hundreds years after his death, Sounga awakens and threatens mankind's very existence. How will the children of the Great Dog Demon stop this unimaginable power?
9.
Inuyasha the Movie: Affections Touching Across Time (2001)
1h 39m Action Animation Adventure Fantasy
InuYasha is a half-demon who was trapped in the Legendary Tree and was set free by Kagome, a girl who traveled 500 years through time. This time, both of them will have to face Menomaru, a Chinese demon whose father, known as Hyoga, came 300 years ago to invade Japan, but was stopped by InuYasha's Father. InuYasha and Kagome, along with Sango, Miroku, Shippou, Kaede and Myoga, will try to stop Menomaru in his becoming the most powerful demon ever.
10.
Karas: The Revelation (2007)
1h 25m Animation Fantasy Action
Karas: The Revelation is about the battle between supernatural forces on the streets of modern-day Japan. The Revelation covers the true identity of newly-minted Karas (spiritual protector of humanity from demonic forces) Otaha, who returns to his hometown to rescue a friend from gangsters. Meanwhile, evil Karas Eko continues his campaign of terror against mankind with the aid of a multi-headed dragon summoned by the powers of rogue demon Nue.
11.
Dragonlance: Dragons of Autumn Twilight (2008)
1h 30m Animation Fantasy
After five years apart, searching the world of Krynn for proof of the existence of the true gods, a group of adventurers reach their goal in the form of a barbarian woman carrying a miraculous blue crystal staff. Soon they are thrust into war as an army of dragons overtakes their homeland.
29m Action Drama Fantasy Animation
Kurosaki Ichigo, the temporary Shinigami (Death God) for Kuchiki Rukia, discovers his mother's killer as one of the Hollows he has been hunting. He does battle with it in a prideful battle of revenge.
13.
Tales from Earthsea (2006)
1h 55m Animation Fantasy Adventure
Something bizarre has come over the land. The kingdom is deteriorating. People are beginning to act strange... What's even more strange is that people are beginning to see dragons, which shouldn't enter the world of humans. Due to all these bizarre events, Ged, a wandering wizard, is investigating the cause. During his journey, he meets Prince Arren, a young distraught teenage boy. While Arren may look like a shy young teen, he has a severe dark side, which grants him strength, hatred, ruthlessness and has no mercy, especially when it comes to protecting Teru. For the witch Kumo this is a perfect opportunity. She can use the boy's "fears" against the very one who would help him, Ged.
14.
Saint Seiya The Lost Canvas - The Myth of Hades (2009)
24m Animation Action & Adventure
An orphan known as Tenma becomes one of Athena's 88 warriors known as Saints and finds himself in a war fighting against his best friend Alone who is revealed to be the reincarnation of Athena's biggest enemy, the God Hades.
15.
Demon Slayer the Movie: Mugen Train (2020)
1h 57m Animation Action Adventure Fantasy Drama
Tanjirō Kamado, joined with Inosuke Hashibira, a boy raised by boars who wears a boar's head, and Zenitsu Agatsuma, a scared boy who reveals his true power when he sleeps, boards the Infinity Train on a new mission with the Fire Hashira, Kyōjurō Rengoku, to defeat a demon who has been tormenting the people and killing the demon slayers who oppose it!
16.
Dragon Ball Z: Battle of Gods (2013)
1h 25m Animation Action Science Fiction
The events of Battle of Gods take place some years after the battle with Majin Buu, which determined the fate of the entire universe. After awakening from a long slumber, Beerus, the God of Destruction is visited by Whis, his attendant and learns that the galactic overlord Frieza has been defeated by a Super Saiyan from the North Quadrant of the universe named Goku, who is also a former student of the North Kai. Ecstatic over the new challenge, Goku ignores King Kai's advice and battles Beerus, but he is easily overwhelmed and defeated. Beerus leaves, but his eerie remark of "Is there nobody on Earth more worthy to destroy?" lingers on. Now it is up to the heroes to stop the God of Destruction before all is lost.
17.
Green Lantern: Emerald Knights (2011)
1h 24m Action Adventure Animation Science Fiction Drama
As the home planet of the Green Lantern Corps faces a battle with an ancient enemy, Hal Jordan prepares new recruit Arisia for the coming conflict by relating stories of the first Green Lantern and several of Hal's comrades.
18.
One Piece Film Z (2012)
1h 48m Action Adventure Animation
Zephyr, now known as Z, rides the seas with only one goal: Destroy all pirates and their dreams at becoming King of Pirates. When Luffy and his crew encounter him at sea, not only are they utterly defeated by the man with an arm made of Seastone, Nami, Robin, and Chopper are turned 10 years younger due to Z's minion Ain. Luffy is so determined to win against him that he does not even notice Z's master plan that could sacrifice thousands of lives.
24m Animation Action & Adventure Sci-Fi & Fantasy
In another world, ninja are the ultimate power, and in the Village Hidden in the Leaves live the stealthiest ninja in the land. Twelve years earlier, the fearsome Nine-Tailed Fox terrorized the village and claimed many lives before it was subdued and its spirit sealed within the body of a baby boy. That boy, Naruto Uzumaki, has grown up to become a ninja-in-training who's more interested in pranks than in studying ninjutsu.. but Naruto is determined to become the greatest ninja ever!
20.
Winx Club: The Mystery of the Abyss (2014)
1h 23m Family Fantasy Animation
The archenemies of the Winx Club, the Trix witches, team up with the evil nymph Politea and find out that, to defeat the fairies once and for all and become invincible, it takes very little: a Pearl hidden in the Deep of the Infinite Ocean! As small as powerful, the Pearl of the Depth gives enormous powers to those who possess it! For the Winx there is not a minute to waste: how will they stop the plans of their enemies before it's too late? Get ready: the most dangerous mission of the Winx is about to begin!
21.
Blue Exorcist: The Movie (2012)
1h 28m Animation Fantasy Mystery Horror Action
The atmosphere in True Cross Academy is lively and boisterous in the days leading up to the grand festival held once every 11 years. During this time, Okumura Rin is entrusted with the responsibility of suppressing the berserk Phantom Train. In the midst of his mission, he meets a devil whose appearance is that of a young boy.
explore
Check out more list from our community