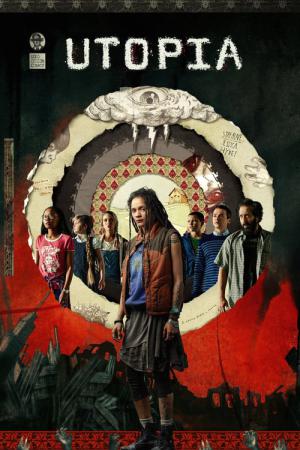 27 Best Shows Like Utopia ...
If you liked this movie , you will definitely love these too! In this list we highlight some of the best films that share a very similar mood to '', and are worth checking out.
50m Drama Mystery Action & Adventure
The Utopia Experiments is a legendary graphic novel shrouded in mystery. When a group of strangers find themselves in possession of an original manuscript, their lives suddenly and brutally implode.
1h Sci-Fi & Fantasy Drama
A contemporary British re-working of The Twilight Zone with stories that tap into the collective unease about our modern world. Over the last ten years, technology has transformed almost every aspect of our lives before we've had time to stop and question it. In every home; on every desk; in every palm - a plasma screen; a monitor; a smartphone - a black mirror of our 21st Century existence.
43m Drama Sci-Fi & Fantasy
A streetwise hustler is pulled into a compelling conspiracy after witnessing the suicide of a girl who looks just like her.
43m Drama Mystery Sci-Fi & Fantasy
Imagine the perfect American town... beautiful homes, manicured lawns, children playing safely in the streets. Now imagine never being able to leave. You have no communication with the outside world. You think you're going insane. You must be in Wayward Pines.
1h Drama
An American anthology police detective series utilizing multiple timelines in which investigations seem to unearth personal and professional secrets of those involved, both within or outside the law.
6.
The Shadow Line (2011)
1h Drama
A murder is investigated by both sides of the line, cops and criminals, using opposing methods. But the real line is the morality within each person and how far they will go before they cross it.
1h Drama Sci-Fi & Fantasy Mystery
After resigning, a secret agent is abducted and taken to what looks like an idyllic village, but is really a bizarre Kafkaesque prison. His warders demand information. He gives them nothing, but only tries to escape.
42m Drama Mystery Sci-Fi & Fantasy
A small town is suddenly and inexplicably sealed off from the rest of the world by an enormous transparent dome. While military forces, the government and the media positioned outside of this surrounding barrier attempt to break it down, a small group of people inside attempt to figure out what the dome is, where it came from, and when (and if) it will go away.
42m Drama
When the entire world blacks out for two minutes and seventeen seconds, everyone sees a flash of their own future 6 months from the present. For some, the future is hopeful, while for others, it is unexpected. For a few, it doesn't seem to exist. Knowing their fate will alter each person's life, destinies will be changed.
59m War & Politics Drama Crime
"The Game" is a 1970s Cold War spy thriller set in the world of espionage. It tells the story of the invisible war fought by MI5 as it battles to protect the nation from the threats of the Cold War.
12.
Top of the Lake (2013)
45m Crime Drama Mystery
A woman haunted by her past, Detective Robin Griffin, investigates complex and unsettling cases.
59m Drama Mystery
Adventurer James Keziah Delaney returns to London from Africa in 1814 along with fourteen stolen diamonds to seek vengeance after the death of his father.
50m Crime Drama
A close-knit anthology series dealing with stories involving malice, violence and murder based in and around Minnesota.
1h Sci-Fi & Fantasy Drama
Survivors was a British science fiction television series produced by the BBC. It depicts the lives of a group of people who survived a virulent unknown strain of influenza which has wiped out most of the human species. According to the producers, the series is not a remake of the 1970s BBC television series Survivors, created by Terry Nation, but is loosely based on the novel of the same name that Nation wrote following the first series of the 1970s series. Two series were produced of the new series. Series 1 ran on BBC One and BBC HD in November–December 2008, and series 2 ran in January–February 2010, ending with a cliffhanger. The BBC announced on 13 April 2010 that, due to poor viewing figures and other considerations, Survivors had been cancelled.The series had its premiere in South Africa on BBC Entertainment in September 2009, in France on DTTV channel NRJ 12 on 12 January 2010, and on BBC America in the United States on 13 February 2010. The series' Australian premiere was on Channel Nine, on 21 March 2010.
45m Drama
Secret State explores the relationship between a democratically elected government, big business and the banks.
45m Mystery Drama Sci-Fi & Fantasy
The exploits of FBI Special Agents Fox Mulder and Dana Scully who investigate X-Files: marginalized, unsolved cases involving paranormal phenomena. Mulder believes in the existence of aliens and the paranormal while Scully, a skeptic, is assigned to make scientific analyses of Mulder's discoveries that debunk Mulder's work and thus return him to mainstream cases.
18.
The Twilight Zone (1985)
30m Sci-Fi & Fantasy Drama
This 1980s revival of the classic sci-fi series features a similar style to the original anthology series. Each episode tells a tale (sometimes two or three) rooted in horror or suspense, often with a surprising twist at the end. Episodes usually feature elements of drama and comedy.
1h 53m Action Mystery Thriller
A man awakens from a coma, only to discover that someone has taken on his identity and that no one, (not even his wife), believes him. With the help of a young woman, he sets out to prove who he is.
1h Drama Mystery
When the decomposed body of Melissa Young is found by a couple in their new flat, Detective Len Harper is determined to discover what happened to her and why nobody noticed she was missing.
1h Action & Adventure Drama Mystery Sci-Fi & Fantasy
The Event is an emotional, high-octane conspiracy thriller that follows Sean Walker, an everyman who investigates the mysterious disappearance of his would-be fiancée Leila, and unwittingly begins to expose the biggest cover-up in U.S. history.
46m Sci-Fi & Fantasy Drama Mystery
FBI Special Agent Olivia Dunham, brilliant but formerly institutionalized scientist Walter Bishop and his scheming, reluctant son Peter uncover a deadly mystery involving a series of unbelievable events and realize they may be a part of a larger, more disturbing pattern that blurs the line between science fiction and technology.
45m Drama Sci-Fi & Fantasy
Helix is an intense thriller about a team of scientists from the Centers for Disease Control who travel to a high-tech research facility in the Arctic to investigate a possible disease outbreak, only to find themselves pulled into a terrifying life-and-death struggle that holds the key to mankind's salvation...or total annihilation.
43m Drama Crime Mystery
Raymond "Red" Reddington, one of the FBI's most wanted fugitives, surrenders in person at FBI Headquarters in Washington, D.C. He claims that he and the FBI have the same interests: bringing down dangerous criminals and terrorists. In the last two decades, he's made a list of criminals and terrorists that matter the most but the FBI cannot find because it does not know they exist. Reddington calls this "The Blacklist". Reddington will co-operate, but insists that he will speak only to Elizabeth Keen, a rookie FBI profiler.
explore
Check out more list from our community