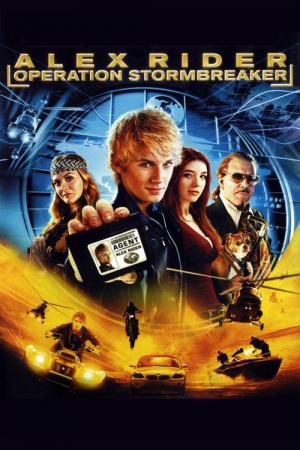 31 Best Movies Like Stormbreaker ...
If you liked this movie , you will for sure love these too! In this list we highlight some of the best films that share a very similar mood to '', and are worth checking out.
1.
Agent Cody Banks (2003)
1h 42m Action Adventure Comedy Family
Recruited by the U.S. government to be a special agent, nerdy teenager Cody Banks must get closer to cute classmate Natalie in order to learn about an evil plan hatched by her father. But despite the agent persona, Cody struggles with teen angst.
2h 23m Action Adventure Thriller
When Bond's latest assignment goes gravely wrong and agents around the world are exposed, MI6 is attacked forcing M to relocate the agency. These events cause her authority and position to be challenged by Gareth Mallory, the new Chairman of the Intelligence and Security Committee. With MI6 now compromised from both inside and out, M is left with one ally she can trust: Bond. 007 takes to the shadows - aided only by field agent, Eve - following a trail to the mysterious Silva, whose lethal and hidden motives have yet to reveal themselves.
2h 4m Action Adventure Thriller
Xander Cage is your standard adrenaline junkie with no fear and a lousy attitude. When the US Government "recruits" him to go on a mission, he's not exactly thrilled. His mission: to gather information on an organization that may just be planning the destruction of the world, led by the nihilistic Yorgi.
4.
Agent Cody Banks 2: Destination London (2004)
1h 40m Comedy Action Adventure Family
With all-new gadgets, high-flying action, exciting chases and a wisecracking new handler, Derek (Anthony Anderson), Cody has to retrieve the device before the world's leaders fall under the evil control of a diabolical villain.
1h 36m Action Thriller
This story is about a freelance agent (Seagal) who is the courier of a package from France to Germany. He soon finds that many people want to get their hands on it.
2h 21m Action Thriller
A fearless, globe-trotting, terrorist-battling secret agent has his life turned upside down when he discovers his wife might be having an affair with a used car salesman while terrorists smuggle nuclear war heads into the United States.
7.
Mission: Impossible II (2000)
2h 3m Adventure Action Thriller
With computer genius Luther Stickell at his side and a beautiful thief on his mind, agent Ethan Hunt races across Australia and Spain to stop a former IMF agent from unleashing a genetically engineered biological weapon called Chimera. This mission, should Hunt choose to accept it, plunges him into the center of an international crisis of terrifying magnitude.
8.
Kingsman: The Secret Service (2014)
2h 9m Crime Comedy Action Adventure
The story of a super-secret spy organization that recruits an unrefined but promising street kid into the agency's ultra-competitive training program just as a global threat emerges from a twisted tech genius.
1h 28m Action Comedy Family Adventure
Carmen and Juni think their parents are boring. Little do they know that in their day, Gregorio and Ingrid Cortez were the top secret agents from their respective countries. They gave up that life to raise their children. Now, the disappearances of several of their old colleagues forces the Cortez' return from retirement. What they didn't count on was Carmen and Juni joining the "family business."
10.
Mission: Impossible - Rogue Nation (2015)
2h 11m Action Adventure
Ethan and team take on their most impossible mission yet—eradicating 'The Syndicate', an International and highly-skilled rogue organisation committed to destroying the IMF.
2h 28m Action Adventure Thriller
A cryptic message from Bond's past sends him on a trail to uncover a sinister organization. While M battles political forces to keep the secret service alive, Bond peels back the layers of deceit to reveal the terrible truth behind SPECTRE.
12.
Mission: Impossible - Ghost Protocol (2011)
2h 13m Action Thriller Adventure
Ethan Hunt and his team are racing against time to track down a dangerous terrorist named Hendricks, who has gained access to Russian nuclear launch codes and is planning a strike on the United States. An attempt to stop him ends in an explosion causing severe destruction to the Kremlin and the IMF to be implicated in the bombing, forcing the President to disavow them. No longer being aided by the government, Ethan and his team chase Hendricks around the globe, although they might still be too late to stop a disaster.
13.
Mission: Impossible III (2006)
2h 6m Adventure Action Thriller
Retired from active duty to train new IMF agents, Ethan Hunt is called back into action to confront sadistic arms dealer, Owen Davian. Hunt must try to protect his girlfriend while working with his new team to complete the mission.
2h 10m Adventure Action Thriller
When a powerful satellite system falls into the hands of Alec Trevelyan, AKA Agent 006, a former ally-turned-enemy, only James Bond can save the world from an awesome space weapon that -- in one short pulse -- could destroy the earth! As Bond squares off against his former compatriot, he also battles Trevelyan's stunning ally, Xenia Onatopp, an assassin who uses pleasure as her ultimate weapon.
1h 24m Thriller Action Adventure
A CIA agent is sent to get Professor Braun before the KGB can seize him as the Prof's knowledge, together with a recently stolen diamond, could be used to make a laser cannon.
2h 11m Adventure Action Thriller
James Bond is sent to investigate after a fellow "00" agent is found dead with a priceless Fabergé egg. Bond follows the mystery and uncovers a smuggling scandal and a Russian General who wants to provoke a new World War.
17.
On Her Majesty's Secret Service (1969)
2h 22m Adventure Action Thriller
James Bond tracks his archnemesis, Ernst Blofeld, to a mountaintop retreat where he is training an army of beautiful, lethal women. Along the way, Bond falls for Italian contessa Tracy Draco, and marries her in order to get closer to Blofeld.
18.
Spy Kids: All the Time in the World in 4D (2011)
1h 29m Family Comedy Action
Eight years after the third film, the OSS has become the world's top spy agency, while the Spy Kids department has since become defunct. A retired spy Marissa is thrown back into the action along with her stepchildren when a maniacal Timekeeper attempts to take over the world. In order to save the world, Rebecca and Cecil must team up with their hated stepmother. Carmen and Juni have since also grown up and will provide gadgets to them.
19.
Mission: Impossible (1996)
1h 50m Adventure Action Thriller
When Ethan Hunt, the leader of a crack espionage team whose perilous operation has gone awry with no explanation, discovers that a mole has penetrated the CIA, he's surprised to learn that he's the No. 1 suspect. To clear his name, Hunt now must ferret out the real double agent and, in the process, even the score.
2h 10m Adventure Action Thriller
A criminal organization has obtained two nuclear bombs and are asking for a 100 million pound ransom in the form of diamonds in seven days or they will use the weapons. The secret service sends James Bond to the Bahamas to once again save the world.
1h 29m Action Thriller
NATO operative Jacques Kristoff (Jean-Claude Van Damme) is summoned into action—on his birthday, no less—to track down Galina Konstantin (Laura Harring), who has stolen an extremely valuable and dangerous top-secret container from the Slovakian Government. Finding Galina doesn't take long, and Jacques must wrap up the mission by returning Galina and the contraband to his superiors by train. Things seem to be going smoothly as Jacques and Galina board the train posing as a couple, but soon all hell breaks loose.
1h 50m Adventure Action Thriller
Special agent 007 comes face to face with one of the most notorious villains of all time, and now he must outwit and outgun the powerful tycoon to prevent him from cashing in on a devious scheme to raid Fort Knox -- and obliterate the world's economy.
23.
Diamonds Are Forever (1971)
2h Adventure Action Thriller
Diamonds are stolen only to be sold again in the international market. James Bond infiltrates a smuggling mission to find out who's guilty. The mission takes him to Las Vegas where Bond meets his archenemy Blofeld.
24.
Licence to Kill (1989)
2h 13m Adventure Action Thriller
After capturing the notorious drug lord Franz Sanchez, Bond's close friend and former CIA agent Felix Leiter is left for dead and his wife is murdered. Bond goes rogue and seeks vengeance on those responsible, as he infiltrates Sanchez's organization from the inside.
1h 36m Action
Chris Kody, imprisoned member of the US military, is released from prison and reunited with his old team in order to pursue a renegade scientist. The catch, the scientist has developed mind control technology that can make even your friends into heartless killers.
26.
Police Story 4: First Strike (1996)
1h 47m Action Adventure Comedy Crime Drama Thriller
Hong Kong cop Chan Ka-Kui returns, working with Interpol to track down and arrest an illegal weapons dealer. Chan later realizes that things are not as simple as they appear and soon finds himself to be a pawn of an organization posing as Russian intelligence.
27.
From Russia with Love (1963)
1h 55m Action Thriller Adventure
Agent 007 is back in the second installment of the James Bond series, this time battling a secret crime organization known as SPECTRE. Russians Rosa Klebb and Kronsteen are out to snatch a decoding device known as the Lektor, using the ravishing Tatiana to lure Bond into helping them. Bond willingly travels to meet Tatiana in Istanbul, where he must rely on his wits to escape with his life in a series of deadly encounters with the enemy
28.
Live and Let Die (1973)
2h 1m Adventure Action Thriller
James Bond must investigate a mysterious murder case of a British agent in New Orleans. Soon he finds himself up against a gangster boss named Mr. Big.
29.
Die Another Day (2002)
2h 13m Adventure Action Thriller
Bond takes on a North Korean leader who undergoes DNA replacement procedures that allow him to assume different identities. American agent, Jinx Johnson assists Bond in his attempt to thwart the villain's plans to exploit a satellite that is powered by solar energy.
30.
Spy Kids 2: Island of Lost Dreams (2002)
1h 40m Action Adventure Family Comedy
Exploring the further adventures of Carmen and Juni Cortez, who have now joined the family spy business as Level 2 OSS agents. Their new mission is to save the world from a mad scientist living on a volcanic island populated by an imaginative menagerie of creatures. On this bizarre island, none of the Cortez's gadgets work and they must rely on their wits--and each other--to survive and save the day.
explore
Check out more list from our community