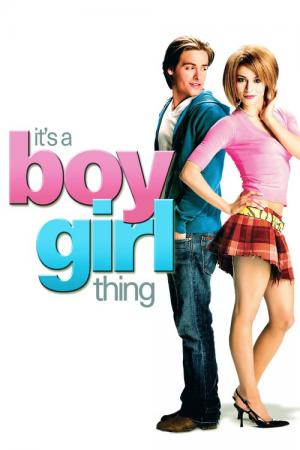 10 Best Movies Like It ...
If you liked this movie , you will for sure love these too! In this collection we highlight some of the best films that share a very similar mood to 'It's a Boy Girl Thing', and are worth checking out.
1.
I Love You, Beth Cooper (2009)
1h 42m Comedy Romance
A valedictorian's declaration of love for a high-school cheerleader launches a night of revelry, reflection and romance for a group of graduating seniors.
2.
Whatever It Takes (2000)
1h 34m Drama Comedy Romance
A nerdy teen, Ryan Woodman is smitten with the popular and gorgeous Ashley Grant, who apparently has no interest in him. Meanwhile, dim star athlete Chris Campbell has his eye on Ryan's brainy and beautiful friend, Maggie Carter. The two agree to help each other in their romantic quests, but, as they come closer to their goals, both Ryan and Chris suspect that they might be pursuing the wrong girls.
1h 37m Comedy Family Romance Fantasy
Mother and daughter bicker over everything -- what Anna wears, whom she likes and what she wants to do when she's older. In turn, Anna detests Tess's fiancé. When a magical fortune cookie switches their personalities, they each get a peek at how the other person feels, thinks and lives.
1h 42m Comedy
On the brink of a midlife crisis, 30-something Mike O'Donnell wishes he could have a "do-over." And that's exactly what he gets when he wakes up one morning to find he's 17 years old again. With his adult mind stuck inside the body of a teenager, Mike actually has the chance to reverse some decisions he wishes he'd never made. But maybe they weren't so bad after all.
1h 35m Comedy Romance
High school hotshot Zach Siler is the envy of his peers. But his popularity declines sharply when his cheerleader girlfriend, Taylor, leaves him for sleazy reality-television star Brock Hudson. Desperate to revive his fading reputation, Siler agrees to a seemingly impossible challenge. He has six weeks to gain the trust of nerdy outcast Laney Boggs -- and help her to become the school's next prom queen.
1h 40m Fantasy Comedy
18 Again! is a 1988 comedy film starring George Burns and Charlie Schlatter. The plot involves a grandson switching souls with his grandfather by means of an accident. This was one of a series of unrelated films, including Like Father, Like Son and Vice Versa, produced in the late 1980s involving a similar plotline.
1h 32m Comedy
Bookish and unpopular Mandy finds her luck finally changing when Drew, the school hottie, invites her to the year's biggest party. But with being grounded and Drew's ex-girlfriend bent on thwarting her, Mandy may be destined to remain a geek. Can a little ingenuity and some help from her friends save the day?
8.
Slap Her, She's French! (2002)
1h 32m Comedy
Welcome to Splendona High School, Texas, where football players, cheerleaders and beauty queens rule the hallways. And Starla Grady, the most popular girl in school, is on top of it all. That is, at least until Genevieve LePlouff, a French foreign exchange student arrives and turns her life upside down.
9.
Just One of the Guys (1985)
1h 40m Comedy Romance
When Terry Griffith loses her high school's writing competition, she's convinced that it's because she's a girl. So Terry decides to change high schools and pose as a boy to prove her point. Her brother, Buddy, helps her pass as a guy so well that she is soon making friends with the boys at school, including the attractive Rick, who becomes her new best friend. But her gender-swapping makes things difficult when she falls in love with him.
1h 38m Comedy Drama Romance
Sixteen-year-old Poppy has everything her unlimited credit cards can buy, and a spoiled attitude to match. After a final thoughtless prank, her exasperated father ships her off to boarding school in England. There, Poppy meets her match in a stern headmistress and a class full of girls who will not tolerate her selfishness.
explore
Check out more list from our community