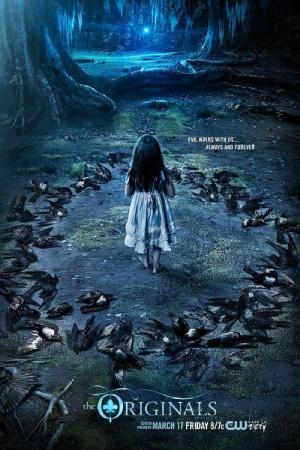 10 Best Shows Like The Originals ...
If you liked this film , you will probably love these too! In this selection we highlight some of the best films that share a very similar mood to 'The Originals', and are worth checking out.
45m Drama Sci-Fi & Fantasy
Brakebills University is a secret institution specializing in magic. There, amidst an unorthodox education of spellcasting, a group of twenty-something friends soon discover that a magical fantasy world they read about as children is all too real— and poses grave danger to humanity.
42m Sci-Fi & Fantasy
When Emery was 6 years old, an alien spacecraft crash-landed in her small town. Whether they came in peace or with more sinister intentions didn't matter: a fierce battle erupted as humans fought for control over their new rivals, an alien species called the Atrians. In the midst of the conflict, Roman, a 6-year-old Atrian boy, found his way to a shed behind Emery's house, where she temporarily protected him from harm, bringing him food, comfort - and friendship. Ten years later, the Atrians have been acclimated to life on Earth, but they are interned in a heavily-guarded camp known as the Sector to keep them separate from humans. Now, for the first time, a group of Atrian teens will enroll in a suburban human high school, with the goal of testing the feasibility of human/alien integration. Emery and Roman find each other again in a school and a society that distrusts everything about the Atrians. While the world around them rages with anger and prejudice, their bond becomes increasingly strong and increasingly dangerous.
3.
The Twilight Saga: Breaking Dawn - Part 1 (2011)
1h 57m Adventure Fantasy Romance
The new found married bliss of Bella Swan and vampire Edward Cullen is cut short when a series of betrayals and misfortunes threatens to destroy their world.
4.
The Vampire Diaries (2009)
43m Drama Sci-Fi & Fantasy
The story of two vampire brothers obsessed with the same girl, who bears a striking resemblance to the beautiful but ruthless vampire they knew and loved in 1864.
5.
The Mortal Instruments: City of Bones (2013)
2h 10m Fantasy Action Mystery
In New York City, Clary Fray, a seemingly ordinary teenager, learns that she is descended from a line of Shadowhunters — half-angel warriors who protect humanity from evil forces. After her mother disappears, Clary joins forces with a group of Shadowhunters and enters Downworld, an alternate realm filled with demons, vampires, and a host of other creatures. Clary and her companions must find and protect an ancient cup that holds the key to her mother's future.
2h 2m Fantasy Drama Romance
When Bella Swan moves to a small town in the Pacific Northwest, she falls in love with Edward Cullen, a mysterious classmate who reveals himself to be a 108-year-old vampire. Despite Edward's repeated cautions, Bella can't stay away from him, a fatal move that endangers her own life.
43m Sci-Fi & Fantasy Drama
In a place where young witches, vampires, and werewolves are nurtured to be their best selves in spite of their worst impulses, Klaus Mikaelson's daughter, 17-year-old Hope Mikaelson, Alaric Saltzman's twins, Lizzie and Josie Saltzman, among others, come of age into heroes and villains at The Salvatore School for the Young and Gifted.
43m Mystery Crime Drama Sci-Fi & Fantasy
Mick St. John is a captivating, charming and immortal private investigator from Los Angeles, who defies the traditional blood-sucking norms of his vampire tendencies by using his wit and powerful supernatural abilities to help the living.
9.
The Twilight Saga: Eclipse (2010)
2h 4m Adventure Fantasy Drama Romance
Bella once again finds herself surrounded by danger as Seattle is ravaged by a string of mysterious killings and a malicious vampire continues her quest for revenge. In the midst of it all, she is forced to choose between her love for Edward and her friendship with Jacob, knowing that her decision has the potential to ignite the ageless struggle between vampire and werewolf. With her graduation quickly approaching, Bella is confronted with the most important decision of her life.
43m Drama Sci-Fi & Fantasy
Three paranormal roommates, a ghost, a vampire, and a werewolf, struggle to keep their dark secrets from the world, while helping each other navigate the complexities of living double lives.
explore
Check out more list from our community