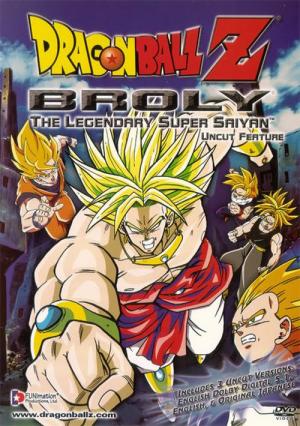 12 Best Movies Like Dragon Ball Z ...
If you liked this one , you will for sure love these too! In this selection we highlight some of the best films that share a very similar mood to 'Dragon Ball Z: Broly - The Legendary Super Saiyan', and are worth checking out.
1.
InuYasha the Movie 3: Swords of an Honorable Ruler (2003)
1h 39m Animation Fantasy Adventure
Inuyasha and his brother, Sesshomaru, each inherited a sword from their father after his death. However, their father had a third sword, named Sounga, that he sealed away. Seven hundreds years after his death, Sounga awakens and threatens mankind's very existence. How will the children of the Great Dog Demon stop this unimaginable power?
2.
Dragon Ball Z: The World's Strongest (1990)
25m Animation Action & Adventure Sci-Fi & Fantasy
Long ago in the mountains, a fighting master known as Gohan discovered a strange boy whom he named Goku. Gohan raised him and trained Goku in martial arts until he died. The young and very strong boy was on his own, but easily managed. Then one day, Goku met a teenage girl named Bulma, whose search for the mystical Dragon Balls brought her to Goku's home. Together, they set off to find all seven and to grant her wish.
4.
Dragon Ball Z: The Return of Cooler (1992)
46m Action Animation Science Fiction
Cooler has resurrected himself as a robot and is enslaving the people of New Namek. Goku and the gang must help.
5.
Dragon Ball Z: Wrath of the Dragon (1995)
51m Animation Action Science Fiction
The Z Warriors discover an unopenable music box and are told to open it with the Dragon Balls. The contents turn out to be a warrior named Tapion who had sealed himself inside along with a monster called Hildegarn. Goku must now perfect a new technique to defeat the evil monster.
6.
Dragon Ball Z: Super Android 13 (1992)
46m Action Animation Science Fiction
Dr. Gero's Androids #13, #14, and #15 are awakened by the laboratory computers and immediately head to the mall where Goku is shopping. After Goku, Trunks, and Vegeta defeat #14 and #15, #13 absorbs their inner computers and becomes a super being greater than the original three separately were. Now it is up to Goku to stop him.
7.
Dragon Ball Z: Cooler's Revenge (1991)
48m Action Animation Science Fiction
After defeating Frieza, Goku returns to Earth and goes on a camping trip with Gohan and Krillin. Everything is normal until Cooler - Frieza's brother - sends three henchmen after Goku. A long fight ensues between our heroes and Cooler, in which he transforms into the fourth stage of his evolution and has the edge in the fight... until Goku transforms into a Super Saiyan.
8.
Dragon Ball Z: Bojack Unbound (1993)
51m Action Animation Science Fiction
Mr. Money is holding another World Martial Arts Tournament and Mr. Satan invites everyone in the world to join in. Little does he know that Bojack, an ancient villain who has escaped his prison, is competing. Since Goku is currently dead, it is up to Gohan, Vegeta, and Trunks to defeat Bojack and his henchman.
9.
Dragon Ball Z Kai (2009)
26m Sci-Fi & Fantasy Animation Action & Adventure Comedy
Rejoin Goku and his friends in a series of cosmic battles! Toei has redubbed, recut, and cleaned up the animation of the original 1989 animated series. The show's story arc has been refined to better follow the comic book series on which it is based. The show also features a new opening and ending. In the series, martial artist Goku, and his various friends, battle increasingly powerful enemies to defend the world against evil. Can Earth's defender defeat demons, aliens, and other villains?
10.
Dragon Ball Z: Broly - Second Coming (1994)
11.
Iron Man: Rise of Technovore (2013)
1h 28m Science Fiction Animation Action
Iron Man enlists the help of ruthless vigilante the Punisher to track down War Machine's murderer. All the while, he's being pursued by S.H.I.E.L.D. agents Black Widow and Hawkeye, who suspect his involvement in a recent terrorist plot.
12.
All-Star Superman (2011)
1h 16m Animation Action Adventure
Lex Luthor enacts his plan to rid the world of Superman, once and for all. Succeeding with solar radiation poisoning, the Man of Steel is slowly dying. With what little times remains, the Last Son of Krypton must confront the revealing of his secret identity to Lois Lane and face Luthor in a final battle.
explore
Check out more list from our community