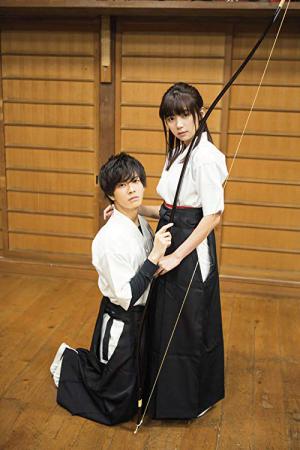 12 Best Make A Bow And Kiss ...
If you liked this one , you will probably love these too! In this collection we highlight some of the best films that share a very similar mood to 'Make a Bow and Kiss', and are worth checking out.
2h Comedy Drama Romance
Arata Kaizaki is 27-years-old and unemployed. He quit his prior job after working for the company for 3 months. Arata Kaizaki decides to take part in a research program. He takes medication that makes him look younger and he is to attend high school for a year. There, he falls in love with female high school student Chizuru Hishiro.
2h 8m Romance Drama
Sawako Kuronuma, called Sadako by her classmates for her resemblance to the character from Ring, has always been feared and misunderstood because of her appearance. There are rumors that Sawako can see ghosts and curse people. However, despite her appearances, she is a sweet and timid girl who longs to be able to make friends with everyone and be liked by everyone else. When her idol, popular boy Kazehaya, begins talking with her, everything changes. She finds herself in a new world, trying to make friends and talking to different people and she can't thank Kazehaya enough for giving her these opportunities. Slowly, but surely, a sweet love is blossoming between the two as they will overtake any circumstance or clear obstacles in their way.
1h 35m Drama Comedy
The middle-aged family man Hans-Christian (HC) left by his wife goes to Ireland for a short break with his old friends Wolfgang and Nic. He should win at Guinness bonfires and fishing trips distance to the chaos at home. HC has to learn to say no and need other women, his friends believe, to get rid of his loser habitus. In the already tense situation, old competition fights, outbursts of anger and self-pity quickly come up. And Nic and Wolfgang seem to have needed the time-out almost as much as HC.
4.
Let Me Eat Your Pancreas (2017)
1h 55m Drama Romance
I (Takumi Kitamura) am a high school student. I happen to find a diary by my classmate Sakura Yamauchi (Minami Hamabe) that reveals she is suffering from a pancreatic disease. I spent time with Sakura, but she dies. 12 years later, due to Sakura's words, I (Shun Oguri) am now a high school teacher at the same school where I graduated from. While I talk with my student, I remember several months I spent with Sakura. Meanwhile, Kyoko (Keiko Kitagawa), who was Sakura's friend, is soon to marry. Kyoko also recalls the days she spent with me and Sakura.
23m Animation Comedy Drama
Tsutsui Hikari (a.k.a "Tsuttsun") is a high school student who is content with his virtual life of anime and video games. One day, he gets stuck cleaning the pool with Iroha, a real live girl who is stylish, sassy and known to be easy with boys ... and she aggressively approaches him! Tsuttsun, who has few friends and lives in his own world, finds himself smitten by the confident and wild Iroha ... and his whole world is turned upside down!! It's the awkward and pure love story of a boy who experiences relationship for the first time.
23m Animation Comedy Drama
Akira Tachibana is a soft-spoken high school student who used to be a part of the track and field club but, due to an injury, she is no longer able to run as fast as she once could. Working part-time at a family restaurant as a recourse, she finds herself inexplicably falling love with her manager, a divorced 45-year-old man with a young son.Despite the age gap, Akira wholeheartedly embraces his mannerisms and kind nature, which is seen as spinelessness by the other employees, and little by little, the two begin to understand each other. Although unable to explain why exactly she is attracted to him, Akira believes that a concrete reason is not needed to truly love someone. On a rainy day, she decides to finally tell her manager about how she feels... but just how will he react?
1h 53m Romance Drama
Aoi Nishimori's parents moved to another city for work, but Aoi didn't want to transfer to a new high school. She stays behind and lives in an apartment by herself. Shusei Kugayama moves in next to Aoi's apartment. Shusei is a very popular student at their high school. Due to a mistake, Aoi makes the sprinkler go off in his room. Until Shusei's room is fixed, he stays with Aoi.
1h 27m Documentary
Dan Wetzel and Kevin Armstrong undertake an exhaustive journey into the mind and motives behind the murderous fall, and tragic suicide, of Aaron Hernandez, providing an unprecedented look into the most infamous athlete since O.J. Simpson.
1h 51m Romance Drama
Natsume Mochizuki works as a teen model in Tokyo, but she learns that she has to move to her father's hometown of Ukigumo. She is in a desperate situation because she can't do the things she wants to do in Ukigumo. One day, she meets Koichiro Hasegawa. He is the successor of the Hasegawa family. His family is wealthy and is respected in the area. Natsume Mochizuki and Koichiro Hasegawa become attracted to each other, but something changes their fate.
10.
You Shine in the Moonlit Night (2019)
11.
My Brother Loves Me Too Much (2017)
1h 39m Comedy Romance
Setoka Tachibana is a female high school student who has confessed her feelings to other boys 12 times, but has been rebuffed each time. Her older brother Haruka Tachibana cares for his younger sister deeply, but he keeps secret from her that they are not blood related. One day, Setoka's first love Takane Serikawa appears after many years and approaches her.
1h 59m Drama Romance
Because of her past, 17-year-old Rio lives her days filling the emptiness in her heart with money--until one day, she meets a university professor named Kouki and falls in love.
explore
Check out more list from our community