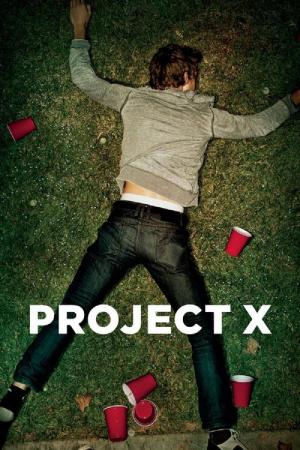 12 Best Movies Like Project X ...
If you liked this movie , you will definitely love these too! In this selection we highlight some of the best films that share a very similar premise to 'Project X', and are worth checking out.
1.
The Inbetweeners Movie (2011)
1h 37m Comedy
High school graduation just wouldn't be complete without an un-chaperoned, uninhibited and unforgettable final holiday. At least that's what Will, Jay, Simon and Neil think when they book a two-week stay on an exotic Greek island. As their dreams of sun-drenched days and booze-filled nights are left hopelessly unfulfilled, the lads fight their way into the party scene with hilariously humiliating results in this smash hit UK raunchy comedy.
1h 40m Romance Comedy
Bianca's universe turns upside down when she learns that her high school refers to her as a 'DUFF' (Designated Ugly Fat Friend). Hoping to erase that label, she enlists the help of a charming jock and her favorite teacher. Together they'll face the school's mean girl and remind everyone that we are all someone's DUFF… and that's totally fine.
1h 37m Comedy
When Erik Stifler realizes that he's the only Stifler family member who might graduate high school a virgin, he decides to live up to his legacy. After some well-meaning advice from Jim's dad, Erik's ready to take his chances at the annual and infamous Naked Mile race, where his devoted friends and some uninhibited sorority girls will create the most outrageous weekend ever.
4.
Bro, What Happened? (2014)
1h 26m Comedy
Phil and his misfit friends score big when they are invited to the party of the century at Bob's house. Known for throwing the craziest drug, sex and booze filled parties, this was sure to be a night to remember. The only problem is that they can't remember a thing. When Phil wakes up realizing that his girlfriend is only hours from knocking on his door, he decides to enlist the help of his friends to try to piece together what was obviously a night worth remembering.
1h 34m Comedy
A wild weekend is in store for three high school seniors who visit a local college campus as prospective freshmen.
1h 39m Comedy
Two salesmen trash a company truck on an energy drink-fueled bender. Upon their arrest, the court gives them a choice: do hard time or spend 150 service hours with a mentorship program. After one day with the kids, however, jail doesn't look half bad.
1h 53m Comedy
Two co-dependent high school seniors are forced to deal with separation anxiety after their plan to stage a booze-soaked party goes awry.
1h 37m Comedy
A couple with a newborn baby face unexpected difficulties after they are forced to live next to a fraternity house.
1h 40m Comedy
When three friends finally come to after a raucous night of bachelor-party revelry, they find a baby in the closet and a tiger in the bathroom. But they can't seem to locate their best friend, Doug – who's supposed to be tying the knot. Launching a frantic search for Doug, the trio perseveres through a nasty hangover to try to make it to the church on time.
10.
Mac & Devin Go to High School (2012)
1h 15m Comedy
A comedy that follows two high school students -- one overachiever struggling to write his valedictorian speech, the other a senior now going on his 15th year of school.
11.
House Party: Tonight's the Night (2013)
1h 20m Comedy
A pair of high school rappers have two major goals - make music and get hot girls. The best way to get both is to throw the biggest and best house party ever! The night of the party, one of the boys is grounded by his parents, so it's up to his best friend to break him out of his house confinement and get the party started.
1h 33m Comedy
A high school slacker who's rejected by every school he applies to opts to create his own institution of higher learning, the South Harmon Institute of Technology, on a rundown piece of property near his hometown.
explore
Check out more list from our community