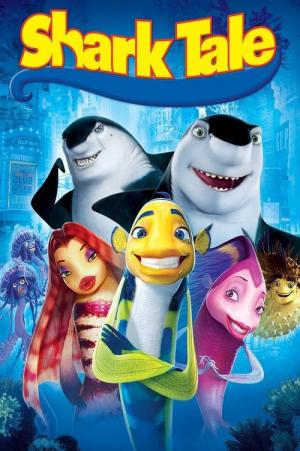 31 Best Movies Like Shark Tale ...
If you liked this film , you will probably love these too! In this list we highlight some of the best films that share a very similar premise to '', and are worth checking out.
1h 40m Animation Family
Nemo, an adventurous young clownfish, is unexpectedly taken from his Great Barrier Reef home to a dentist's office aquarium. It's up to his worrisome father Marlin and a friendly but forgetful fish Dory to bring Nemo home -- meeting vegetarian sharks, surfer dude turtles, hypnotic jellyfish, hungry seagulls, and more along the way.
1h 35m Family Animation Comedy
Villainous Gru lives up to his reputation as a despicable, deplorable and downright unlikable guy when he hatches a plan to steal the moon from the sky. But he has a tough time staying on task after three orphans land in his care.
1h 26m Family Animation Adventure Comedy
Alex the lion is the king of the urban jungle, the main attraction at New York's Central Park Zoo. He and his best friends—Marty the zebra, Melman the giraffe and Gloria the hippo—have spent their whole lives in blissful captivity before an admiring public and with regular meals provided for them. Not content to leave well enough alone, Marty lets his curiosity get the better of him and makes his escape—with the help of some prodigious penguins—to explore the world.
1h 31m Family Animation Adventure Comedy
Barry B. Benson, a bee who has just graduated from college, is disillusioned at his lone career choice: making honey. On a special trip outside the hive, Barry's life is saved by Vanessa, a florist in New York City. As their relationship blossoms, he discovers humans actually eat honey, and subsequently decides to sue us.
1h 22m Animation Comedy Family Adventure
Jon and Garfield visit the United Kingdom, where a case of mistaken cat identity finds Garfield ruling over a castle. His reign is soon jeopardized by the nefarious Lord Dargis, who has designs on the estate.
1h 20m Comedy Family Animation Adventure
A documentary filmmaker travels to Jellystone Park to shoot a project and soon crosses paths with Yogi Bear, his sidekick Boo-Boo, and Ranger Smith.
7.
Ice Age: Continental Drift (2012)
1h 28m Animation Comedy Adventure Family
Manny, Diego, and Sid embark upon another adventure after their continent is set adrift. Using an iceberg as a ship, they encounter sea creatures and battle pirates as they explore a new world.
1h 23m Family Comedy Animation
A scheming raccoon fools a mismatched family of forest creatures into helping him repay a debt of food, by invading the new suburban sprawl that popped up while they were hibernating – and learns a lesson about family himself.
9.
The SpongeBob Movie: Sponge Out of Water (2015)
1h 32m Adventure Comedy Family Fantasy Animation
Burger Beard is a pirate who is in search of the final page of a magical book that makes any evil plan he writes in it come true, which happens to be the Krabby Patty secret formula. When the entire city of Bikini Bottom is put in danger, SpongeBob, Patrick, Mr. Krabs, Squidward, Sandy, and Plankton need to go on a quest that takes them to the surface. In order to get back the recipe and save their city, the gang must retrieve the book and transform themselves into superheroes.
1h 37m Adventure Animation Comedy Family
Dory is reunited with her friends Nemo and Marlin in the search for answers about her past. What can she remember? Who are her parents? And where did she learn to speak Whale?
11.
Alvin and the Chipmunks (2007)
1h 32m Comedy Family Fantasy Animation
A struggling songwriter named Dave Seville finds success when he comes across a trio of singing chipmunks: mischievous leader Alvin, brainy Simon, and chubby, impressionable Theodore.
1h 36m Comedy Adventure Family
A young Peruvian bear travels to London in search of a new home. Finding himself lost and alone at Paddington Station, he meets the kindly Brown family.
1h 16m Adventure Animation Comedy Family
After falling head over hooves in love with Giselle, Elliot's road to the altar takes a slight detour when Mr. Weenie is kidnapped by a group of pampered pets determined to return him to his owners.
14.
Penguins of Madagascar (2014)
1h 32m Family Animation Adventure Comedy
Skipper, Kowalski, Rico and Private join forces with undercover organization The North Wind to stop the villainous Dr. Octavius Brine from destroying the world as we know it.
1h 21m Animation Comedy Family Adventure
With the impending ice age almost upon them, a mismatched trio of prehistoric critters – Manny the woolly mammoth, Diego the saber-toothed tiger and Sid the giant sloth – find an orphaned infant and decide to return it to its human parents. Along the way, the unlikely allies become friends but, when enemies attack, their quest takes on far nobler aims.
1h 38m Animation Family Adventure Comedy
Bolt is the star of the biggest show in Hollywood. The only problem is, he thinks it's real. After he's accidentally shipped to New York City and separated from Penny, his beloved co-star and owner, Bolt must harness all his "super powers" to find a way home.
17.
Surf's Up (2007)
1h 25m Animation Comedy Family
Cody is a surfing penguin from Shiverpool who dreams of making it big and being like his idol Big Z. On his journey, he discovers his talents are not all he thinks they are, and he must learn to accept that there is more to surfing than fame and fortune.
18.
Stuart Little 2 (2002)
1h 18m Family Adventure Animation Comedy
Stuart, an adorable white mouse, still lives happily with his adoptive family, the Littles, on the east side of Manhattan's Central Park. More crazy mouse adventures are in store as Stuart, his human brother, George, and their mischievous cat, Snowbell, set out to rescue a friend.
1h 33m Animation Comedy Family Adventure
Pup, a bamboo shark, discovers egg sacs while playing around the ocean with his friends. When he sees human poachers stealing the eggs from his reef, Pup makes it his mission to save his family. As he leaves the sea and enters the beautiful, yet dangerous, world of humans he'll prove he isn't too small to save his family.
20.
Happily N'Ever After (2006)
21.
The Adventures of Rocky & Bullwinkle (2000)
1h 28m Family Adventure Animation Comedy Fantasy
Rocky and Bullwinkle have been living off the finances made from the reruns of their cartoon show. Boris and Natasha somehow manage to crossover into reality and team up with Fearless Leader, an evil criminal turned media mogul with some evil plans up his sleeve. Rocky and Bullwinkle must stop the three of them before they wreak havoc.
22.
Horton Hears a Who! (2008)
1h 26m Animation Comedy Family Adventure Fantasy
One day, Horton the elephant hears a cry from help coming from a speck of dust. Even though he can't see anyone on the speck, he decides to help it. As it turns out, the speck of dust is home to the Whos, who live in their city of Whoville. Horton agrees to help protect the Whos and their home.
1h 35m Family Animation
An adolescent lion is accidentally shipped from the New York Zoo to Africa. Now running free, his zoo pals must put aside their differences to help bring him back.
1h 37m Animation Comedy Family Fantasy
An orphaned boy raised by underground creatures called Boxtrolls comes up from the sewers and out of his box to save his family and the town from the evil exterminator, Archibald Snatcher.
25.
Madagascar: Escape 2 Africa (2008)
1h 29m Family Adventure Animation Comedy
Alex, Marty, and other zoo animals find a way to escape from Madagascar when the penguins reassemble a wrecked airplane. The precariously repaired craft stays airborne just long enough to make it to the African continent. There the New Yorkers encounter members of their own species for the first time. Africa proves to be a wild place, but Alex and company wonder if it is better than their Central Park home.
1h 25m Adventure Animation Family
When an impulsive boy named Kenai is magically transformed into a bear, he must literally walk in another's footsteps until he learns some valuable life lessons. His courageous and often zany journey introduces him to a forest full of wildlife, including the lovable bear cub Koda, hilarious moose Rutt and Tuke, woolly mammoths and rambunctious rams.
27.
The Wild Thornberrys Movie (2002)
1h 25m Animation Adventure Family
Eliza and Debbie are two sisters who don't always get along. But their relationship is put to the test when Debbie's life is in danger, and Eliza might have to give up her power to talk to animals....
28.
Ice Age: Dawn of the Dinosaurs (2009)
1h 34m Animation Comedy Family Adventure
Times are changing for Manny the moody mammoth, Sid the motor mouthed sloth and Diego the crafty saber-toothed tiger. Life heats up for our heroes when they meet some new and none-too-friendly neighbors – the mighty dinosaurs.
29.
Kung Fu Panda 2 (2011)
1h 31m Animation Family
Po is now living his dream as The Dragon Warrior, protecting the Valley of Peace alongside his friends and fellow kung fu masters, The Furious Five - Tigress, Crane, Mantis, Viper and Monkey. But Po's new life of awesomeness is threatened by the emergence of a formidable villain, who plans to use a secret, unstoppable weapon to conquer China and destroy kung fu. It is up to Po and The Furious Five to journey across China to face this threat and vanquish it. But how can Po stop a weapon that can stop kung fu? He must look to his past and uncover the secrets of his mysterious origins; only then will he be able to unlock the strength he needs to succeed.
30.
Monsters, Inc. (2001)
1h 32m Animation Comedy Family
James Sullivan and Mike Wazowski are monsters, they earn their living scaring children and are the best in the business... even though they're more afraid of the children than they are of them. When a child accidentally enters their world, James and Mike suddenly find that kids are not to be afraid of and they uncover a conspiracy that could threaten all children across the world.
explore
Check out more list from our community