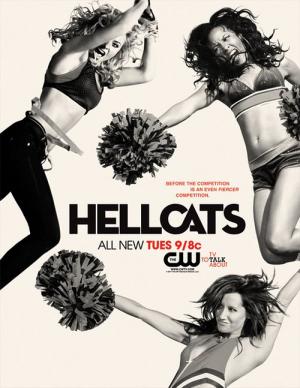 15 Best Shows Like Hellcats ...
If you liked this movie , you will definitely love these too! In this list we highlight some of the best films that share a very similar mood to '', and are worth checking out.
1.
Bring It On: Fight to the Finish (2009)
1h 42m Comedy
When her mother falls for a wealthy man, Lina Cruz must move in with her new stepfather and transfer from an urban East Los Angeles public high school to an exclusive prep school in Malibu, where she struggles to fit in with her affluent new peers. After snooty cheerleading captain Avery blocks Lina from varsity, Lina recruits her best friends from her old school to help her whip the pathetic junior varsity cheerleading squad -- the Sea Lions -- into fighting shape.
2.
Bring It On: All or Nothing (2006)
1h 39m Comedy
A transfer student at a rough high school tries joining the cheer-leading squad and finds that she not only has to face off against the head cheerleader, but also against her former school in preparation for a cheer-off competition.
3.
Bring It on Again (2004)
1h 30m Comedy
When new students can't get onto their college cheerleading team, they form their own squad and prepare for a cheer off.
1h 48m Comedy
A modern retelling of Snow White set against students in their freshman year of college in the greek system.
A group of six students about to embark on the most exciting period of their lives so far: university!
Haley is a naturally gifted athlete but, with her social behavior, the teen seems intent on squandering her abilities. After a final brush with the law, a judge sentences her to an elite gymnastics academy run by a legendary, hard-nosed coach. Once there, Haley's rebellious attitude wins her both friends and enemies.
7.
Blue Mountain State (2010)
22m Comedy
Three incoming freshman in a big-time, Midwestern college football program have to juggle football, girls, class and nonstop hazing.
8.
Calvin Marshall (2009)
9.
Bring It On: In It to Win It (2007)
1h 30m Comedy
Fourth 'Bring It On' movie is set at a cheerleader camp in Florida with a 'West Side Story' musical feel has the female captain of the West Side Sharks meeting and romancing a male member of the East Coast Jets amid their different team rivalries.
Having grown up in a world of manufactured happiness, Lucy, the cynical teenage daughter of a idealistic theme park princess mom, wants to get out and experience something real. When Ian, the new park owner's son, arrives and sweeps her off her feet, Lucy is left wondering if fairy tale endings do exist after all. But when a scandalous secret turns her life upside down, she learns Happyland is far from a walk in the park.
42m Drama
A documentary crew follows the stories of nine classmates during their high school years in Austin, Texas, and then revisits them ten years later to examine how far they have come.
13.
Freaks and Geeks (1999)
High school mathlete Lindsay Weir rebels and begins hanging out with a crowd of burnouts (the "freaks"), while her brother Sam Weir navigates a different part of the social universe with his nerdy friends (the "geeks").
14.
Co-Ed Confidential (2007)
Co-Ed Confidential is a softcore pornographic cable program that is Cinemax's erotic remake of National Lampoon's Animal House, it is shown on Cinemax After Dark. The series made its premiere in 2007 and has currently had four seasons and 52 episodes and 6 compilations.
explore
Check out more list from our community