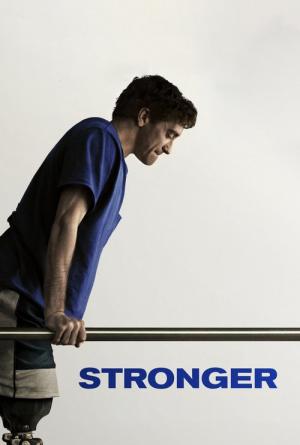 11 Best Movies Like Stronger ...
If you liked this film , you will definitely love these too! In this list we highlight some of the best films that share a very similar premise to 'Stronger', and are worth checking out.
1h 48m Family Drama
Based on the true story of Homer Hickam, a coal miner's son who was inspired by the first Sputnik launch to take up rocketry against his father's wishes, and eventually became a NASA scientist.
2.
The Diving Bell and the Butterfly (2007)
1h 52m Drama
The true story of Elle France editor Jean-Dominique Bauby, who, in 1995 at the age of 43, suffered a stroke that paralyzed his entire body, except his left eye. Using that eye to blink out his memoir, Bauby eloquently described the aspects of his interior world, from the psychological torment of being trapped inside his body to his imagined stories from lands he'd only visited in his mind.
4.
Dallas Buyers Club (2013)
1h 57m Drama History
Loosely based on the true-life tale of Ron Woodroof, a drug-taking, women-loving, homophobic man who in 1986 was diagnosed with HIV/AIDS and given thirty days to live.
2h 25m Drama
Based on the best selling autobiography by Irish expat Frank McCourt, Angela's Ashes follows the experiences of young Frankie and his family as they try against all odds to escape the poverty endemic in the slums of pre-war Limerick. The film opens with the family in Brooklyn, but following the death of one of Frankie's siblings, they return home, only to find the situation there even worse. Prejudice against Frankie's Northern Irish father makes his search for employment in the Republic difficult despite his having fought for the IRA, and when he does find money, he spends the money on drink.
1h 57m Drama
Adapted from the 1951 non-fiction account by psychoanalyst Georges Devereux, "Psychotherapy Of A Plains Indian," the film follows the true story of Picard (Del Toro), a Plains Indian of the Blackfeet nation, as he returns from WWII and begins experiencing unexplainable symptoms shortly thereafter. He travels to the famous Winter Hospital in Topeka, Kansas, where he meets Devereux (Amalric), thus beginning a professional and personal friendship guided by compassion and understanding of Native American culture.
1h 43m Drama
In this true story told through flashbacks, Christy Brown is born with crippling cerebral palsy into a poor, working-class Irish family. Able only to control movement in his left foot and to speak in guttural sounds, he is mistakenly believed to have a intellectual disability for the first ten years of his life.
8.
Gods and Monsters (1998)
1h 45m Drama
It's 1957, and James Whale's heyday as the director of "Frankenstein," "Bride of Frankenstein" and "The Invisible Man" is long behind him. Retired and a semi-recluse, he lives his days accompanied only by images from his past. When his dour housekeeper, Hannah, hires a handsome young gardener, the flamboyant director and simple yard man develop an unlikely friendship, which will change them forever.
10.
The Glass Castle (2017)
2h 7m Drama
A young girl is raised in a dysfunctional family constantly on the run from the FBI. Living in poverty, she comes of age guided by her drunkard, ingenious father who distracts her with magical stories to keep her mind off the family's dire state, and her selfish, nonconformist mother who has no intention of raising a family, along with her younger brother and sister, and her other older sister. Together, they fend for each other as they mature in an unorthodox journey that is their family life.
11.
Tom of Finland (2017)
1h 55m Drama
Touko Laaksonen, a decorated officer, returns home after a harrowing and heroic experience serving his country in World War II, but life in Finland during peacetime proves equally distressing. He finds peace-time Helsinki rampant with persecution of the homosexual and men around him even being pressured to marry women and have children. Touko finds refuge in his liberating art, specialising in homoerotic drawings of muscular men, free of inhibitions. His work – made famous by his signature 'Tom of Finland' – became the emblem of a generation of men and fanned the flames of a gay revolution.
explore
Check out more list from our community