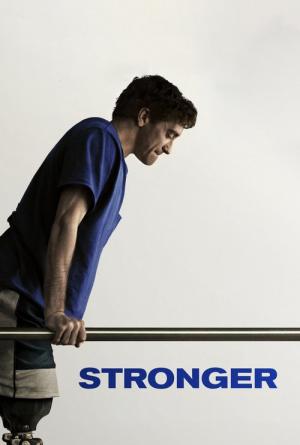 28 Best Movies Like Stronger ...
If you liked this one , you will for sure love these too! In this selection we highlight some of the best films that share a very similar mood to '', and are worth checking out.
1.
The Glass Castle (2017)
2h 7m Drama
A young girl is raised in a dysfunctional family constantly on the run from the FBI. Living in poverty, she comes of age guided by her drunkard, ingenious father who distracts her with magical stories to keep her mind off the family's dire state, and her selfish, nonconformist mother who has no intention of raising a family, along with her younger brother and sister, and her other older sister. Together, they fend for each other as they mature in an unorthodox journey that is their family life.
1h 47m Drama
When Betty Anne Waters' older brother Kenny is arrested for murder and sentenced to life in 1983, Betty Anne, a Massachusetts wife and mother of two, dedicates her life to overturning the murder conviction. Convinced that her brother is innocent, Betty Anne puts herself through high school, college and, finally, law school in an 18 year quest to free Kenny. With the help of best friend Abra Rice, Betty Anne pores through suspicious evidence mounted by small town cop Nancy Taylor, meticulously retracing the steps that led to Kenny's arrest. Belief in her brother - and her quest for the truth - pushes Betty Anne and her team to uncover the facts and utilize DNA evidence with the hope of exonerating Kenny.
1h 46m War Drama
One of the most celebrated war correspondents of our time, Marie Colvin is an utterly fearless and rebellious spirit, driven to the frontlines of conflicts across the globe to give voice to the voiceless.
6.
The Diving Bell and the Butterfly (2007)
1h 52m Drama
The true story of Elle France editor Jean-Dominique Bauby, who, in 1995 at the age of 43, suffered a stroke that paralyzed his entire body, except his left eye. Using that eye to blink out his memoir, Bauby eloquently described the aspects of his interior world, from the psychological torment of being trapped inside his body to his imagined stories from lands he'd only visited in his mind.
1h 57m Drama
Adapted from the 1951 non-fiction account by psychoanalyst Georges Devereux, "Psychotherapy Of A Plains Indian," the film follows the true story of Picard (Del Toro), a Plains Indian of the Blackfeet nation, as he returns from WWII and begins experiencing unexplainable symptoms shortly thereafter. He travels to the famous Winter Hospital in Topeka, Kansas, where he meets Devereux (Amalric), thus beginning a professional and personal friendship guided by compassion and understanding of Native American culture.
1h 45m Drama
14-year-old Joe is the only child of Jeanette and Jerry — a housewife and a golf pro — in a small town in 1960s Montana. Nearby, an uncontrolled forest fire rages close to the Canadian border, and when Jerry loses his job (and his sense of purpose) he decides to join the cause of fighting the fire, leaving his wife and son to fend for themselves.
1h 25m Drama
James White is a troubled twentysomething trying to stay afloat in a frenzied New York City. As he retreats further into a hedonistic lifestyle, his mother's battle with a serious illness faces a series of setbacks that force him to assume more responsibility. With the pressure on him mounting, James must find new reserves of strength or risk imploding completely.
2h 3m Drama
The story of Christine Chubbuck, a 1970s TV reporter struggling with depression and professional frustrations as she tries to advance her career.
11.
The End of the Tour (2015)
1h 46m Drama
The story of the five-day interview between Rolling Stone reporter David Lipsky and acclaimed novelist David Foster Wallace, which took place right after the 1996 publication of Wallace's groundbreaking epic novel, 'Infinite Jest.'
1h 48m Family Drama
Based on the true story of Homer Hickam, a coal miner's son who was inspired by the first Sputnik launch to take up rocketry against his father's wishes, and eventually became a NASA scientist.
1h 43m Drama
In this true story told through flashbacks, Christy Brown is born with crippling cerebral palsy into a poor, working-class Irish family. Able only to control movement in his left foot and to speak in guttural sounds, he is mistakenly believed to have a intellectual disability for the first ten years of his life.
14.
Prick Up Your Ears (1987)
15.
Angela's Ashes (1999)
2h 25m Drama
Based on the best selling autobiography by Irish expat Frank McCourt, Angela's Ashes follows the experiences of young Frankie and his family as they try against all odds to escape the poverty endemic in the slums of pre-war Limerick. The film opens with the family in Brooklyn, but following the death of one of Frankie's siblings, they return home, only to find the situation there even worse. Prejudice against Frankie's Northern Irish father makes his search for employment in the Republic difficult despite his having fought for the IRA, and when he does find money, he spends the money on drink.
16.
Where Is Kyra? (2017)
1h 25m Drama
Laney is an attractive, intelligent suburban wife and devoted mother of two adorable children. She has the perfect husband who plays basketball with the kids in the driveway, a pristine house, and a shiny SUV for carting the children to their next activity. However, just beneath the façade lie depression and disillusionment that send her careening into a secret world of reckless compulsion. Only very real danger will force her to face the painful root of her destructiveness and its crumbling effect on those she loves.
18.
Tom of Finland (2017)
1h 55m Drama
Touko Laaksonen, a decorated officer, returns home after a harrowing and heroic experience serving his country in World War II, but life in Finland during peacetime proves equally distressing. He finds peace-time Helsinki rampant with persecution of the homosexual and men around him even being pressured to marry women and have children. Touko finds refuge in his liberating art, specialising in homoerotic drawings of muscular men, free of inhibitions. His work – made famous by his signature 'Tom of Finland' – became the emblem of a generation of men and fanned the flames of a gay revolution.
19.
Permanent Midnight (1998)
1h 28m Drama
Juggling increasing career success and a growing heroin habit, a television comedy writer attempts to go down a path of improvement.
2h 3m Drama War
Jarhead is a film about a US Marine Anthony Swofford's experience in the Gulf War. After putting up with an arduous boot camp, Swofford and his unit are sent to the Persian Gulf where they are eager to fight, but are forced to stay back from the action. Swofford struggles with the possibility of his girlfriend cheating on him, and as his mental state deteriorates, his desire to kill increases.
21.
Girl, Interrupted (1999)
2h 7m Drama
Set in the changing world of the late 1960s, Susanna Kaysen's prescribed "short rest" from a psychiatrist she had met only once becomes a strange, unknown journey into Alice's Wonderland, where she struggles with the thin line between normal and crazy. Susanna soon realizes how hard it is to get out once she has been committed, and she ultimately has to choose between the world of people who belong inside or the difficult world of reality outside.
22.
Dallas Buyers Club (2013)
1h 57m Drama History
Loosely based on the true-life tale of Ron Woodroof, a drug-taking, women-loving, homophobic man who in 1986 was diagnosed with HIV/AIDS and given thirty days to live.
1h 58m Drama Romance
Based on the true story of Robin, a handsome, brilliant and adventurous man whose life takes a dramatic turn when polio leaves him paralyzed.
1h 43m Drama
Paul Snider is a narcissistic, small time hustler who fancies himself a ladies man. His life changes when he meets Dorothy Stratten working behind the counter of a Dairy Queen. Under his guidance Dorothy grows to fame as a Playboy Playmate. But when Dorothy begins pursuing an acting career, the jealous Paul finds himself elbowed out of the picture by more famous men.
2h 8m History Drama
The true story of Harvey Milk, the first openly gay man ever elected to public office. In San Francisco in the late 1970s, Harvey Milk becomes an activist for gay rights and inspires others to join him in his fight for equal rights that should be available to all Americans.
26.
Little Accidents (2014)
1h 45m Drama
In a small American coal town living in the shadow of a recent mining accident, the disappearance of a teenage boy draws three people together—a surviving miner, the lonely wife of a mine executive, and a local boy—in a web of secrets.
27.
Gods and Monsters (1998)
1h 45m Drama
It's 1957, and James Whale's heyday as the director of "Frankenstein," "Bride of Frankenstein" and "The Invisible Man" is long behind him. Retired and a semi-recluse, he lives his days accompanied only by images from his past. When his dour housekeeper, Hannah, hires a handsome young gardener, the flamboyant director and simple yard man develop an unlikely friendship, which will change them forever.
explore
Check out more list from our community