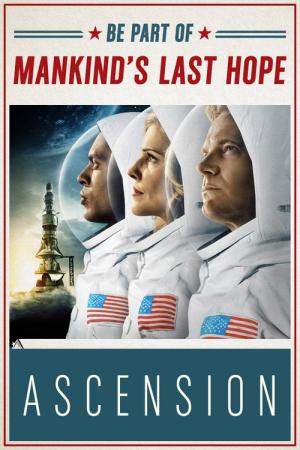 25 Best Shows Like Ascension ...
If you liked this one , you will probably love these too! In this list we highlight some of the best films that share a very similar mood to '', and are worth checking out.
1.
Childhood's End (2015)
1h 25m Drama Sci-Fi & Fantasy
The peaceful alien invasion of Earth by the mysterious "Overlords," whose arrival begins decades of apparent utopia under indirect alien rule, at the cost of human identity and culture.
1h 21m Drama Sci-Fi & Fantasy
An English teacher travels back in time to prevent the Kennedy assassination, but discovers he is attached to the life he has made in a bygone era.
56m Sci-Fi & Fantasy Action & Adventure Drama
After crash-landing on an alien planet, the Robinson family fights against all odds to survive and escape. But they're surrounded by hidden dangers.
2h 49m Adventure Drama Science Fiction
The adventures of a group of explorers who make use of a newly discovered wormhole to surpass the limitations on human space travel and conquer the vast distances involved in an interstellar voyage.
45m Drama Action & Adventure Sci-Fi & Fantasy
In the year 2517, after the arrival of humans in a new star system, follow the adventures of the renegade crew of Serenity, a "Firefly-class" spaceship. The ensemble cast portrays the nine characters who live on Serenity.
1h 29m Science Fiction Action Adventure
The first installment of this Emmy award-winning series. A movie based at Babylon 5: a new space station built by Humans. The Vorlon ambassador, Kosh, has been poisoned. It is the new commanding officer's, Jeffrey Sinclair, responsibility to find the culprit. Otherwise the space station will fail in its role to bring all the races together.
7.
Star Trek: Discovery (2017)
1h Sci-Fi & Fantasy Action & Adventure
Follow the voyages of Starfleet on their missions to discover new worlds and new life forms, and one Starfleet officer who must learn that to truly understand all things alien, you must first understand yourself.
8.
SGU Stargate Universe (2009)
45m Action & Adventure Drama Sci-Fi & Fantasy
The adventures of a present-day, multinational exploration team traveling on the Ancient spaceship Destiny many billions of light years distant from the Milky Way Galaxy. They evacuated there and are now trying to figure out a way to return to Earth, while simultaneously trying to explore and to survive in their unknown area of the universe.
1h 29m Adventure Science Fiction
In a future Earth barren of all flora and fauna, the planet's ecosystems exist only in large pods attached to spacecraft. When word comes in that the pods are to be jettisoned into space and destroyed so that the spacecraft can be reused for commercial purposes, most of the crew of the Valley Forge rejoice at the prospect of going home. Not so for botanist Freeman Lowell who loves the forest and its creatures, so decides to take matters into his own hands to protect what he loves.
50m Drama
A group of convicts and outcasts fight a guerrilla war against the totalitarian Terran Federation from a highly advanced alien spaceship.
1h Action & Adventure Sci-Fi & Fantasy
A freak accident during an experimental space mission catapults Astronaut John Crichton across a thousand galaxies to an alien battlefield.
12.
Stargate: Atlantis (2004)
45m Sci-Fi & Fantasy Action & Adventure Drama
With the Ancients' city of Atlantis discovered in the Pegasus Galaxy by Stargate Command, Dr. Elizabeth Weir and Major Sheppard lead a scientific expedition to the ancient abandoned city. Once there, the team not only find themselves unable to contact Earth, but their explorations unexpectedly reawaken the Ancients' deadly enemies, The Wraith, who hunger for this new prey. Now with the help of newfound local allies like Teyla Emmagan, the Atlantis Team sets about to uncover their new home's secrets even as their war of survival against the Wraith begins.
43m Science Fiction Drama
The six-person crew of a derelict spaceship awakens from stasis in the farthest reaches of space. Their memories wiped clean, they have no recollection of who they are or how they got on board. The only clue to their identities is a cargo bay full of weaponry and a destination: a remote mining colony that is about to become a war zone. With no idea whose side they are on, they face a deadly decision. Will these amnesiacs turn their backs on history, or will their pasts catch up with them?
46m Drama Mystery Sci-Fi & Fantasy
In a parallel present where the latest must-have gadget for any busy family is a 'Synth' - a highly-developed robotic servant that's so similar to a real human it's transforming the way we live.
1h 31m Science Fiction Thriller Drama
Dr. Ryan Stone, a brilliant medical engineer on her first Shuttle mission, with veteran astronaut Matt Kowalsky in command of his last flight before retiring. But on a seemingly routine spacewalk, disaster strikes. The Shuttle is destroyed, leaving Stone and Kowalsky completely alone-tethered to nothing but each other and spiraling out into the blackness of space. The deafening silence tells them they have lost any link to Earth and any chance for rescue. As fear turns to panic, every gulp of air eats away at what little oxygen is left. But the only way home may be to go further out into the terrifying expanse of space.
45m Action & Adventure Drama Sci-Fi & Fantasy
Captain Dylan Hunt and his crew quest to restore a government that once presided over an extended peace and prosperity.
17.
Star Trek: Enterprise (2001)
44m Sci-Fi & Fantasy Action & Adventure Drama
During the mid-22nd century, a century before Captain Kirk's five-year mission, Jonathan Archer captains the United Earth ship Enterprise during the early years of Starfleet, leading up to the Earth-Romulan War and the formation of the Federation.
1h 30m Science Fiction Thriller
A crew of international astronauts are sent on a private mission to Jupiter's fourth moon.
43m Drama Mystery Sci-Fi & Fantasy
A thriller set two hundred years in the future following the case of a missing young woman who brings a hardened detective and a rogue ship's captain together in a race across the solar system to expose the greatest conspiracy in human history.
20.
Approaching the Unknown (2016)
1h 30m Thriller Drama Science Fiction
Captain William Stanaforth is on a one-way solo mission to take the first steps in colonising Mars. Like all pioneers throughout history, Stanaforth will face insurmountable odds and life and death decisions as he rockets bravely through space.
21.
Star Trek: Picard (2020)
44m Sci-Fi & Fantasy Action & Adventure
Set twenty years after the events of Star Trek Nemesis, we follow the now-retired Admiral Picard into the next chapter of his life.
1h 35m Science Fiction
A team of astronauts on the first mission to Mars crashes onto the surface, losing contact with Earth. With no other recourse, and help millions of miles away, the crew is forced to make desperate choices in order to stay alive. Will they be able to survive as the minutes slip away?
23.
The Astronaut's Wife (1999)
1h 49m Drama Science Fiction Thriller
When astronaut Spencer Armacost returns to Earth after a mission that nearly cost him his life, he decides to take a desk job in order to see his beautiful wife, Jillian, more often. Gradually, Jillian notices that Spencer's personality seems to have changed, but her concerns fade when she discovers that she's pregnant. As Jillian grows closer to becoming a mother, her suspicions about Spencer return. Why does it seem as if he's a different person?
35m Sci-Fi & Fantasy War & Politics Drama
Pioneer One is a 2010 American web series produced by Josh Bernhard and Bracey Smith. It has been funded purely through donations, and is the first series created for and released on BitTorrent networks.
explore
Check out more list from our community