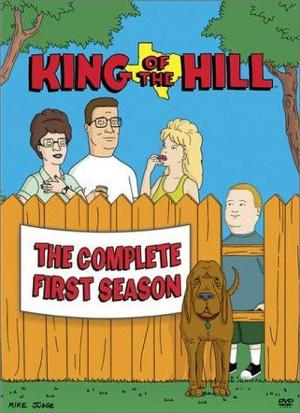 12 Best Shows Like King Of The Hill ...
If you liked this film , you will probably love these too! In this collection we highlight some of the best films that share a very similar premise to '', and are worth checking out.
1.
F is for Family (2015)
Follow the Murphy family back to the 1970s, when kids roamed wild, beer flowed freely and nothing came between a man and his TV.
2.
BoJack Horseman (2014)
Meet the most beloved sitcom horse of the 90s - 20 years later. BoJack Horseman was the star of the hit TV show "Horsin' Around," but today he's washed up, living in Hollywood, complaining about everything, and wearing colorful sweaters.
22m Action & Adventure Comedy Animation
When Robert "Granddad" Freeman becomes legal guardian to his two grandsons, he moves from the tough south side of Chicago to the upscale neighborhood of Woodcrest (a.k.a. "The Boondocks") so he can enjoy his golden years in safety and comfort. But with Huey, a 10-year-old leftist revolutionary, and his eight-year-old misfit brother, Riley, suburbia is about to be shaken up.
After moving to a new town with her stressed-out parents and relentlessly popular little sister, Daria uses her acerbic wit and keen powers of observation to contend with the mind-numbingly ridiculous world of Lawndale High.
The series centers on the life of Duncan, a spectacularly average 15-year-old boy, his family and friends. Poehler will provide the voice of Duncan and his high-strung mom, Annie, who is constantly trying to prevent her son from ruining his life.
The daily life of Arnold--a fourth-grader with a wild imagination, street smarts and a head shaped like a football.
7.
The Cleveland Show (2009)
8.
Bob's Burgers (2011)
Bob's Burgers follows a third-generation restaurateur, Bob, as he runs Bob's Burgers with the help of his wife and their three kids. Bob and his quirky family have big ideas about burgers, but fall short on service and sophistication. Despite the greasy counters, lousy location and a dearth of customers, Bob and his family are determined to make Bob's Burgers "grand re-re-re-opening" a success.
9.
The Amazing World of Gumball (2011)
11m Animation Family Sci-Fi & Fantasy Comedy
The life of Gumball Watterson, a 12-year old cat who attends middle school in Elmore. Accompanied by his pet, adoptive brother, and best friend Darwin Watterson, he frequently finds himself involved in various shenanigans around the city, during which he interacts with various family members: Anais, Richard, and Nicole Watterson, and other various citizens.
Sick, twisted, politically incorrect and Freakin' Sweet animated series featuring the adventures of the dysfunctional Griffin family. Bumbling Peter and long-suffering Lois have three kids. Stewie (a brilliant but sadistic baby bent on killing his mother and taking over the world), Meg (the oldest, and is the most unpopular girl in town) and Chris (the middle kid, he's not very bright but has a passion for movies). The final member of the family is Brian - a talking dog and much more than a pet, he keeps Stewie in check whilst sipping Martinis and sorting through his own life issues.
11.
I Don't Have Many Friends (2011)
A comedy centered on the life of Kate Reddy, a finance executive who is the breadwinner for her husband and two kids.
explore
Check out more list from our community