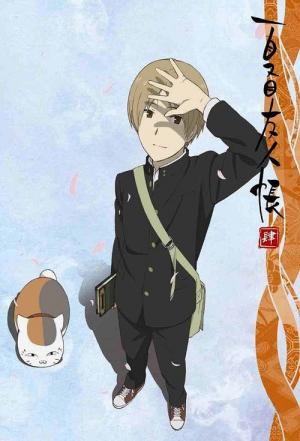 20 Best Shows Like Natsume Yuujinchou ...
If you liked this one , you will for sure love these too! In this selection we highlight some of the best films that share a very similar mood to '', and are worth checking out.
24m Animation Drama Sci-Fi & Fantasy
They are neither plants nor animals. They differ from other forms of life such as the micro-organisms and the fungi. Instead they resemble the primeval body of life and are generally known as "Mushi". Their existence and appearance are unknown to many and only a limited number of humans are aware of them. Ginko is a "Mushi-shi" who travels around to investigate and find out more about the "Mushi". In the process, he also lends a helping hand to people who face problems with supernatural occurances which may be related to the "Mushi".
2.
To the Forest of Firefly Lights (2011)
45m Romance Animation Fantasy
One hot summer day a little girl gets lost in an enchanted forest of the mountain god where spirits reside. A young boy appears before her, but she cannot touch him for fear of making him disappear. And so a wondrous adventure awaits...
3.
My Roommate is a Cat (2019)
24m Animation Comedy Drama
The story of Mikazuki Subaru, a novelist who is shy and struggles in relationships with other people, and a cat who was dumped by humans and lived a tough life on the streets. Through a twist of fate, the two of them end up living together. This heartwarming tale illustrates day-to-day life through the eyes of both man and cat. These moments seem trivial, but as they build upon themselves, the two become family and find happiness in their life together.
4.
Toilet-Bound Hanako-kun (2020)
24m Animation Mystery Comedy
The famous "Seven Wonders" that every school seems to have are a staple of Japanese urban legends. One of the most well-known of these tales is that of Hanako-san: the ghost of a young girl who haunts the school's bathrooms.Kamome Academy has its own version of Hanako-san's legend. Rumors claim that if one successfully manages to summon Hanako-san, she will grant her summoner any wish. Lured by the gossip, many people have tried to call upon her, yet every attempt has failed. However, when Nene Yashiro, a girl hoping for romantic fortune, dares to summon Hanako-san, she discovers that the rumored "girl" is actually a boy!After a series of unfortunate events involving Nene's romantic desires, she is unwillingly entangled in the world of the supernatural, becoming Hanako-kun's assistant. Soon, she finds out about Hanako-kun's lesser-known duty: maintaining the fragile balance between mortals and apparitions.
5.
The Ancient Magus' Bride (2017)
24m Animation Sci-Fi & Fantasy Drama
Chise Hatori is only 16, but she has lost far more than most. With neither family nor hope, it seems all doors are closed to her. But, a chance encounter began to turn the rusted wheels of fate. In her darkest hour, a mysterious magus appears before Chise, offering a chance she couldn't turn down. This magus who seems closer to demon than human, will he bring her the light she desperately seeks, or drown her in ever deeper shadows?
24m Animation Action & Adventure
A samurai lord has bartered away his newborn son's organs to forty-eight demons in exchange for dominance on the battlefield. Yet, the abandoned infant survives thanks to a medicine man who equips him with primitive prosthetics—lethal ones with which the wronged son will use to hunt down the multitude of demons to reclaim his body one piece at a time, before confronting his father. On his journeys the young hero encounters an orphan who claims to be the greatest thief in Japan.
24m Comedy Drama Animation
After a family tragedy turns her life upside down, 16-year-old high school student Tohru Honda takes matters into her own hands and moves out… into a tent! Unfortunately for her, she pitches her new home on private land belonging to the mysterious Soma clan, and it isn't long before the owners discover her secret. But, as Tohru quickly finds out when the family offers to take her in, the Somas have a secret of their own—when hugged by the opposite sex, they turn into the animals of the Chinese Zodiac!
23m Animation Comedy Family
After punching a famous curator in the face for criticizing his work as "textbook and lifeless," Handa Seishuu is sent to Gotō Island to calm his nerves and find new inspiration for his calligraphy. Growing up in the city all his life, though, Handa must adapt to country life while meeting an assortment of quirky people during his tenure.
24m Animation Comedy Sci-Fi & Fantasy Mystery
Humans live in the world of Assiah, demons in Gehenna. The two dimensions are not meant to interfere with each other, but demons still possess creatures in Assiah in spite of this. The humans who can fight these demons are known as exorcists. Rin Okumura is a boy who bears the curse of being Satan's illegitimate son. His foster father sacrificed himself to save him from demons. To avenge his foster father's death as well as to prove himself, Rin decides to follow the path of an exorcist and defeat his own father, Satan. To hone his raw skills, Rin enters True Cross Academy to train with other exorcist candidates.
10.
If It's for My Daughter, I'd Even Defeat a Demon Lord (2019)
45m Documentary
They are some of the world's all-time greatest building projects. Most have stood the test of time, but with today's technology, could they be duplicated and done better?
11.
Dusk Maiden of Amnesia (2012)
24m Animation Mystery Comedy Sci-Fi & Fantasy
The story revolves around a first-year high school student, Teiichi Niiya who had just enrolled at Seikyou Private Academy. When he gets lost in one of the school's old building, he meets a girl named Yuuko Kanoe who reveals herself as a ghost with no memories. Teiichi then decides to investigate her death by delving deep into the infamous Seven Mysteries of the storied school along with Kirie Kanoe, Yuuko's relative, and the oblivious second year Momoe Okonogi. Throughout the story, Teiichi and Yuuko discover the truth about these ghost stories and help those who are troubled all the while inching closer to the truth behind Yuuko's death.
12.
Vampire Knight (2008)
30m Animation Drama Action & Adventure Sci-Fi & Fantasy Mystery
Yuki Cross, along with her best friend Zero, attempts to keep the peace between humans and vampires at Cross Academy, but personal issues soon threaten the situation.
13.
Interviews with Monster Girls (2017)
24m Animation Comedy Sci-Fi & Fantasy
The story takes place in an age where "Ajin" (demi-human), more casually known as "Demi," have slowly started to become accepted into human society. Tetsuo Takahashi is a biology teacher who ends up teaching three such Demi, hoping to understand more about them while also managing to catch their attention.
14.
Welcome to Demon School! Iruma-kun (2019)
25m Animation Comedy Sci-Fi & Fantasy
Fourteen-year-old Suzuki Iruma has just been abandoned and sold to a demon by his irresponsible parents! Surprisingly, the next thing he knows he's living with the demon who has adopted him as his new grandson, and has been transferred into a school in the demon world where his new "demon" grandfather works as the principal. Thus begins the cowardly Iruma-kun's extraordinary school life among the otherworldly as he faces his true self, takes on challenges, and rises to become someone great.
1h 32m Thriller Drama Horror Mystery
Jake McCormick (Buddy Dolan) wakes after 12 years in a coma to discover he has the power to see the dead in this spine-chiller. Though bombarded by spirits -- both good and evil -- Jake doesn't know how to communicate with them. He seeks the advice of psychic Andrea Riley (Stacey Longoria), who helps him understand his enormous gift. But the two discover that dealing with the supernatural isn't easy when they're each hiding secrets of their own.
24m Animation Comedy Drama Sci-Fi & Fantasy Action & Adventure
Angel Beats takes place in the afterlife and focuses on Otonashi, a boy who lost his memories of his life after dying. He is enrolled into the afterlife school and meets a girl named Yuri who invites him to join the Afterlife Battlefront — an organization she leads which fights against God. The Battlefront fight against the student council president Angel, a girl with supernatural powers.
17.
Gabriel DropOut (2017)
24m Animation Comedy Sci-Fi & Fantasy
Gabriel White graduated at the top of the class at angel school and attends a human school on earth in pursuit of knowledge, but then gets engrossed in an MMO and decides it's too much trouble to go anywhere. Based on the manga by Ukami.
24m Animation Mystery Comedy Action & Adventure Sci-Fi & Fantasy
At the young age of 11, Kotoko Iwanaga was abducted by youkai for two weeks and asked to become their "God of Wisdom," a mediator between the spirit and human worlds, to which the girl quickly agreed but at the cost of her right eye and left leg. Now, six years later, whenever youkai wish for their problems to be solved, they make their way to Kotoko for consultation.Meanwhile, Kurou Sakuragawa, a 22-year-old university student, has just broken up with his girlfriend after he fled alone when the two encountered a kappa. Seeing this as her chance to become closer with him, Kotoko immediately makes her move, hoping to get married to Kurou one day. However, she quickly realizes there is something more to Kurou. With this knowledge, she asks for his help in solving the various issues presented by the supernatural, all the while wishing her newfound partner will eventually reciprocate her feelings.
19.
Mob Psycho 100 (2016)
24m Action & Adventure Animation Comedy
Shigeo Kageyama, a.k.a. "Mob," is a boy who has trouble expressing himself, but who happens to be a powerful esper. Mob is determined to live a normal life and keeps his ESP suppressed, but when his emotions surge to a level of 100%, something terrible happens to him! As he's surrounded by false espers, evil spirits, and mysterious organizations, what will Mob think? What choices will he make?
explore
Check out more list from our community