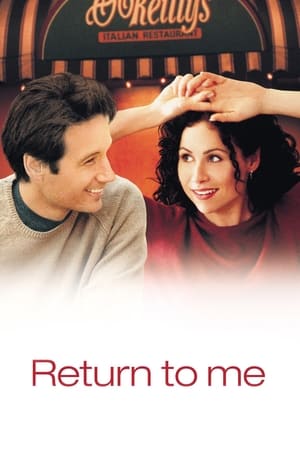 11 Best Movies Like Return To Me ...
If you liked this one , you will for sure love these too! In this list we highlight some of the best films that share a very similar mood to 'Return to Me', and are worth checking out.
1h 30m Comedy Romance Drama
Although strangers Sara and Jonathan are both already in relationships, they realize they have genuine chemistry after a chance encounter – but part company soon after. Years later, they each yearn to reunite, despite being destined for the altar. But to give true love a chance, they have to find one another again.
2.
Murphy's Romance (1985)
1h 47m Comedy Romance
Emma is a divorced woman with a teen aged boy who moves into a small town and tries to make a go of a horse ranch. Murphy is the town druggist who steers business her way. Things are going along predictably until her ex husband shows up, needing a place to stay. The three of them form an intricate circle, Emma's son liking Murphy, but desperately wanting his father back.
3.
Flirting with Forty (2008)
1h 27m Comedy Romance Drama
A divorcee has a passionate affair with a much younger surfing instructor in Hawaii.
1h 27m Drama Romance
The seeds of love are planted when Lisa, a high-powered investment banker, receives flowers from a secret admirer. But when his fairy-tale fantasies clash with her workaholic ways, they soon find out that sometimes, it's harder than it seems for love to conquer all.
5.
Frankie and Johnny (1991)
1h 58m Drama Romance Comedy
When Johnny is released from prison following a forgery charge, he quickly lands a job as a short-order cook at a New York diner. Following a brief fling with waitress Cora, Frankie develops an attraction for Cora's friend and fellow waitress Frankie. While Frankie resists Johnny's charms initially, she eventually relents when her best friend, Tim, persuades her to give Johnny a chance.
2h 7m Comedy Romance
An ugly duckling having undergone a remarkable change, still harbors feelings for her crush: a carefree playboy, but not before his business-focused brother has something to say about it.
1h 41m Comedy Drama Romance
Mickey Gordon is a basketball referee who travels to France to bury his father. Ellen Andrews is an American living in Paris who works for the airline he flies on. They meet and fall in love, but their relationship goes through many difficult patches.
8.
When Harry Met Sally... (1989)
1h 36m Comedy Romance Drama
During their travel from Chicago to New York, Harry and Sally debate whether or not sex ruins a friendship between a man and a woman. Eleven years later, and they're still no closer to finding the answer.
9.
How to Make an American Quilt (1995)
1h 56m Drama Romance
Soon-to-be-wed graduate student Finn Dodd develops cold feet when she suspects her fiancé is cheating on her. In order to clear her head, Finn visits her grandmother, Hy, and great aunt, Glady Joe Cleary, in Grasse, Calif. There, Finn learns that Hy and Glady Joe are members of a group of passionate quilters, and over the course of her visit she is regaled with tales of love and life by women who have collected rich experiences and much wisdom.
2h Drama Comedy
Harper, a writer who's about to explode into the mainstream leaves behind his girlfriend Robin and heads to New York City to serve as best man for his friend Lance's wedding. Once there, he reunites with the rest of his college circle.
1h 30m Comedy Romance
British artist Colin Ware discovers that his fiancée, Vera, is going to marry another man. Distraught and despondent, he gets on a plane for America and ends up in the tiny town of Hope in New England. At first, Colin is depressed, but he soon finds more than a shoulder to cry on when his innkeepers introduce him to Mandy, a beautiful nurse. All's going well and Colin has almost forgotten his old flame until Vera shows up with a surprise of her own.
explore
Check out more list from our community