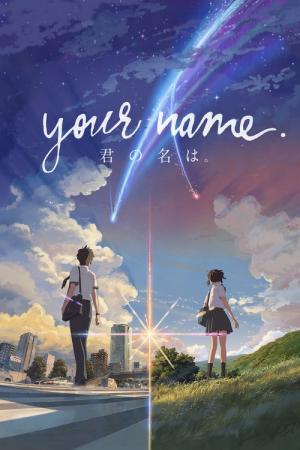 10 Best Movies Like Your Name ...
If you liked this one , you will for sure love these too! In this list we highlight some of the best films that share a very similar mood to 'Your Name', and are worth checking out.
1.
From Up on Poppy Hill (2011)
A group of Yokohama students fight to save their school's clubhouse from the wrecking ball during preparations for the 1964 Tokyo Olympic Games. While working there, Umi and Shun gradually become attracted to each other but have to face a sudden trial. Even so, they keep going without fleeing the difficulties of reality.
1h 31m
Director: Gorō Miyazaki
Screenplay: Hayao Miyazaki
Screenplay: Keiko Niwa
Story: Tetsurô Sayama
Animation Drama
The movie follows a 4-year old boy who is struggling to cope with the arrival of a little sister in the family until things turn magical. A mysterious garden in the backyard of the boy's home becomes a gateway allowing the child to travel back in time and encounter his mother as a little girl and his great-grandfather as a young man. These fantasy-filled adventures allow the child to change his perspective and help him become the big brother he was meant to be.
1h 38m
Director, Screenplay, Writer: Mamoru Hosoda
Animation Family Fantasy Adventure Drama
3.
Howl's Moving Castle (2004)
When Sophie, a shy young woman, is cursed with an old body by a spiteful witch, her only chance of breaking the spell lies with a self-indulgent yet insecure young wizard and his companions in his legged, walking castle.
1h 59m
Director, Screenplay: Hayao Miyazaki
Novel: Diana Wynne Jones
Fantasy Animation Adventure
4.
Whisper of the Heart (1995)
Shizuku lives a simple life, dominated by her love for stories and writing. One day she notices that all the library books she has have been previously checked out by the same person: 'Seiji Amasawa'.
1h 51m
Author: Aoi Hiiragi
Director: Yoshifumi Kondou
Screenplay: Hayao Miyazaki
Animation Drama Family
5.
Weathering with You (2019)
The summer of his high school freshman year, Hodaka runs away from his remote island home to Tokyo, and quickly finds himself pushed to his financial and personal limits. The weather is unusually gloomy and rainy every day, as if taking its cue from his life. After many days of solitude, he finally finds work as a freelance writer for a mysterious occult magazine. Then, one day, Hodaka meets Hina on a busy street corner. This bright and strong-willed girl possesses a strange and wonderful ability: the power to stop the rain and clear the sky.
1h 52m
Director, Screenplay, Writer: Makoto Shinkai
Animation Romance Fantasy Drama
At Kichijōji Station, Tokyo, Taku Morisaki glimpses a familiar woman on the platform opposite boarding a train. Later, her photo falls from a shelf as he exits his apartment before flying to Kōchi Prefecture. Picking it up, he looks at it briefly before leaving. As the aeroplane takes off he narrates the events that brought her into his life...
1h 12m
Director: Tomomi Mochizuki
Novel: Saeko Himuro
Writer: Keiko Niwa
Romance Animation Drama TV Movie
7.
When Marnie Was There (2014)
Upon being sent to live with relatives in the countryside due to an illness, an emotionally distant adolescent girl becomes obsessed with an abandoned mansion and infatuated with a girl who lives there - a girl who may or may not be real.
1h 43m
Director, Screenplay: Hiromasa Yonebayashi
Novel: Joan G. Robinson
Screenplay: Keiko Niwa
Screenplay: Masashi Ando
Animation Drama
8.
The Tale of the Princess Kaguya (2013)
Found inside a shining stalk of bamboo by an old bamboo cutter and his wife, a tiny girl grows rapidly into an exquisite young lady. The mysterious young princess enthralls all who encounter her - but ultimately she must confront her fate, the punishment for her crime.
2h 17m
Director, Screenplay, Story: Isao Takahata
Screenplay: Riko Sakaguchi
Animation Drama Fantasy
Hinako is a surf-loving college student who has just moved to a small seaside town. When a sudden fire breaks out at her apartment building, she is rescued by Minato, a handsome firefighter, and the two soon fall in love. Just as they become inseparable, Minato loses his life in an accident at sea. Hinako is so distraught that she can no longer even look at the ocean, but one day she sings a song that reminds her of their time together, and Minato appears in the water. From then on, she can summon him in any watery surface as soon as she sings their song, but can the two really remain together forever? And what is the real reason for Minato's sudden reappearance?
1h 35m
Director: Masaaki Yuasa
Writer: Reiko Yoshida
Animation Romance Comedy Drama Fantasy
10.
5 Centimeters Per Second (2007)
Three moments in Takaki's life: his relationship with Akari and their forced separation; his friendship with Kanae, who is secretly in love with him; the demands and disappointments of adulthood, an unhappy life in a cold city.
1h 3m
Director, Screenplay: Makoto Shinkai
Animation Drama Romance
explore
Check out more list from our community