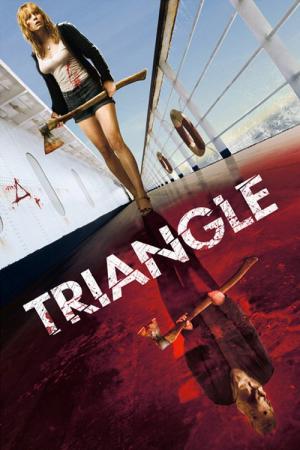 30 Best Movies Like Triangle ...
If you liked this one , you will probably love these too! In this selection we highlight some of the best films that share a very similar premise to '', and are worth checking out.
1h 29m Thriller Science Fiction
On the night of an astronomical anomaly, eight friends at a dinner party experience a troubling chain of reality bending events.
1h 41m Horror Drama Mystery Thriller
Grace is a religious woman who lives in an old house kept dark because her two children, Anne and Nicholas, have a rare sensitivity to light. When the family begins to suspect the house is haunted, Grace fights to protect her children at any cost in the face of strange events and disturbing visions.
2h 18m Drama Thriller Mystery
World War II soldier-turned-U.S. Marshal Teddy Daniels investigates the disappearance of a patient from a hospital for the criminally insane, but his efforts are compromised by his troubling visions and also by a mysterious doctor.
1h 30m Mystery Thriller
Complete strangers stranded at a remote desert motel during a raging storm soon find themselves the target of a deranged murderer. As their numbers thin out, the travelers begin to turn on each other, as each tries to figure out who the killer is.
1h 44m Horror
A man who specializes in debunking paranormal occurrences checks into the fabled room 1408 in the Dolphin Hotel. Soon after settling in, he confronts genuine terror.
1h 53m Mystery Thriller
Leonard Shelby is tracking down the man who raped and murdered his wife. The difficulty of locating his wife's killer, however, is compounded by the fact that he suffers from a rare, untreatable form of short-term memory loss. Although he can recall details of life before his accident, Leonard cannot remember what happened fifteen minutes ago, where he's going, or why.
1h 31m Horror Mystery Thriller
After discovering a passenger ship missing since 1962 floating adrift on the Bering Sea, salvagers claim the vessel as their own. Once they begin towing the ghost ship towards harbor, a series of bizarre occurrences happen and the group becomes trapped inside the ship, which they soon learn is inhabited by a demonic creature.
1h 52m Horror Mystery Thriller
A female forensic psychiatrist discovers that all of one of her patient's multiple personalities are murder victims. She will have to find out what's happening before her time is finished.
1h 28m Horror Thriller
A thriller centered on an institutionalized young woman who becomes terrorized by a ghost.
1h 36m Thriller Drama Mystery
A depressed housewife who learns her husband was killed in a car accident the day previously, awakens the next morning to find him alive and well at home, and then awakens the day after to a world in which he is still dead.
1h 37m Horror Mystery Thriller
A teenager is stuck in a time loop that is not quite the same each time. She must uncover the truth but her actions have consequences for herself and others.
1h 43m Thriller Mystery Drama
A military veteran goes on a journey into the future, where he can foresee his death and is left with questions that could save his life and those he loves.
13.
The Sixth Sense (1999)
1h 47m Mystery Thriller Drama
Following an unexpected tragedy, a child psychologist named Malcolm Crowe meets an eight year old boy named Cole Sear, who is hiding a dark secret.
1h 26m Thriller Drama Horror Mystery
Nine strangers wake up in a house with no recollection how they got there and no way out. The voice on the PA introduces them to a grisly game they must play. The prize is $5 million and their life.
1h 45m Horror Drama Thriller
A woman brings her family back to her childhood home, which used to be an orphanage, intent on reopening it. Before long, her son starts to communicate with a new invisible friend.
1h 31m Adventure Horror Mystery Thriller
Survivors of a tragic shipping collision are rescued by a mysterious black ship which appears out of the fog. Little do they realise that the ship is actually a Nazi torture ship which has sailed the seas for years, luring unsuspecting sailors aboard and killing them off one by one.
17.
Mulholland Drive (2001)
2h 27m Thriller Drama Mystery
Blonde Betty Elms has only just arrived in Hollywood to become a movie star when she meets an enigmatic brunette with amnesia. Meanwhile, as the two set off to solve the second woman's identity, filmmaker Adam Kesher runs into ominous trouble while casting his latest project.
1h 24m Drama Thriller Mystery
Publisher Will Atenton quits a lucrative job in New York to relocate his wife, Libby, and their daughters to a quaint town in New England. However, as they settle into their home the Atentons discover that a woman and her children were murdered there, and the surviving husband is the town's prime suspect. With help from a neighbor who was close to the murdered family, Will pieces together a horrifying chain of events.
19.
Soul Survivors (2001)
1h 24m Horror Mystery Thriller
A college freshman involved in a fatal car crash discovers she may not have survived after all when she becomes caught between the worlds of the living and the dead.
2h 3m Horror Thriller Mystery
After losing their baby, a married couple adopt 9-year old Esther, who may not be as innocent as she seems.
21.
Happy Death Day (2017)
1h 37m Horror Mystery Comedy
Caught in a bizarre and terrifying time warp, college student Tree finds herself repeatedly reliving the day of her murder, ultimately realizing that she must identify the killer and the reason for her death before her chances of survival run out.
1h 49m Horror Mystery Thriller
In her many years as a social worker, Emily Jenkins believes she has seen it all, until she meets 10-year-old Lilith and the girl's cruel parents. Emily's worst fears are confirmed when the parents try to harm the child, and so Emily assumes custody of Lilith while she looks for a foster family. However, Emily soon finds that dark forces surround the seemingly innocent girl, and the more she tries to protect Lilith, the more horrors she encounters.
1h 36m Mystery Thriller
Mort Rainey, a writer just emerging from a painful divorce with his ex-wife, is stalked at his remote lake house by a psychotic stranger and would-be scribe who claims Rainey swiped his best story idea. But as Rainey endeavors to prove his innocence, he begins to question his own sanity.
1h 50m Mystery Thriller Drama Horror
Rachel Carson, a best-selling crime novelist, is devastated and filled with guilt over the accidental death of her son. Hoping that a change of scenery will help alleviate her suffering, she leaves her home in the city and moves into a vacant country house owned by a friend and begins a relationship with charming local Angus. But, just as her life is taking a turn for the better, Rachel realizes she's being romanced by a ghost, leading her to doubt her own sanity.
1h 30m Mystery Science Fiction Thriller
Three strangers arrive one by one to a mysterious cabin in the middle of nowhere after enduring separate life-altering predicaments. Searching for a way out of the woods, frustrated, hungry and battling to stay warm they discover their mysterious connection and realize what they have to do in order to get out of the woods alive.
1h 25m Horror Thriller Mystery
Trapped in a London subway station, a woman who's being pursued by a potential attacker heads into the unknown labyrinth of tunnels beneath the city's streets
1h 30m Thriller Mystery Science Fiction Drama
Simon Cable wakes up in a hospital bed, confused and disoriented. He soon discovers from doctors that he has amnesia and is unable to remember the last two years of his life. Cable investigates what has happened to him and slowly pieces together his enigmatic past.
1h 27m Horror
Anna returns home after spending time in a psychiatric facility following her mother's tragic death and discovers that her mother's former nurse, Rachel, has moved into their house and become engaged to her father. Soon after she learns this shocking news, Anna is visited by her mother's ghost, who warns her that Rachel has evil intentions.
2h 14m Science Fiction Mystery Thriller
The OSSA discovers a spacecraft thought to be at least 300 years old at the bottom of the ocean. Immediately following the discovery, they decide to send a team down to the depths of the ocean to study the space craft. They are the best of best, smart and logical, and the perfect choice to learn more about the spacecraft.
explore
Check out more list from our community