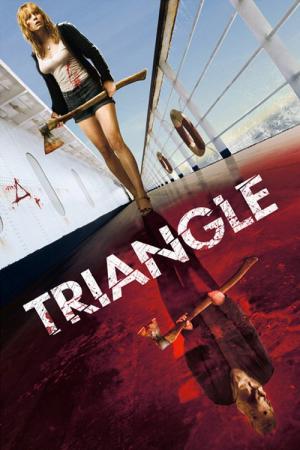 10 Best Movies Like Triangle ...
If you liked this movie , you will probably love these too! In this collection we highlight some of the best films that share a very similar premise to 'Triangle', and are worth checking out.
1h 50m Mystery Thriller Drama Horror
Rachel Carson, a best-selling crime novelist, is devastated and filled with guilt over the accidental death of her son. Hoping that a change of scenery will help alleviate her suffering, she leaves her home in the city and moves into a vacant country house owned by a friend and begins a relationship with charming local Angus. But, just as her life is taking a turn for the better, Rachel realizes she's being romanced by a ghost, leading her to doubt her own sanity.
1h 53m Mystery Thriller
Leonard Shelby is tracking down the man who raped and murdered his wife. The difficulty of locating his wife's killer, however, is compounded by the fact that he suffers from a rare, untreatable form of short-term memory loss. Although he can recall details of life before his accident, Leonard cannot remember what happened fifteen minutes ago, where he's going, or why.
1h 26m Thriller Drama Horror Mystery
Nine strangers wake up in a house with no recollection how they got there and no way out. The voice on the PA introduces them to a grisly game they must play. The prize is $5 million and their life.
1h 24m Drama Thriller Mystery
Publisher Will Atenton quits a lucrative job in New York to relocate his wife, Libby, and their daughters to a quaint town in New England. However, as they settle into their home the Atentons discover that a woman and her children were murdered there, and the surviving husband is the town's prime suspect. With help from a neighbor who was close to the murdered family, Will pieces together a horrifying chain of events.
1h 30m Mystery Thriller
Complete strangers stranded at a remote desert motel during a raging storm soon find themselves the target of a deranged murderer. As their numbers thin out, the travelers begin to turn on each other, as each tries to figure out who the killer is.
1h 36m Mystery Thriller
Mort Rainey, a writer just emerging from a painful divorce with his ex-wife, is stalked at his remote lake house by a psychotic stranger and would-be scribe who claims Rainey swiped his best story idea. But as Rainey endeavors to prove his innocence, he begins to question his own sanity.
1h 44m Horror
A man who specializes in debunking paranormal occurrences checks into the fabled room 1408 in the Dolphin Hotel. Soon after settling in, he confronts genuine terror.
1h 52m Horror Mystery Thriller
A female forensic psychiatrist discovers that all of one of her patient's multiple personalities are murder victims. She will have to find out what's happening before her time is finished.
1h 28m Horror Thriller
A thriller centered on an institutionalized young woman who becomes terrorized by a ghost.
1h 31m Adventure Horror Mystery Thriller
Survivors of a tragic shipping collision are rescued by a mysterious black ship which appears out of the fog. Little do they realise that the ship is actually a Nazi torture ship which has sailed the seas for years, luring unsuspecting sailors aboard and killing them off one by one.
explore
Check out more list from our community